November 28, 2022
Designing Empathy in Health Care Spaces
Webster's defines empathy as "the action of understanding, being aware of, being sensitive to, and vicariously experiencing the feelings, thoughts, and experience of another." Nowhere is this more crucial than in health care. In an October 6 panel, four experts on design and empathy were featured in a discussion hosted by NBBJ and moderated by Metropolis editor in chief Avinash Rajagopal.
"For today's host firm NBBJ," Rajagopal began, "The process starts with listening and building empathy, and through that they can work toward better outcomes."
"When we think about empathetic design, it's all about listening and engaging," said Christina Yates, senior associate and lead designer at NBBJ. Her colleague Jonathan Ward, partner and firm-wide design leader, concurred, adding: "It's all about listening and collecting everybody together, collecting ideas, finding the best solutions through that process."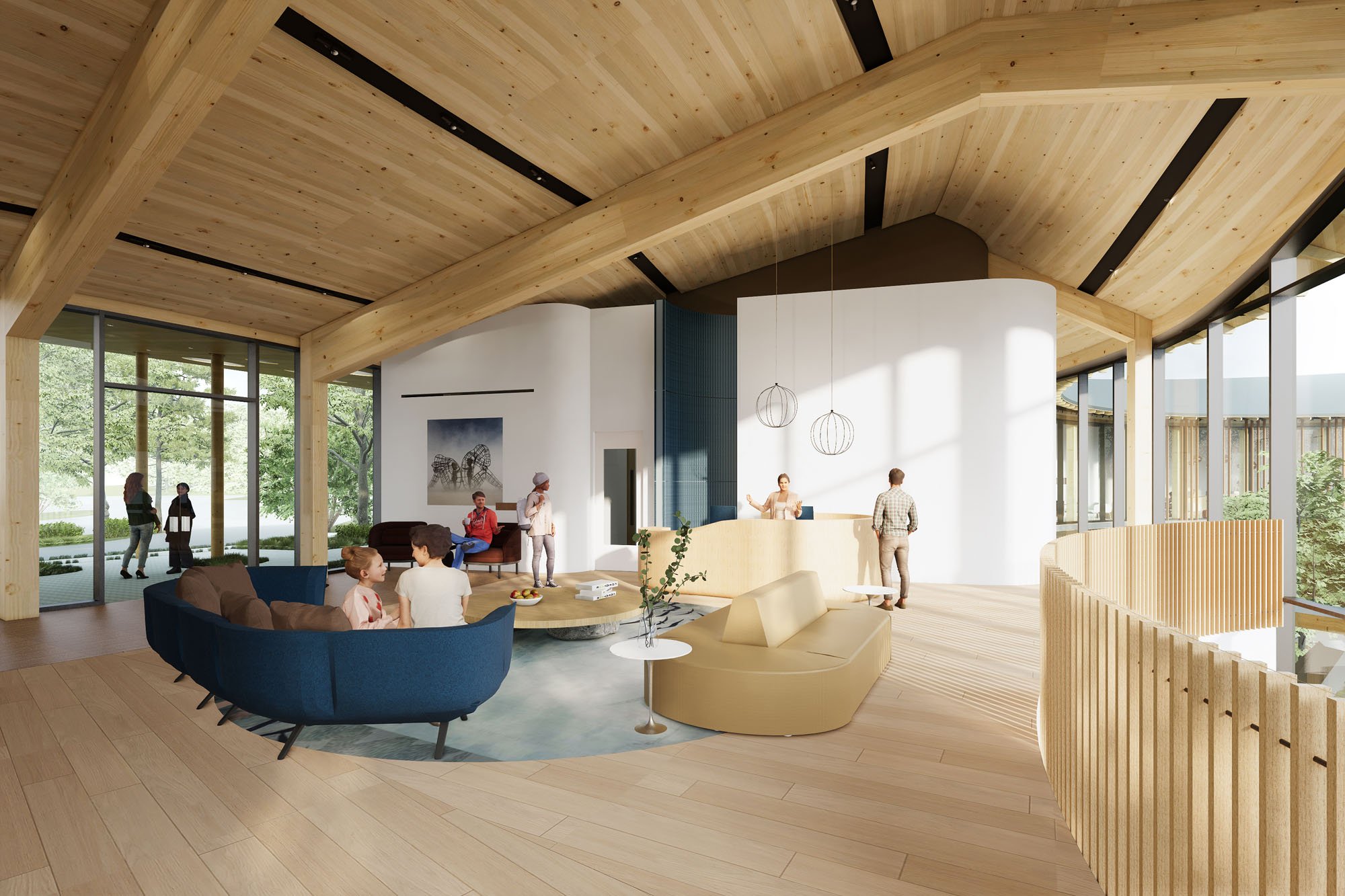 Ward went on to discuss a current NBBJ project, a behavioral health center for teens in Monterey, California that connects patients to nature through biophilic materials and indoor-outdoor linkages. "One in five teens in the U.S. are living with mental health disorders," he said, underlining the urgency. "Nature is part of healing," he continued. "[the project] is about embracing nature, embracing one another, and softening the environment."
He explained how this was achieved. First, by listening carefully to the patients and staff. The result is a mass timber building that makes nature "a part of the healing. We were thinking about what you're touching, what you're feeling as you move into the building. It's about touch and smell and the feel of nature."
Ellen Lupton, co-author with Bon Ku, of Health Design Thinking: Creating Products and Services for Better Health, promoted the idea that new doctors should have at least some design training: "A lot of medical schools are now creating tracks in which they're exposing medical students to some design thinking. Some are creating a kind of specialty for doctors to study design." She continued: "One of the real driving forces of it is about empathy and about shifting some of that focus away from the expertise of the doctor toward the expertise of the patient, and it's very exciting to see."
Angelita Scott, director and community concept lead for the WELL Building Institute, brought the crucial perspective of an African American woman to the panel. Adding just one sobering statistic, she said: "African American women see elevated rates of mortality, almost three times higher, than their white mother counterparts."
Scott quoted Dafina-Lazarus Stewart, an academic at Bowling Green State University, to wit: "Diversity asks, 'Who's in the room?' Equity responds, 'Who is trying to get in the room but can't?… Inclusion asks, 'Has anyone's ideas been heard?' And justice responds, 'Whose ideas won't be taken seriously because they are not in the majority?'"
The lesson from this, Scott said, is "understanding and knowing that this is a reality for a lot of people." Acknowledging that, she concluded, "is really key to creating equitable healthcare spaces."
---
The Think Tank discussions were held on September 29, October 6, and October 13. The conversations were presented in partnership with Garden on the Wall, GROHE, Mannington Commercial, Ultrafabrics, and Versteel.
Would you like to comment on this article? Send your thoughts to: [email protected]