April 28, 2023
Announcing the 2023 Metropolis Future100 Report
Each year, Metropolis sets out to designate the top graduating architecture and interior design students in the United States and Canada. The program, sponsored by Armstrong, Daltile, Formica, Interface, Kawneer, Keilhauer, Sherwin-Williams, and Yabu Pushelberg, invited the most talented students from the class of 2023 to apply. "Supporting the next generation of designers not only affirms our values but is necessary for the success of the industry as a whole," says Rowan Thompson, brand strategy manager at Yabu Pushelberg.
Nominated by their instructors and mentors, these 50 interior design and 50 architecture students were chosen by the Metropolis team. They hail from some of the best schools in North America, from Yale University to the University of California, Los Angeles, and call anywhere from Miramar, Florida, to Bellevue, Washington, home. A diverse group—with many women, as well as those who identify as BIPOC, LGBTQIA+, or neurodivergent—they are leaders on their campuses, advocating for equity and inclusion through their work and extracurriculars.
On the following pages, we give you a broad look at this group of talented young designers: who they are, where they come from, and what and where they study. Then see the full list of winners and dive deeper into their impressive work to get a glimpse of what the future of the A&D industry could be.
Schools
Where Do They Study?
Launching a search across the United States and Canada, we reached out to deans, professors, and advisers at architecture and interior design programs, looking to find the top students from the class of 2023. Enthusiastic nominations came flooding in from leading schools throughout North America.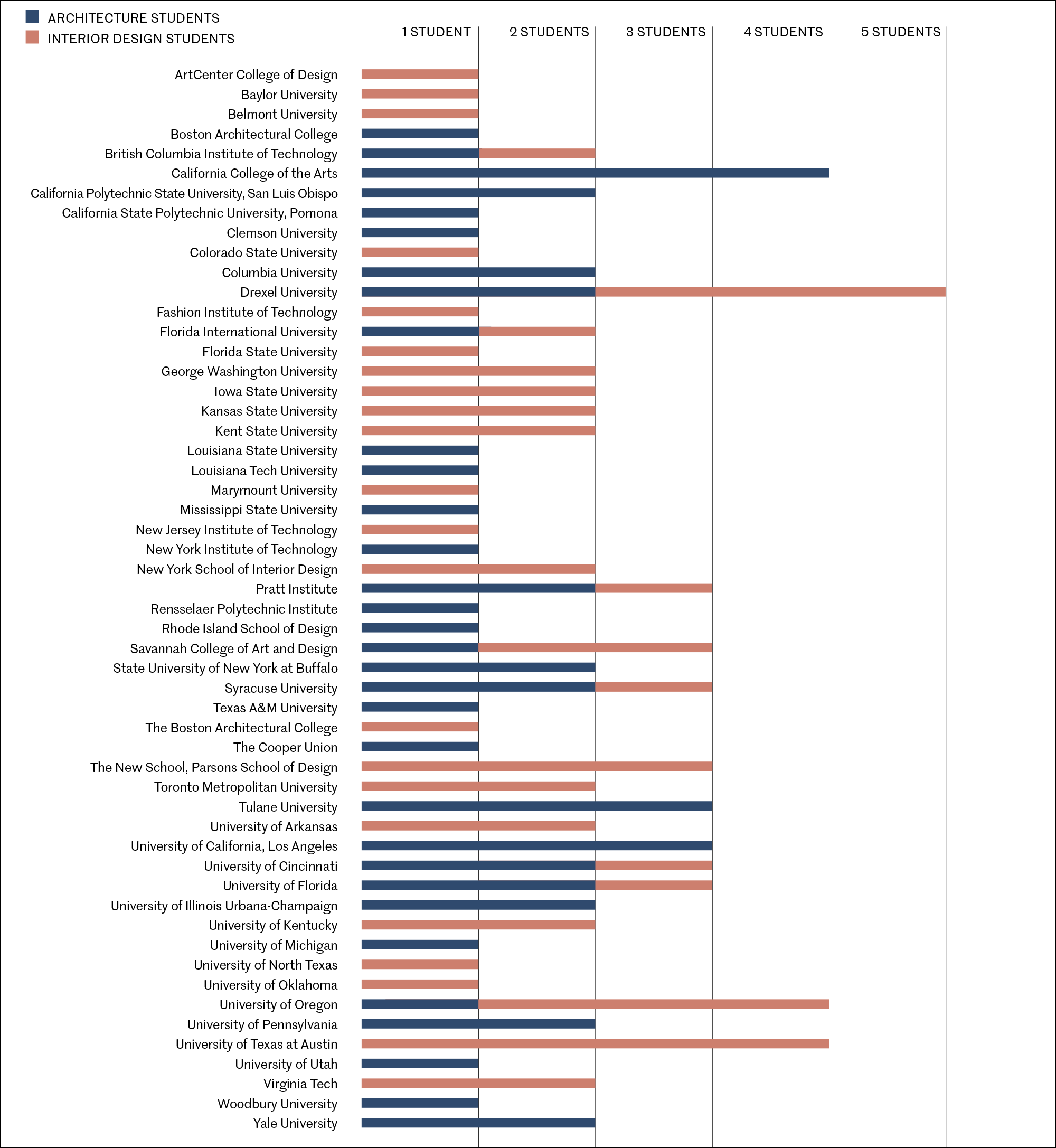 Academics
What Do They Study?
Pursuing undergrad or graduate degrees in architecture and interior design, the Future100 students also demonstrate passions for other creative outlets—from painting and photography to lighting and furniture design—as well as interests in areas of study such as urban planning, accessible design, and sustainability.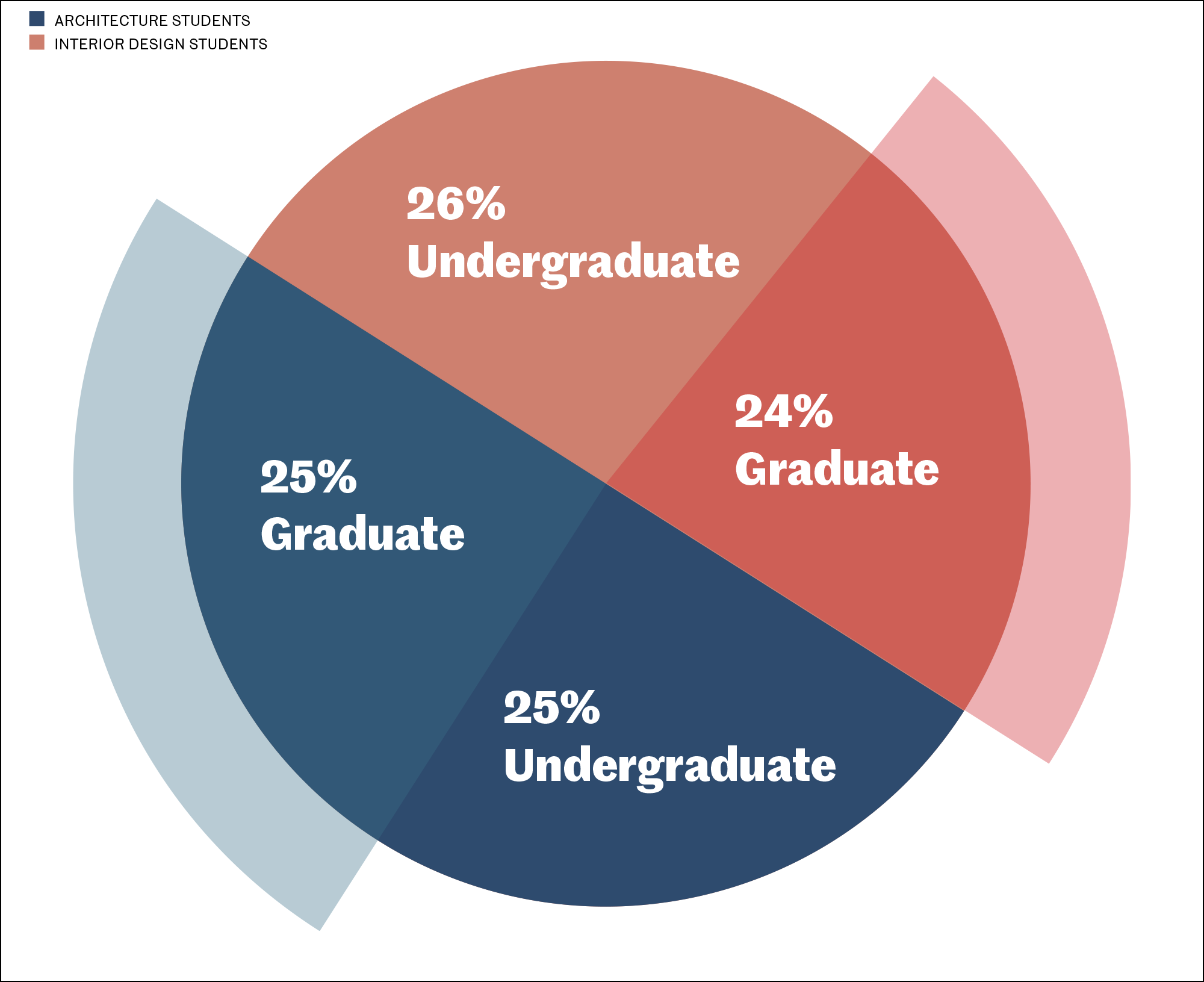 Diversity
What Do They Say About the Future?
These top students advocate for equity and inclusion through their work and extracurriculars, and many identify with groups that are underrepresented in the A&D professions.
7% of students held leadership positions within their AIAS, ASID, IIDA, or NOMAS campus chapters, or within another architecture or interior design organization.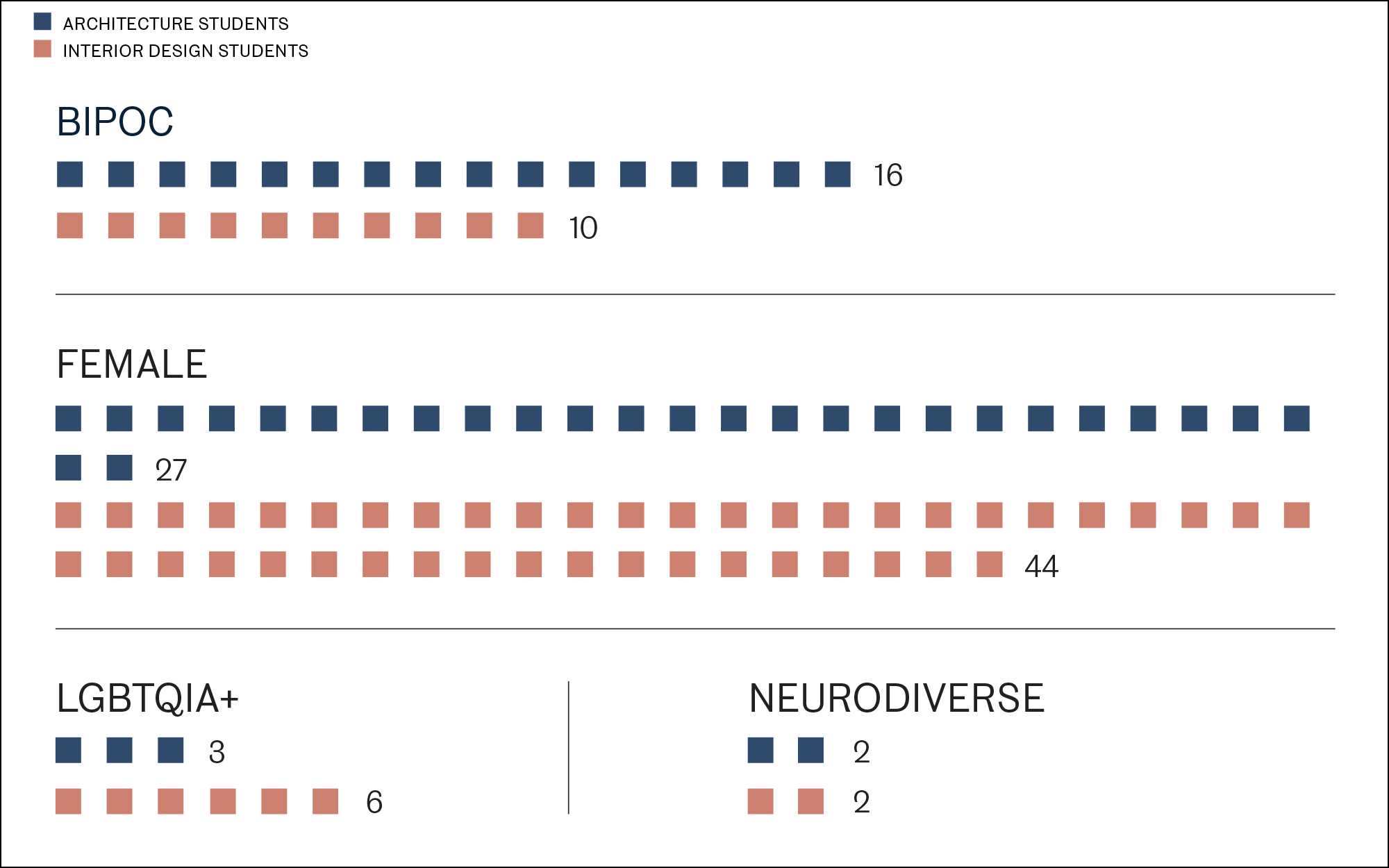 Geography
Where Are Their Schools?
With wide-ranging geographic and cultural backgrounds, the Future100 study anywhere from New York to San Francisco.
Judging Criteria
The most talented students from the class of 2023 submitted their academic accomplishments, a portfolio, and testimonials from an instructor or a professional mentor. Applicants were required to be enrolled in an accredited architecture or interior design program at a public or private college in the United States or Canada, be working on studio-based or research-based projects, and be in good academic standing. Student submissions were reviewed by the Metropolis team and judged on their creativity, rigor, and professionalism.
Nominators
What Do Their Instructors Say?
"The profession needs more people like Benjamin Janes in it—people who are not just intelligent, talented designers but who also have a strong and unwavering commitment to sustainability and equity."
DAVID ALLISON, Alumni Distinguished Professor and Director, Graduate Studies in Architecture and Health, Clemson University
"Katherine Olson is a champion for people with different abilities and designs culturally sensitive solutions where everyone feels part of her designed environment."
VIBHAVARI JANI, Professor, Interior Architecture and Industrial Design, Kansas State University
"Michael Urueta is passionate about architecture serving as a vehicle for promoting and supporting human well-being for populations that are rarely touched or served in a meaningful way by our profession."
DAVID ALLISON, Alumni Distinguished Professor and Director, Graduate Studies in Architecture and Health, Clemson University
Would you like to comment on this article? Send your thoughts to: [email protected]