June 9, 2023
Inside Metropolis's Sustainability Lab at NeoCon
ON THE 11TH FLOOR OF THE MART, Metropolis's Sustainability Lab returns to NeoCon this year with activities, programs, and, of course, information on products and initiatives that help the A&D industry make a positive impact on people and the planet.
This year's Lab includes 17 showcases about design manufacturers' progress toward a circular, regenerative, and healthy future. Alongside these brand initiatives and product spotlights, the Lab raises questions and provocations for a regenerative future through two special installations, two workshops, and a Leadership Summit.
International art consultancy Farmboy brings artist Latham Zearfoss's "Stardust" to the Lab, prompting attendees to expand their frame of reference beyond Planet Earth as they think about sustainable choices. Meanwhile, San Francisco–based PROWL Studio's prototype Peel chair travels from Milan Design Week to the Lab, suggesting a future for the furniture industry based on renewable resources and circular processes.
On June 12, mindful MATERIALS will lead a workshop at the Lab on how to choose materials while navigating the complexity of sustainability certifications. The next day, in partnership with Interface, Metropolis will host a workshop by Rainey Shane, the social sustainability director, Americas, for JLL, about SEAM, the world's first commercial real estate certification in social equity.
The Lab will open with a Leadership Summit on the future of the interior design profession, and close with a reception cohosted with Material Bank.
LOCATION:
11th FLOOR, SUITE 1120
AUTEX ACOUSTICS CUBE
Cube™ is Autex's lightweight, semi-ridged acoustic panel made from compressed polyester felt. Each inch-thick panel contains the equivalent of 222 recycled 20-ounce water bottles. Autex is the first carbon-neutral acoustics manufacturer in the world, offering carbon-neutral products with emissions offset by certified carbon credits since 2020, and continues to monitor and report the embodied carbon of its products.
CARNEGIE BIOBASED XOREL
A major industry breakthrough, Xorel Biobased is the world's first commercial-grade plant-based, carbon-positive performance textile. Since 2013, Carnegie has grown this revolutionary product line with a wider selection of patterns and colors while offering broader applications and end uses, including outdoors. For every ton of Biobased Xorel yarn, 2.5 tons of carbon are captured and sequestered, making it a carbon-positive product.
CLARUS GO! MOBILE™
Clarus's rolling glass whiteboard go! Mobile is a practical and dust-free alternative to other types of writing surfaces such as chalkboards, making it a perfect product for offices and classrooms. Made with tempered safety glass, it resists stains and is easy to clean. Clarus go! Mobile is the display system used in the Metropolis Sustainability Lab.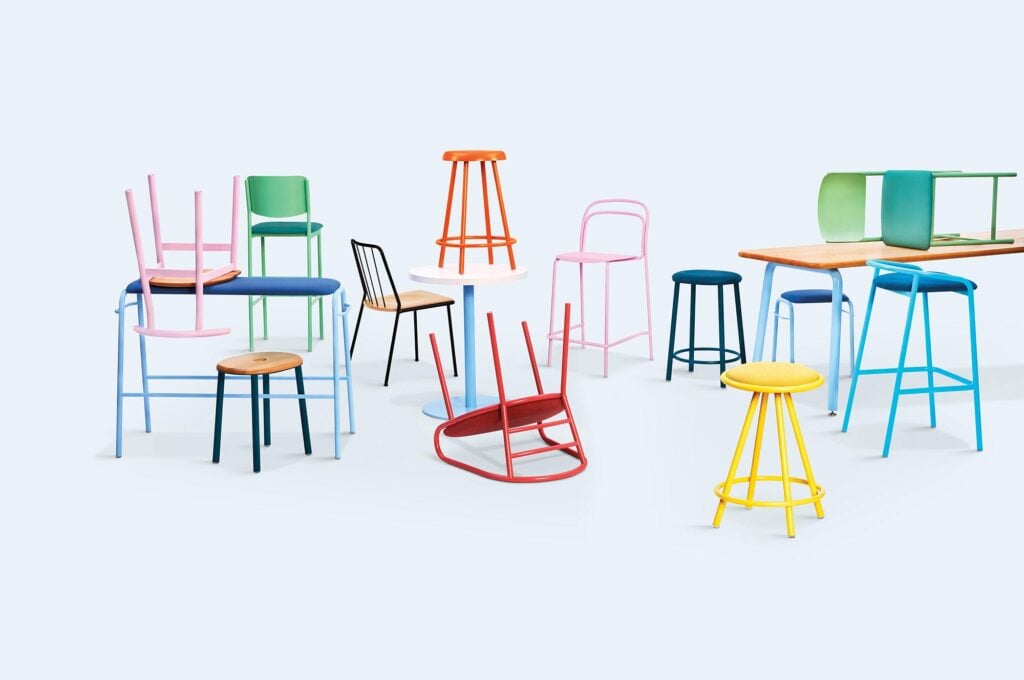 DIVISION TWELVE CARBON-NEUTRAL PRODUCTS
In August 2022, the entire product line from bent-metal furniture company Division Twelve was officially certified carbon neutral. Based in North America, Division Twelve prides itself on its bold personality, bolder color palette, and solid commitment to conducting Life Cycle Assessments for every product.
DUVALTEX CLEAN IMPACT TEXTILES
The fabrics in Duvaltex's Clean Impact Textiles® collection are made by repurposing discarded materials, and their production features innovative technologies that minimize their environmental impact at the end of their useful lives. This process is helping clean our oceans and reduce plastic pollution worldwide.
FARMBOY
Farmboy is a full-service international art advisory with a simple purpose: to change lives with art. With over 20 years of experience collaborating with global interior designers, architects, brands, and Fortune 500 companies, it designs ambitious art programs for environments across hospitality, corporate, health-care, multifamily, senior living, and other settings. At the Sustainability Lab, Farmboy helped commission an installation by artist Latham Zearfoss that utilizes repurposed materials.
GARDEN ON THE WALL
Garden on the Wall® is the world's only preserved plants-and-moss wall supplier with 16 third-party tests and credentials to ensure the sustainability, transparency, safety, and material health of its installations. Its creations help designers build environmentally and behaviorally healthy environments with biophilia in mind.
INTERFACE MISSION ZERO
A defining aspect of Interface's history is its decades-long sustainability journey. Since 1994 it has reduced the environmental impact of its operations and flooring products on a global scale. Making changes to its factories, product design processes, and supply chain helped Interface achieve carbon neutrality in 2019 under its Mission Zero initiative. Today it has the lowest carbon footprint in the industry for carpet tiles.
KFI STUDIOS JADE AND VALE
Jade is an ergonomic office chair made from sustainable materials, including recycled plastic felt, 100 percent REPREVE® 3D knit, and recyclable steel. It is designed to be harmonious with the earth and your body. The Vale collection transforms recycled plastic bottles into sophisticated chairs for a comfortable, sustainable sitting experience.
KIREI TESSELLATE BAFFLES AND PENDANTS
Tessellate products represent the future of acoustics—solutions that divert plastics from waste streams as well as control sound. Combining style with sustainability, Tessellate baffles and pendants trap rogue sound waves in a triangulation of recycled PET planes.
MANNINGTON COMMERCIAL PROXY COLLECTION
Free of PVC, ortho-phthalates, PFAS, halogens, plasticizers, and chlorine, the Proxy collection is uniquely crafted with sustainability in mind and features the outstanding performance of Mannington's Quantum Guard Elite® technology. The company is making strides toward delivering flooring solutions that have a positive impact.
MILLIKEN FLOORS 100% FOR HUMANKIND
For the benefit of all humankind, the time to take meaningful action is now. That's why Milliken's flooring products feature 100 percent transparency when it comes to their chemistry, down to 100 ppm (parts per million). The company is continuing to invest in new technology and flooring products that enable designers to make better choices. All Milliken carpet, resilient, and entryway tiles are fully transparent, recyclable, and reusable.
MOHAWK GROUP COLOR PULSE FIBER
This multicolor solution-dyed fiber is a breakthrough that delivers the visual texture and dimension of a space-dyed yarn, but with the lower environmental impact of one that's solution-dyed. Mohawk Group saves 331,000 gallons of water each year by replacing traditional space-dyed yarns with Color Pulse fibers. This advancement is part of the company's commitment to providing flooring products that are net positive water.
RULON INTERNATIONAL WOOD WALL AND CEILING SYSTEMS
Wood is inherently ecofriendly, but unless you consider the harvesting, processing, and chemical treatment, there's no guarantee that it is. That's why Rulon International's goal is to ensure that every project it takes on meets the highest standards of transparency. Each Rulon wood product is assessed on environmental footprint, material composition, sustainable sourcing, and indoor air quality.
SHAW CONTRACT BOTTLEFLOOR
BottleFloor, an innovative new hybrid flooring collection made from postconsumer PET bottles, illustrates Shaw Contract's commitment to the circular economy. Each square yard of BottleFloor contains an average of 62 recycled plastic bottles. This is the first collection to launch on Shaw's ReWorx™ platform, making it easy to recycle through the company's re[TURN]® reclamation program.
TURF HUES COLOR PALETTE
Turf created the award-winning color palette Hues by leaning into the challenges of making new products from postindustrial waste. The collection of 32 nuanced tones—offered exclusively on Turf's 9-millimeter-thick, recycled PET panels—reflects the heathered effect of their reused content. The panels are salvageable in their entirety, and Turf's reclamation program takes back used acoustic solutions and disposes of excess components responsibly.
ULTRAFABRICS MATERIAL INNOVATION JOURNEY
By 2025 all Ultrafabrics-brand furniture-grade products will have reached the company's goal of including at least 50 percent rapidly renewable and/or recycled content. This is five years ahead of the company's original goal. Ultrafabrics is achieving this target through material innovations, including man-made cellulosic fibers, sustainable and recycled yarns, and biobased resources.
UNIFI MANUFACTURING INC. REPREVE®
REPREVE® is the world's leading brand of performance fiber made from recycled bottles. Advanced fiber technology delivers a material that enhances comfort and improves performance of other products ranging from clothes to sofas. As REPREVE is the only eco-performance fiber with Unifi Manufacturing's U TRUST® product verification, its transparency and traceability are ensured.