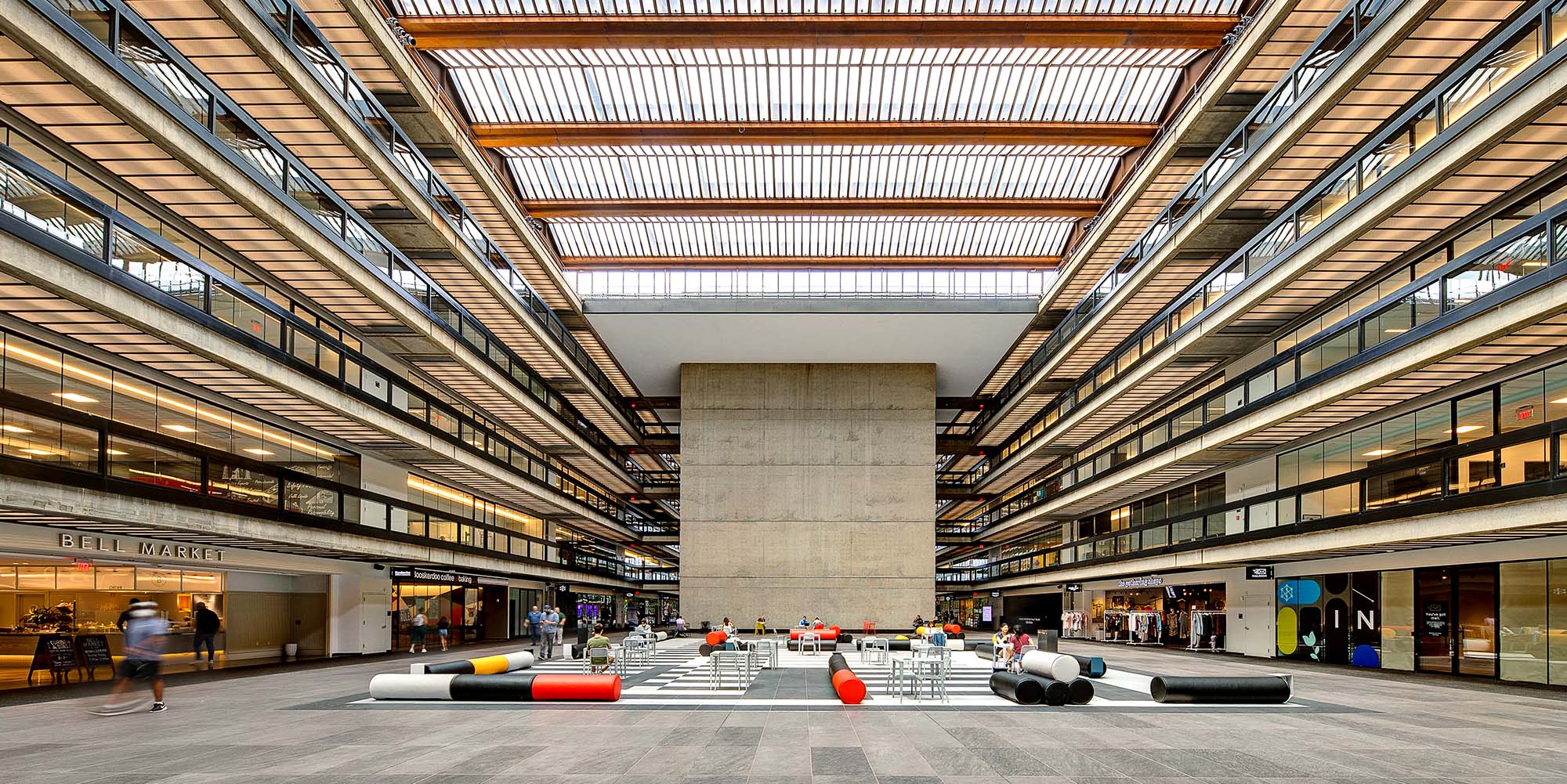 February 21, 2023
Npz studio+ on Breathing New Life into Old Spaces
IN PARTNERSHIP WITH NPZ STUDIO+ NPZDESIGN.COM
What makes an architecture and design practice unique? How do firms and offices develop areas of expertise, deep insights, and passion projects? For the Leading Edge series, Metropolis editor in chief Avinash Rajagopal sat down with 20 firms in 2022, speaking to practitioners about what distinguishes their work. Watch the full series on DesignTV by SANDOW.
---
Just a year after its start, npz studio+ began on a 2-million-square-foot project, Bell Works, a reimagination of Bell Labs in New Jersey. Specializing in interior design and creating experiences, the firm continues the legacy of the historic building with nods to the past but reactivates the space with flexible design and events.
Reimagining Bell Labs
"Bell Works is the reimagination of the former Bell Labs laboratories designed by Eero Saarinen. It was a process. I started with the café to bring life into the building. My mindset is very global, and I thought about the coolest markets in the world that are always bustling. I gave it a very simple look with string lights, and it worked. People started coming into the building, sitting on the couch, bringing their laptop, and enjoying the space. Then I started designing the offices, and one thing led to another, and an anchor tenant came in. It's been a nice process, layering and giving a space life little by little.
Working with developer Inspired by Somerset Development, my company npz studio+ started as the interior design firm on the project but then my role organically evolved into the Lead Designer and Creative Director because, for me, it's all about the brand—the design, the events, the space, and the social media. I also know that energy comes with people. You can have a beautiful space and design, but the people are what complete the space. We have live entertainment, farmers markets, wellness events… simple things like that bring energy and, as a result, cultivate a community. When everything is connected to the five senses, that's when people enjoy and feel connected to a space.
Designing for Chance Encounters
I do a lot of research on a building's history. It's important for me to investigate what happened there, and then think of the innovations of today. When I started on Bell Works, I noticed the building was designed for collaboration. Saarinen was a forward thinker. The hallways were designed for you to have serendipitous encounters with your neighbors, which made me realize that I needed to create offices that felt good and gave people that community feel, that sense of belonging. It's very important to keep that legacy, to connect everything to the past and then take it to the future.
I see how people appreciate the design of Bell Works. If you walk in on any given day, there are people just walking around with strollers, friends meeting for a glass of rosé, yogis heading out after their class, or colleagues meeting for a coffee. We are open to everybody because—dogs, people, art— those things give life to the building in a simple but beautiful way."
---
Paola Zamudio is the founder and head designer of npz studio+
Would you like to comment on this article? Send your thoughts to: [email protected]
---
The Leading Edge
This story is part of the Leading Edge Metropolis partnership series that examines what sets apart architecture and design practices. Explore the core values and new initiatives of industry innovators across disciplines.