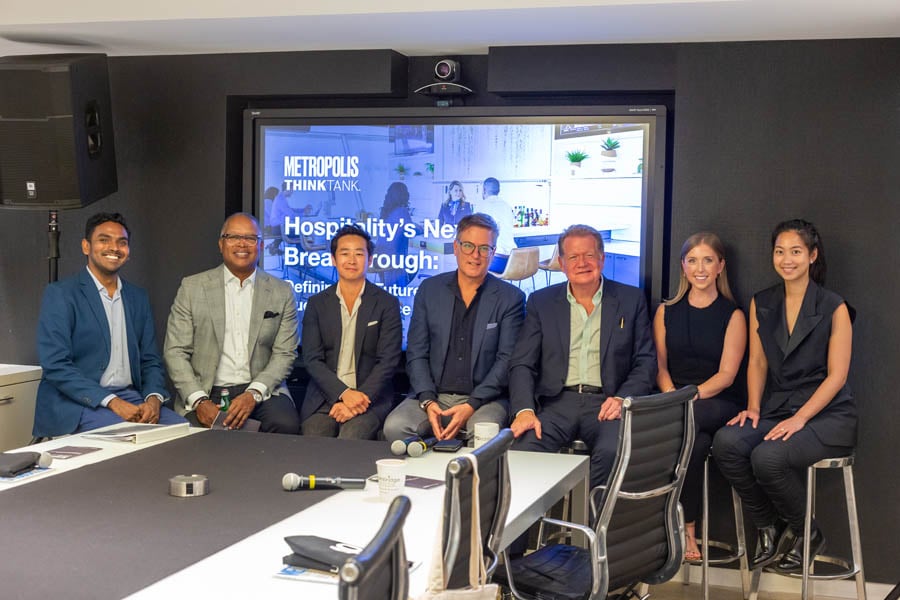 September 23, 2019
When It Comes to Hospitality, Tech Doesn't Always Best Word of Mouth
Call it old school, but the strategy that doesn't seem to be going out of style anytime soon. 
In recent years, workplace and residential typologies have reinvented themselves by drawing on outside influences, namely hotels and other hospitality spaces. Indeed, whether at work or in transit, people now expect hospitality-like experiences everywhere they go. How can hospitality designers continue to stay ahead of the pack?
A recent Think Tank event at TPG Architecture's Manhattan home base tackled this question. By and large, the panelists agreed that designers need to look beyond advances in technology to demographic changes. Shay Lam, managing executive at TPG, reminded the audience that elevating context is actually a novel idea in an industry long preoccupied with standardization. "Hospitality of the future is really about embracing community," he says. "It's about authentic placemaking."
Carolyn Vahey, managing director of Hospitality House, offered up a corollary from the food-and-beverage industry. "What luxury means today for the guest has changed. You used to be able to walk in and expect to get your eggs exactly like you had at the last property you stayed at. That experience has really adjusted," she said. Vahey's peer Susan Nugaha further pushed the point that the industry needs to look beyond replicable experiences. "[W]e want to create memorable dining experiences that wow our customers by transporting them into another world," said Nugaha, who is vice president of design and development at Tao Group. 
The ability to differentiate between individual properties is key for Greg Stobbs, who heads up the strategies team for Marriott International's eight luxury brands, including St. Regis and the Ritz Carlton. "We look at establishing characters for the brand that can then be interpreted. By creating a design methodology that riffs off the character, location, and guest expectations, we can then interpret each location into a bespoke experience," Stobbs explained. 
While sensitivity to locale is important to designing the guest experience, just as critical is a hotel's staff, claimed Christopher Pfohl, senior vice president of Pyramid Hotel Group. "If a hotel isn't executed well by the employees, it's a mess," he said. Pfohl revealed concepts for a new app he is working on that will help hotel employees share ideas and offer management an easy way to bestow praise and rewards. This brief incursion of technology's capabilities into the discussion belied the assumptions made by many of the panelists: Younger generations crave engaging, interactive experiences, but those expectations are fundamentally shaped by Yelp reviews and Instagram, among other web-based apps.
Still, exposure and click rates aren't everything. "We're more old school, we're out there talking to people," Vahey said, alluding to her Hospitality House team. "[I]t might be word of mouth, but it gets us real responses and not just something that is generated off of a report." Whether you're a designer, developer, consultant, or operator, it's a strategy that doesn't seem to be going out of style anytime soon. 
You may also enjoy "Trends in Hospitality Are Moving Away From Easy Luxury."
Would you like to comment on this article? Send your thoughts to: [email protected]