September 19, 2008
Today is Park(ing) Day
Go out there and claim your piece of the pavement!
Across the nation urban interventionists are putting quarters in the meter to pay rent not to park their cars. Who ever said a parking space was just for cars anyway?
Park(ing) Day was originated by the San Francisco art/design/activist group REBAR in 2005. Today, with efforts by the Trust for Public Land the event has spread. For New York City's incarnation, Transportation Alternatives has been a driving force in getting people involved and supporting park(ing) spots.
And REBAR isn't simply sitting back and watching as their grand plan takes over the States. This year the group is celebrating in Amsterdam and handing out Bushwaffle.
But back to New York…
 Cook + Fox's Park(ing) Day contribution
Photos by Daniela Morell unless otherwise noted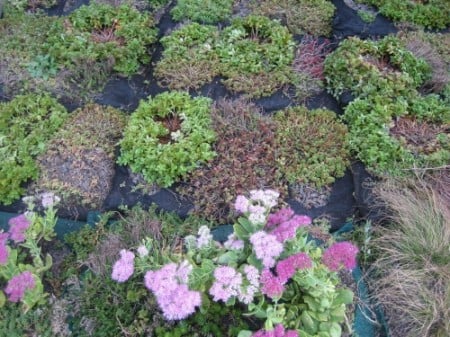 Direct from the rooftop of Cook +Fox
NYC architecture firm Cook + Fox is participating for the first time this year. Their space on 6th Avenue and West 19th Street features a sedum and grass spread brought down from the firm's own green roof. Communications associate Jared Gilbert (left) explained that the firm wanted to use the parking space "to educate people about green roofs. For us the roof is right outside, which is great for biophelia."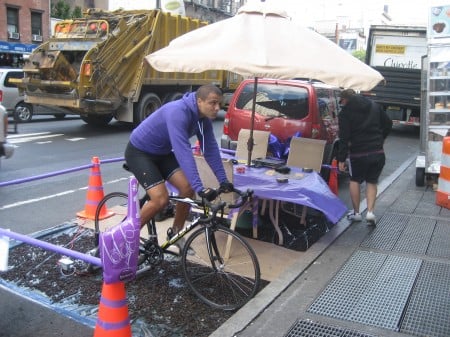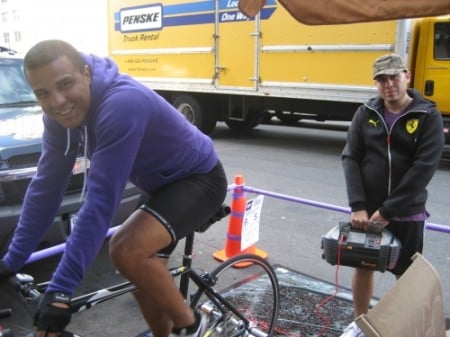 Yahoo! set up shop on Sixth Avenue and 13th Street. Mauro Ojeda will be riding a stationary bike all day that is hooked up to a generator to power laptops that visitors can use. The company's purple themed space is part of their guerilla marketing campaign. "Originally we were going to do purple popcorn," says project manager Victor Vega, (right, holding generator) "but I wanted to do the bicycle power which has a more environmental message."
Members of the New School's Renew School-a student initiative working to mitigate higher education's impact on the environment-are parking out on their urban campus at Fifth Avenue just south of 14th Street. "Our school is going through a lot of construction," member Ryan Wood explains. "We're doing this in order to advocate for open space during the process."
"We built a wetlands environment entirely out of materials from the office," Lia Kelerchian (above, seated and smiling with coworker Matt Dials) says of EDAWs parking space on 27th Street between Broadway and 6th Avenue. The landscape architecture firm was overrun with boxes from the office's recent move and put them to good use in creating a beautiful environment. On a block with lots of truck deliveries, EDAW's boxy wetland fits right in.
Meanwhile in Los Angeles…

Photo courtesy Amanda Sigafoos, Rios Clementi Hale Studios
Rios Clementi Hale Studios is "using piñatas to evoke childhood memories of birthday parties in the park," says Amanda Sigafoos. "Our office also wanted to nod to the rich Hispanic cultural influences that the city of Los Angeles is filled with."

Photo courtesy Amanda Sigafoos
Ah'be Landscape Architects are encouraging people to make a postcard including their ideas for improving open space in Los Angeles. For each postcard the company will donate money to the local nonprofit Trust for Open Spaces.
Photo by Monica Nakamine, Osborn Architects
Osborn Architects created an activities-based park on North Brand between East Broadway and East Wilson in Glendale, CA. Their parking space features bocce ball, croquet, basketball, badminton, chess, hopscotch, four-square, and basketball.
Take a look at the full list of participating cities—the concept has spread rapidly and chances are there's a park(ing) space that has sprouted in a pavement by you!