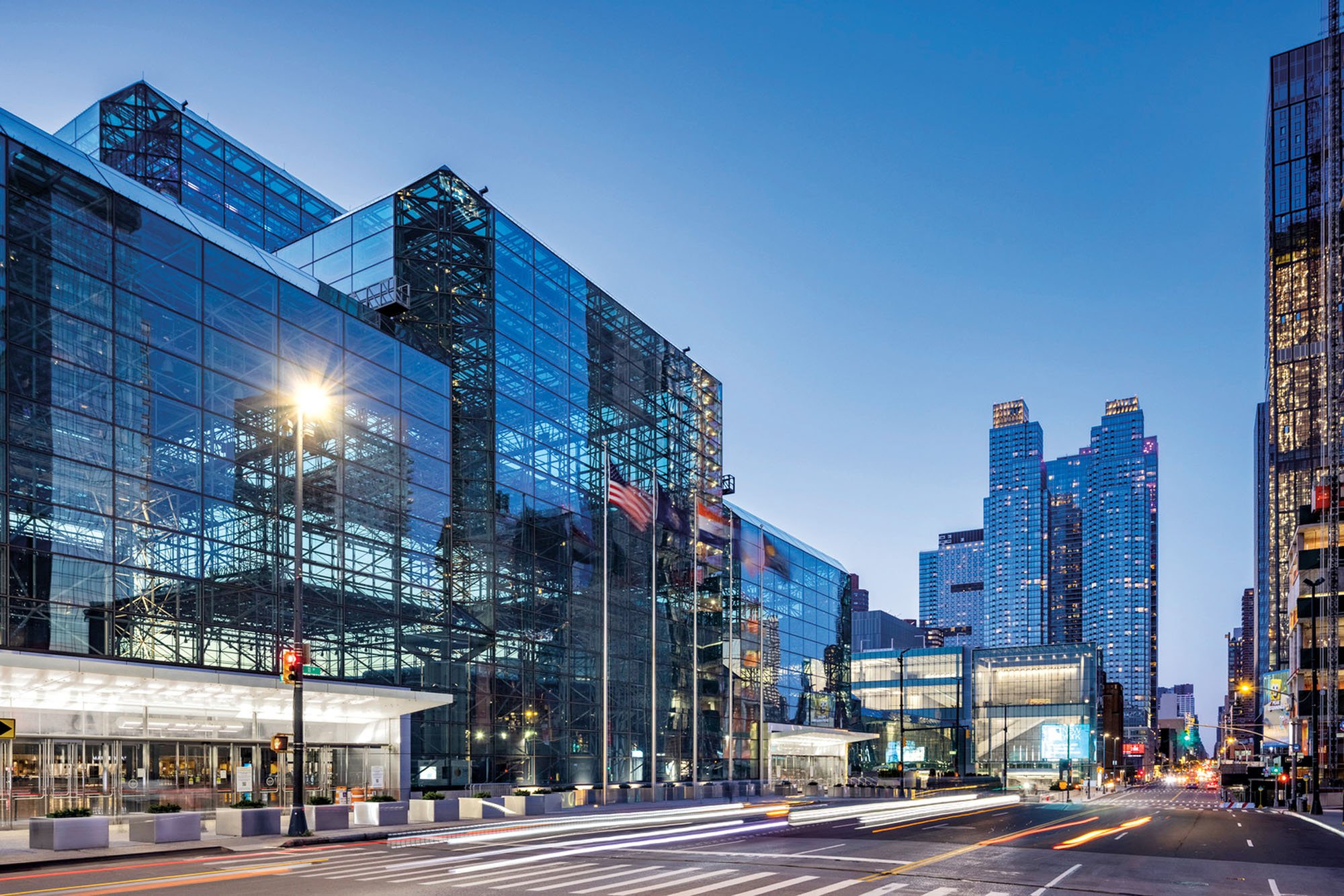 February 28, 2023
TVS Builds Convention Centers to Foster Human Connection
IN PARTNERSHIP WITH TVS TVSDESIGN.COM
What makes an architecture and design practice unique? How do firms and offices develop areas of expertise, deep insights, and passion projects? For the Leading Edge series, Metropolis editor in chief Avinash Rajagopal sat down with 20 firms in 2022, speaking to practitioners about what distinguishes their work. Watch the full series on DesignTV by SANDOW.
---
Atlanta-based TVS makes a big impact designing buildings to support the future of our cities. Each year, more than 240 million people interact with the firm's work, which includes large-scale public assembly buildings like its renovation of the Javits Center in New York.
A Small Firm with a Big Impact
"TVS is a unique firm down in Atlanta, Georgia, with a unique specialty: we do large, complex and bespoke buildings all over the world. We've done the four largest convention centers in North America, the largest in India, the largest in Central America, and four of the five largest in China. We make a massive impact from a small footprint.
Having this influence through big public assembly buildings where people graduate from high school, get engaged, go see a concert, or go learn something, is what drives what we do. It's what gets us out of bed in the morning. It's what attracts people to come and work with us.
Designing the Javits Center expansion in New York, for example, was a dream. It's originally an I. M. Pei design, an iconic building in the industry, so we were very motivated to create a dialog between the building and the expansion, to make them complement each other.
Updating the Javits Center for the Next Generation
The expansion was on the forefront of a lot of trends in the industry, taking a building that was primarily a trade show and exhibition center, and adding flexibility with small spaces, big spaces, meeting rooms, and banquet halls where people could meet formally or informally. It's also designed as a place for gathering in the event of an emergency. Its independence from the grid allows the building to be a hospital or a vaccination center like it was during COVID.
The green roof on this project is not only something to look at but something productive: It's a farm and a habitat to dozens of bird, bat, and insect species. As an architect, you try to minimize the impact your building has, but something that improves the ecosystem is a really interesting innovation. The intersection of sustainability and design is intriguing. You don't want to create a building that has all the sustainability bells and whistles but that everybody hates. Then they just want to tear it down. That's how the approach to sustainable design has matured. Javits is a great example of how you make a building that is exceptional from a design and functional point of view, but also from a sustainability point of view.
Javits is so many things to so many people. But buildings like this are gathering places first and foremost, and for people with many different motivations, whether it's to do business, find political consensus, or to have a drink with a view of the river at night. Ultimately, it's about coming together. The more that our day-to-day life is remote, the more essential it is to be face-to-face, hug somebody, shake someone's hand, learn something new, and be inspired. And that's what these buildings do."
---
The Leading Edge
This story is part of the Leading Edge Metropolis partnership series that examines what sets apart architecture and design practices. Explore the core values and new initiatives of industry innovators across disciplines.
---
Robert Svedberg, DAIA, is principal of TVS
Would you like to comment on this article? Send your thoughts to: [email protected]