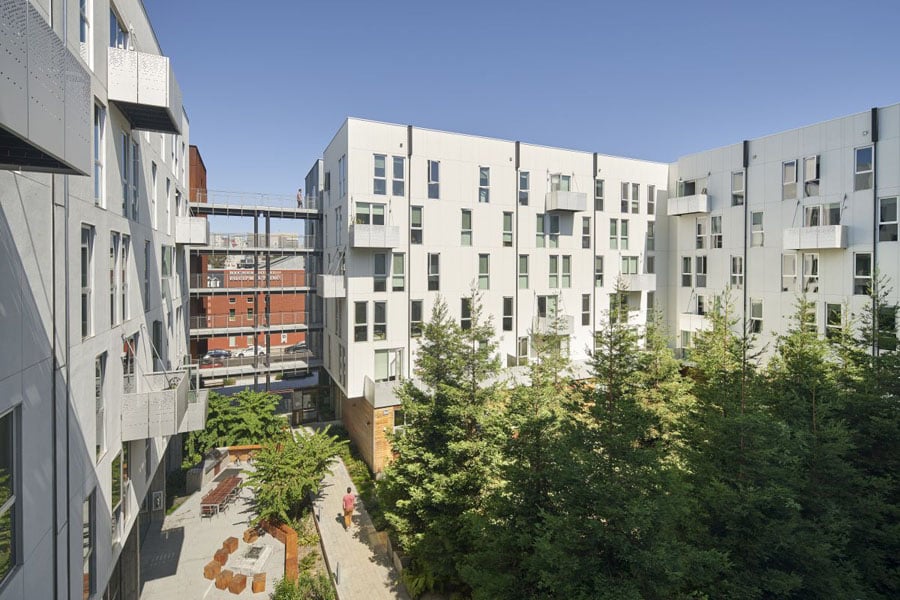 May 5, 2020
A Textural Patchwork—and Grove of Redwoods—Takes Up Residence in San Francisco
855 Brannan, a mixed-use complex by David Baker Architects, generously makes the most of outdoor living for tenants and the public alike.
You might say that 855 Brannan Street in San Francisco is largely about making connections, and in some ways, this has always been its story. First built up in the early 20th century as a freight depot abutting a train track, today, the site is occupied by a LEED Platinum–certified mixed-use development by local firm David Baker Architects—a project that itself is a connector between architecture and city, indoors and outdoors, place and history.
Occupying four block-filling acres, its 449 apartments—which include 15 street-level flex lofts that support living, working, or live-work occupancy—feature variously patterned weathering and galvanized steel facades that allude to the area's industrial past. The buildings' various faces have dynamic, textile-inspired textures: On one, a pleated face that is wavy and clad with a composite rainscreen; on another, a corduroy-like exterior made from vertical standing-seam metals; on yet another, an eyelet pattern of irregular window openings set into white cement plaster. Baker's office worked with the demolition team to recover 10,000 feet of Douglas fir timber from the building that most recently occupied the site, the Concourse Exhibition Center. That wood was then milled and reused in ceilings, walls, bars, and benches, lending warmth and re-inserting the site's past into common areas.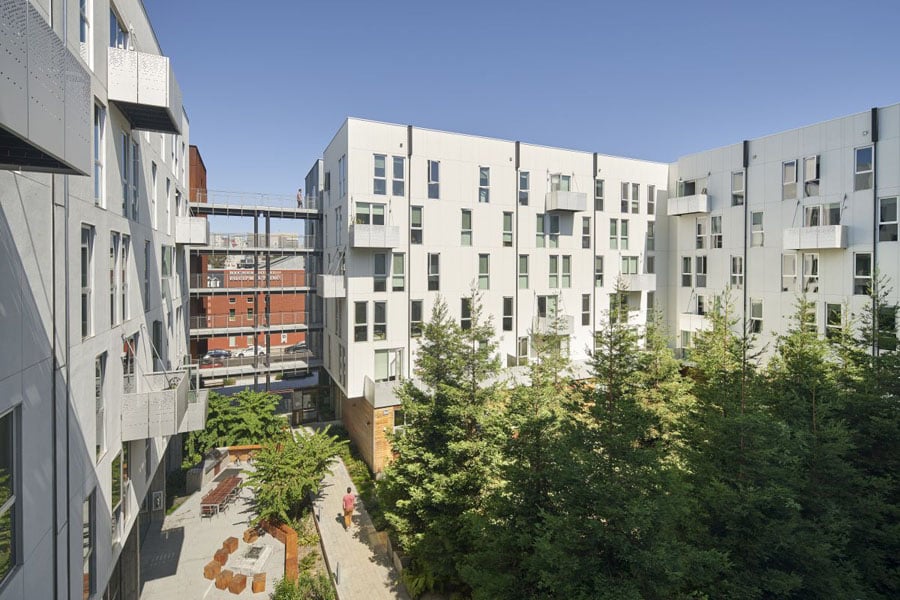 The complex is outfitted with diverse, open green spaces, and features that promote the area's emerging pedestrian activity. (855 Brannan is a short walk from San Francisco's busy SOMA neighborhood and showroom-filled Design District.) The roof deck includes an outdoor kitchen and fireplace with generous views of downtown. Two mid-block pedestrian passages (part of the city's network of privately owned, public open spaces, or POPOS), landscaped by CMG, break up the site's large architectural volumes, while a renovated pedestrian frontage along Brannan Street increases the number of walkways, the dimensions of sidewalks (co-opting a section of roadway and parking) and the number of trees (mature palms) in the neighborhood, along with adding 16,000 square feet of retail.
---
More from Metropolis
---
But at its heart, the project shelters a small grove of redwood trees. This copse is another example of POPOS—a place where neighborhood workers and other locals can share in what would otherwise be a tenant-only space. The barrier between public and private disappears during business hours, when locals can gather to take their lunch breaks within the towering micro-forest.
Inside the buildings, around the perimeter of the outdoor areas, community spaces flow together, opening onto the central courtyard and allowing an uninterrupted visual connection with the trees. An amenity lounge called the Town Hall, for instance, opens onto the grove via a tall retractable door.
"The [redwood] grove is designed to highlight natural space and features decomposed granite that looks almost like trails," says DBA associate Chelsea Johnson. "It becomes a surprising moment: You're in the middle of the city and then, suddenly, you're in a very natural redwood grove. It's a respite from the street."
You may also enjoy "At the Planned Danish Olympic Pavilion, Chairs Form the Architecture."
Would you like to comment on this article? Send your thoughts to: [email protected]