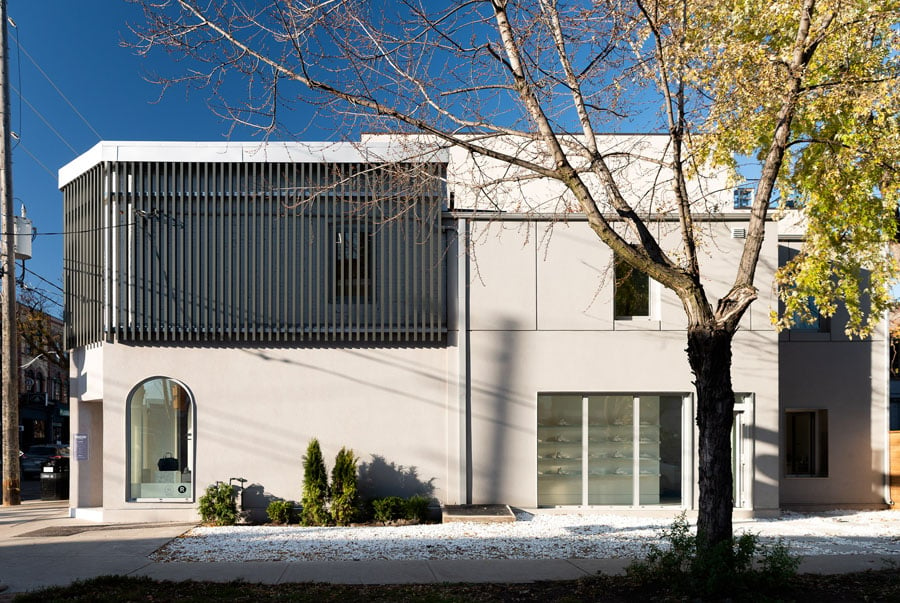 June 21, 2021
A Canadian Athletic Store Becomes the Built Extension of Inclusive Design
Toronto-based Reflect Architecture makes shopping for posh athleisure a democratic practice with their design for PERMISSION.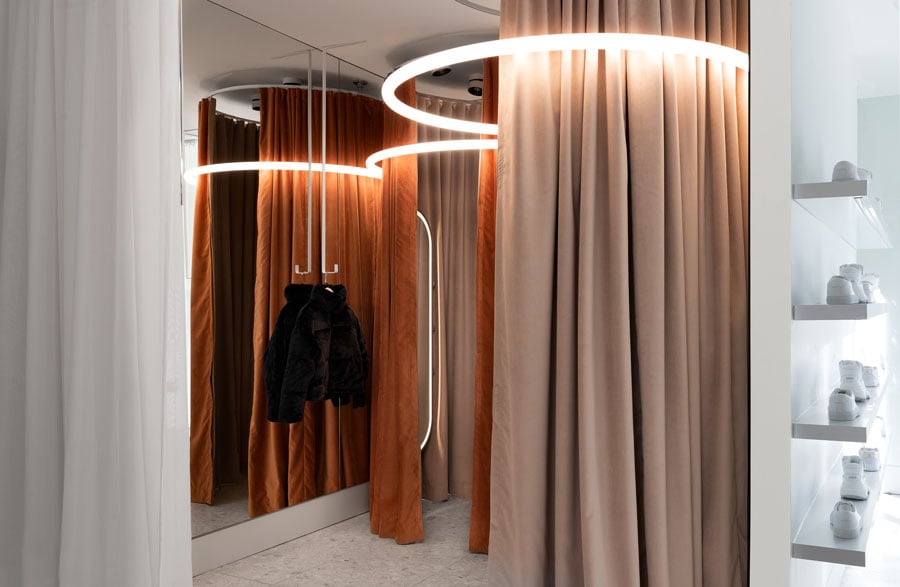 ---
Sisters and founders Laura and Amanda Santino entrusted Toronto-based Reflect Architecture to realize the brick-and-mortar version of PERMISSION, their body-positive athletic store for women.
The renovated 930-square-foot store occupies a corner along an arterial street west of downtown Toronto, among a smattering of small businesses and restaurants, and takes a cue from that site: the entrance is designed to appear stitched into the local fabric between commercial and community. Behind dark gray louvers, visitors glimpse the upper floor's brick-clad, wood-frame structure, which maintains a visual language respectful of historical storefronts while majuscules plastered to the exterior serve as modest signage.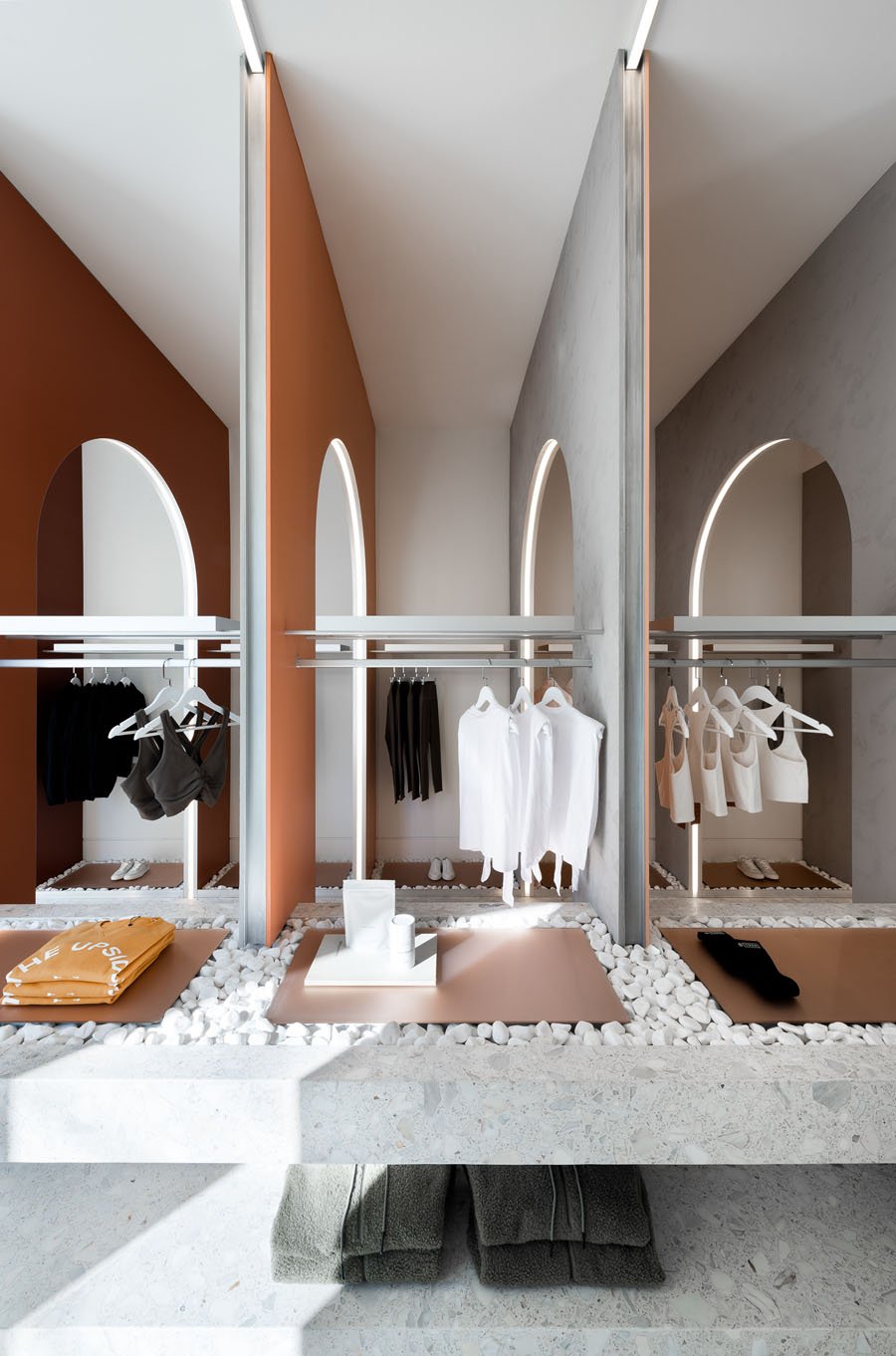 ---
PERMISSION is less demure inside, where Reflect Architecture's design disrupts the typical shopping experience. 
---
More from Metropolis
---
Outward-facing, monochromatic vistas mirroring the exterior's tonal qualities unfurl within like a kaleidoscope, as traffic passes by the shop's nearly full-floor arched window on the facade proper flanking the entrance. The circulation subverts traditional point of sale space planning as the design encourages meandering through the seemingly gray, illuminated arcade. "We wanted whoever is working to float around, interact, and converse with customers, then check out from anywhere," says Laura Santino. "It adds something personal."
Shoppers wander each chamber to browse a unique, mannequin-less product display and walls painted in colorways evocative of hues in the human spectrum. "It's something our customers don't realize until they turn around," adds Laura. "It's nice to see their reaction."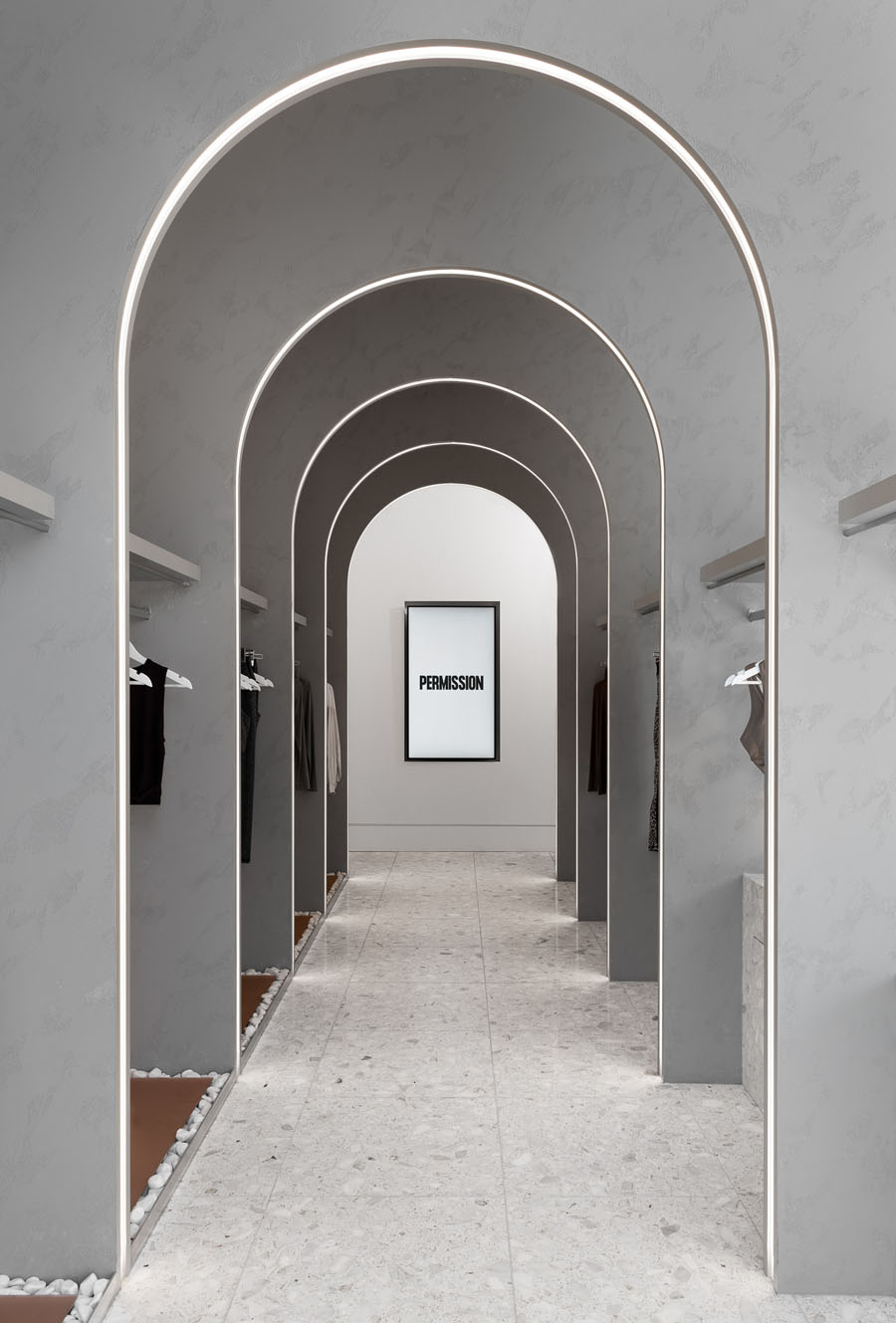 ---
The material palette is contemporary without pandering for Instagrammable moments, and masterful in its transition between color, shape, and texture—a visual clue to shoppers that the brand extends this inclusivity to its customer base.
Notably, the sheer-wrapped, custom mirror-clad dressing rooms foster an elevated shopping ritual. The double haloed changing pods present a luxe moment for users to celebrate their bodies alone or to allow their guests to share in a layer of that experience without being exposed to the public. "I love seeing peoples' reactions as they come out of the change room commenting on the good lighting and mirror," says Amanda. "They feel so good about themselves."
The concept triumphs over more conventional retail environments, in which frustration and insecurity can run amuck. Of his design ethos the principal architect, Trevor Wallace, relays "we thought through all the typical retail experiences and tried to remove the parts which cause discomfort and don't contribute to a sense of giving somebody permission."
You may also enjoy "Croatia's Maslina Resort Celebrates Natural Materials and Japanese Design"
Would you like to comment on this article? Send your thoughts to: [email protected]
---
Register here for Metropolis's Think Tank Thursdays and hear what leading firms across North America are thinking and working on today.