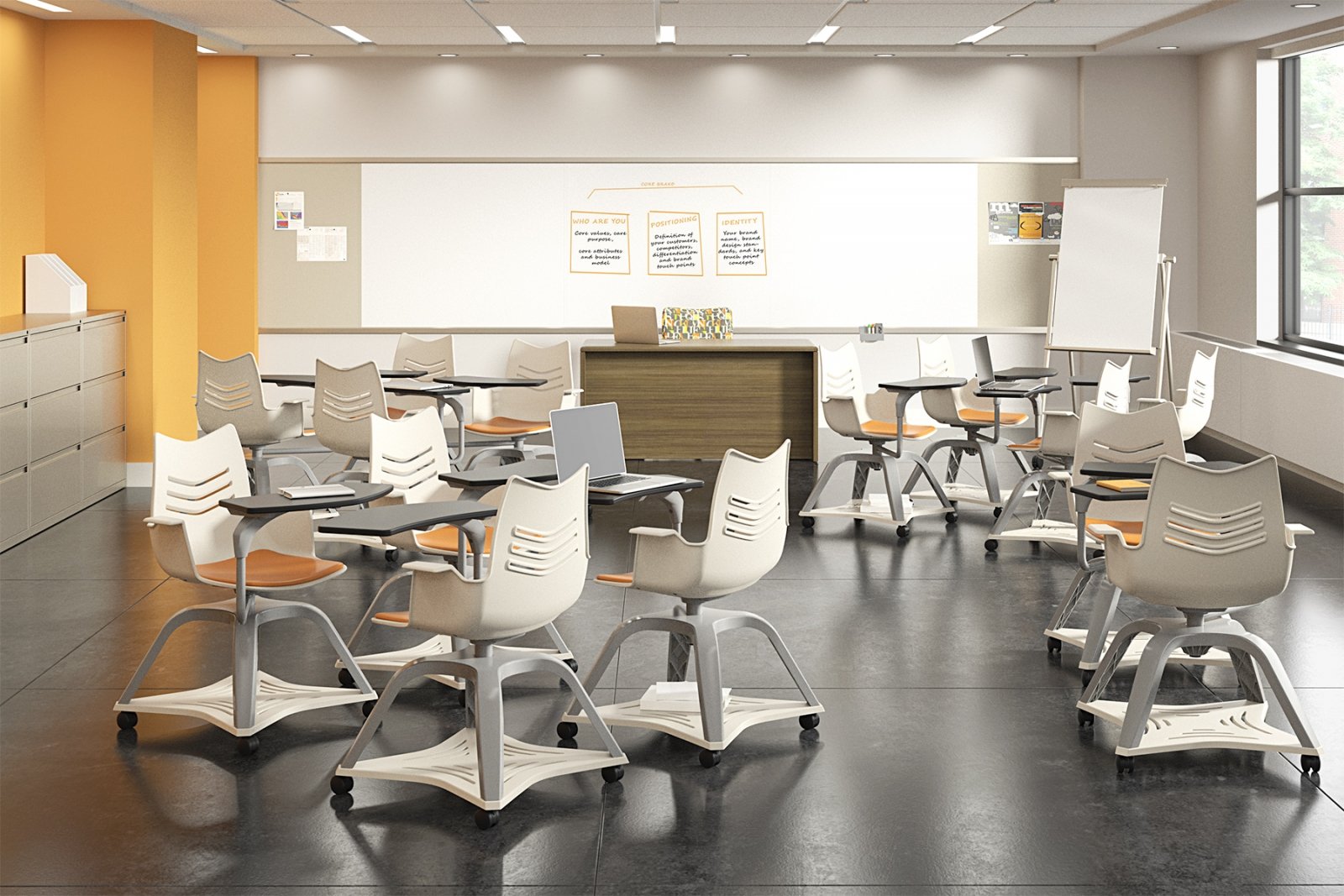 February 3, 2015
The "Essay": A Chair For Students, By a Student
A furniture company collaborates with design students at Purdue University for its latest chair collection.
The Essay seating collection is suited to a wide array of learning environments, not just classrooms. The stool version, shown here, is designed for administrative or corporate spaces as well.
All photos courtesy National Office
Who better to design a student chair than a student designer? Last year, furniture manufacturer National Office turned to industrial design students from Purdue University in a unique experiment to answer just that question. The students responded to the challenge with concepts that reflected the ways that their own generation wanted to learn in the new millennium. One concept, by Sasha Mahan-Rudolph, was so insightful that made it past the challenge, and all the way through the exacting processes of the contract furniture industry, and took final form as the Essay collection, which was released last week.
"Being a student herself, Sasha could rely on first-hand experience, and also gather feedback from her peers," says Lisa Schmidt, National Office's Segment & Sustainability Marketing Manager. Several of these ideas are reflected in the final design, including the distinctive chevron shape in the back of the chairs. "Sasha wanted this form to be a very important element," says Derek Schweikarth, an industrial designer at National Office. "You can hang a book bag on it, or pull personal items closer."
Another important detail was the base. It is accepted knowledge within the furniture industry that students need some place to put their stuff, and most student chairs offer some kind of storage below the seat. But Mahan-Rudolph discovered that most students didn't actually use that space, choosing instead to prop their belongings against the chair. So the chevron is carried into the shape of the tray at the base, creating a little niche so that, even if you dump them on the floor, your belongings are in your personal space. These pragmatic details—and others like the swiveling writing surface that fits all users, or a cup holder—mark the Essay collection as "designed for students by a student," in Schweikarth's words.
---
More from Metropolis
---
The chairs group together for more collaborative formats. The writing surface, which can be used by left-handed and right-handed students, has enough space for a laptop and a notebook.
"We have a long relationship with Purdue University, some of us in the [National Office] design team are alumni," says Schweikarth, who mentored Mahan-Rudolph through the process. That the relationship should result in a full collection of furniture is remarkable, so Mahan-Rudolph's early success in designing for her peers should ensure this student designer's bright future in the industry.