January 26, 2022
A Geometric Home Cuts an Impressive Figure in Coastal Spain
Though relatively new on the ever-innovative Spanish architecture scene, the small but dynamic firm prides itself on taking a holistic, client-driven approach to every project. HORMAestudio primarily works in the Valencia region and has developed homes, cafés, and stores with strong graphical qualities. Left in their unadulterated state, standard building materials like bricks, concrete, and plywood are cleverly implemented to make strong visual statements. The firm's pared-back aesthetic relies heavily on the unexpected proportioning and patterning of these quotidian elements.
---
More from Metropolis
---
DM House, HORMAestudio's latest undertaking, takes this approach to the next level by incorporating playful elements and emphasizing the contrast between clean-lined minimalism and eye-catching accents, all to promote a sense of harmony. "The composition of different volumes and geometries, together with the constant dialogue between materials, makes it possible to reduce and control the relationship between the [different] parts of the project," Juan adds.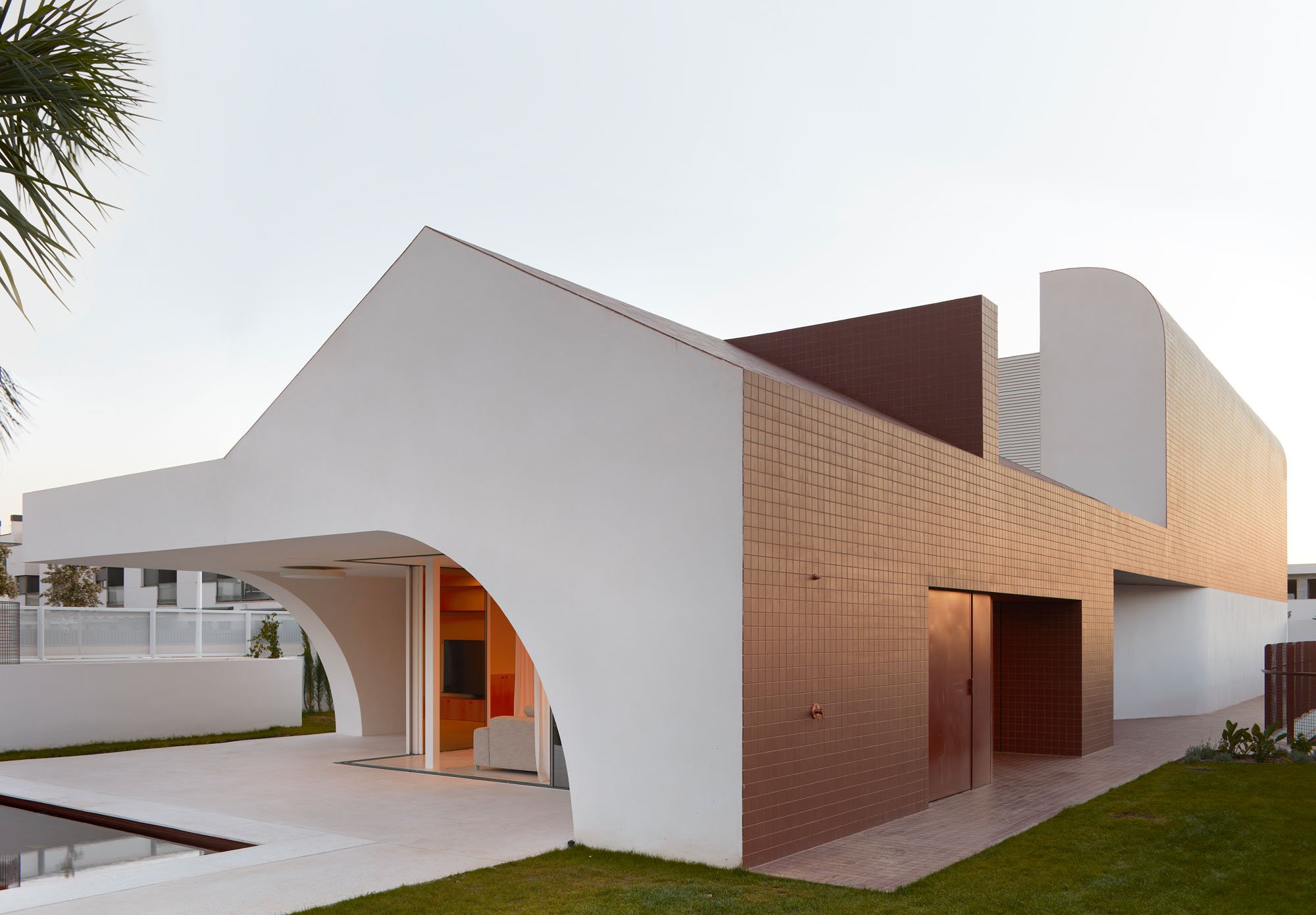 Positioned with southern and eastern exposures, the hermetically sealed home is protected from the harsh sun to the west. Cleverly placed shafts bring natural light and air into more intimate bedrooms in the northern portion of the house that are shielded from abutting properties yet to be developed. The main family level—completed with a semi-curved pool—is intersected by a lower entertainment space and guest suite above at 11.5 feet in each direction. Explicating the indoor-outdoor scheme are strategically placed skylights and semi-translucent curtain walls.
On the home's exterior, a lime-washed cladding is juxtaposed by grids of terra cotta-hued ceramic tiles that help articulate particular undulations and curved articulations. This two-tone color scheme is evoked indoors with continuous terrazzo flooring as well as custom maple and cherry wood built-in furnishings. The reddish accents not only balance out the natural off-whites but also integrate well with the verdant plantings that surround the abode. Though a bold aesthetic postulation, the home was conceived to serve the exacting needs of its owners and reflect a more conducive spatial distribution.
Would you like to comment on this article? Send your thoughts to: [email protected]