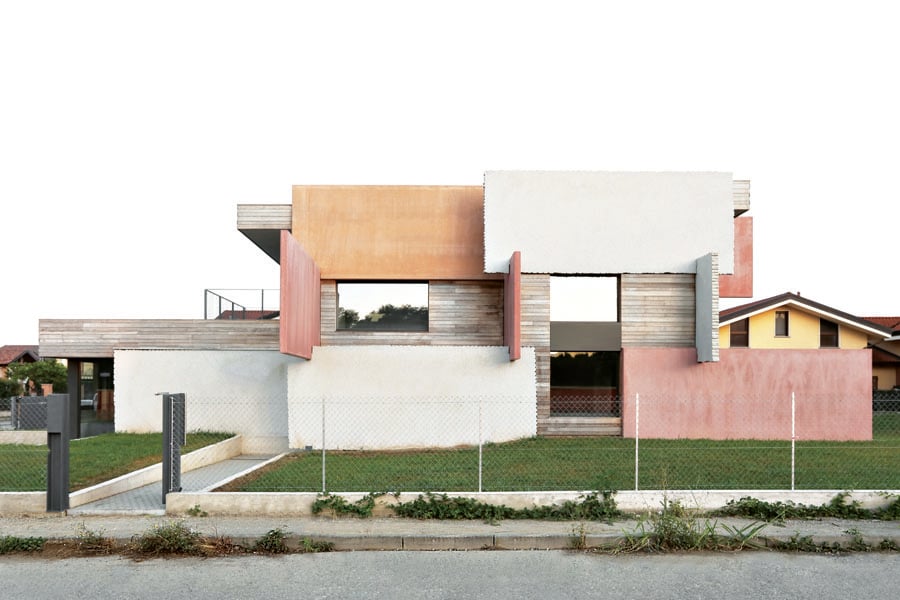 January 25, 2021
A Pair of Houses in Italy Feature a Collage of Granite and Concrete
Architecture firm Elastico Farm designs two houses in Northwest Italy to showcase materiality and the owners' individual styles.
Fronting bland rows of generic suburban houses in northwestern Italy—red roof tiles, wan faces, dull dormers—the Cat and Dog Houses were designed for two sisters, a cat person and a dog lover. The dual project represents a culmination of the latest structural and material experiments of Italy- and Canada-based architecture studio Elastico Farm. "How we start to design is with 'What if? What if we do this?'" says architect and Elastico cofounder Stefano Pujatti. "It is 'what if' that lies in the middle, between these two houses."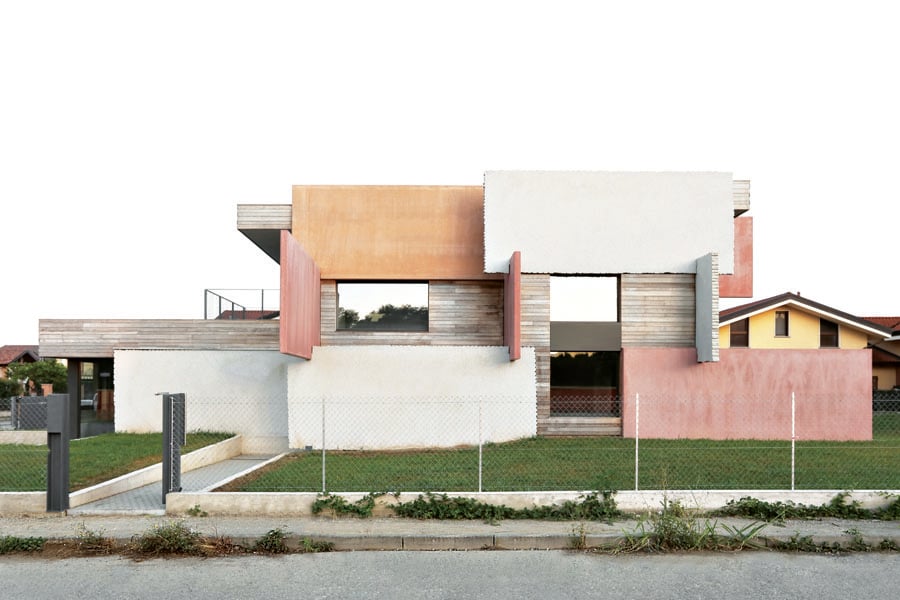 As unexpected as the studios other projects in Italy—among them the water-veiled Atelier Fleuriste in Chieri and the high-altitude dormer peaks of the Slow Horse hotel in Piancavallo, Italy—these two-level, 2,153-square-foot residences resemble houses of cards or a precocious use of Dado Squares. Sharing the same DNA but distinct, they indict the uniformity around them by deploying identical elements to opposite effects.
Both houses are composed of the same number of the same components: 20 Sardinian granite slabs collaged with colored concrete slabs. Although granite is often relegated to decor or trim in Italy, Elastico Farm used it structurally here. The prefabricated slabs, each just under eight feet long, slot together via interlocking cuts and are anchored with metal dowels. Shipped directly from the quarry and then craned into place, they extend variously beyond the houses' facades. The faces of the stone slabs remain scored and their ragged edges confer a sculptural look. The slabs also extend inward, forming fragments that peek through walls like artworks hovering within the interior space.
---
More from Metropolis
---
How the houses diverge is compositionally. The extroverted Cat House was built to frame its surrounding exterior space, while the introverted Dog House spirals inward even as it appears to burst outward—an axonometric drawing made flesh. The Cat House's orthogonal grid makes circulation more set and finite, but it's an unpredictable grid: Even though the spaces are rectilinear, adding the musculature—insulation, flooring, steel beams—was difficult. "The layering of the stone pushed us to create spaces that could not be too regular," explains Pujatti, a SCI-Arc grad who collaborated with Morphosis and Coop Himmelb(l)au before cofounding the studio in 2005. "There are stairway slabs that extend into the middle of the bathroom, for example, forming elements that force you to go around."
In contrast, the Dog House coils around its courtyard, creating complex (and seismically tolerant) spaces. The radial structure of the first level's partitions contrasts with the necessarily irregular compositions above, suggesting an unfinished space that could change and evolve.
"When you enter the Dog House, the slabs are right there. You touch them. You follow them," Pujatti says. "In the Cat House, you find yourself confronted by the slabs and have to turn, which creates the views." With a dearth of pleasant vistas, however, even those openings are unusual: "In each house, most of the windows look toward the other house, making it feel like one big house," he explains. "One big house composed in two very different ways."
You may also enjoy "In Italy's Alpine Tyrol, a Lakeside Hut Merges with All Four Seasons"
Would you like to comment on this article? Send your thoughts to: [email protected]
Register here for Metropolis's Think Tank Thursdays and hear what leading firms across North America are thinking and working on today.