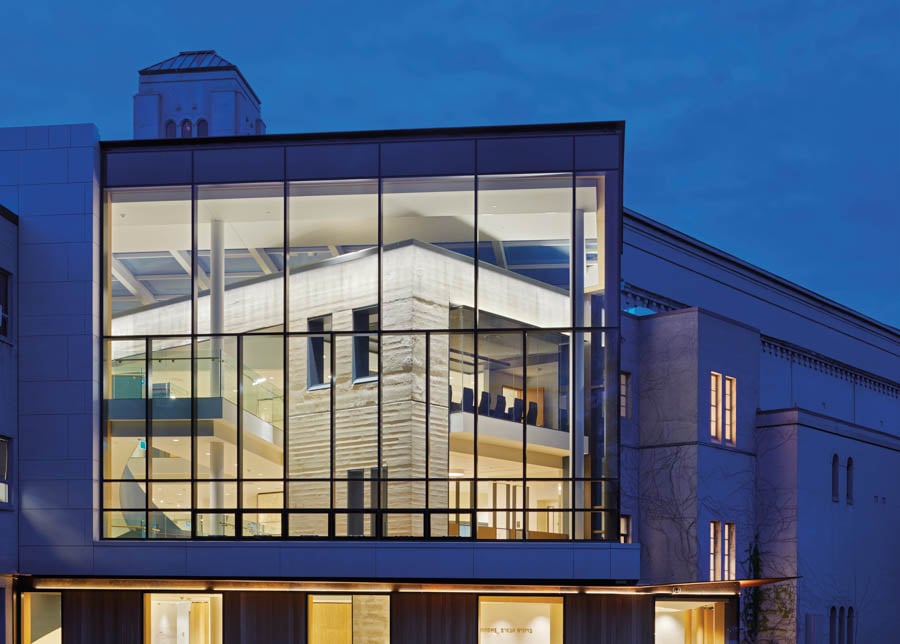 May 11, 2020
A Progressive Addition Distinguishes a Toronto Synagogue Built in the '30s
Diamond Schmitt Architects designed a contemporary update for the storied Holy Blossom Temple.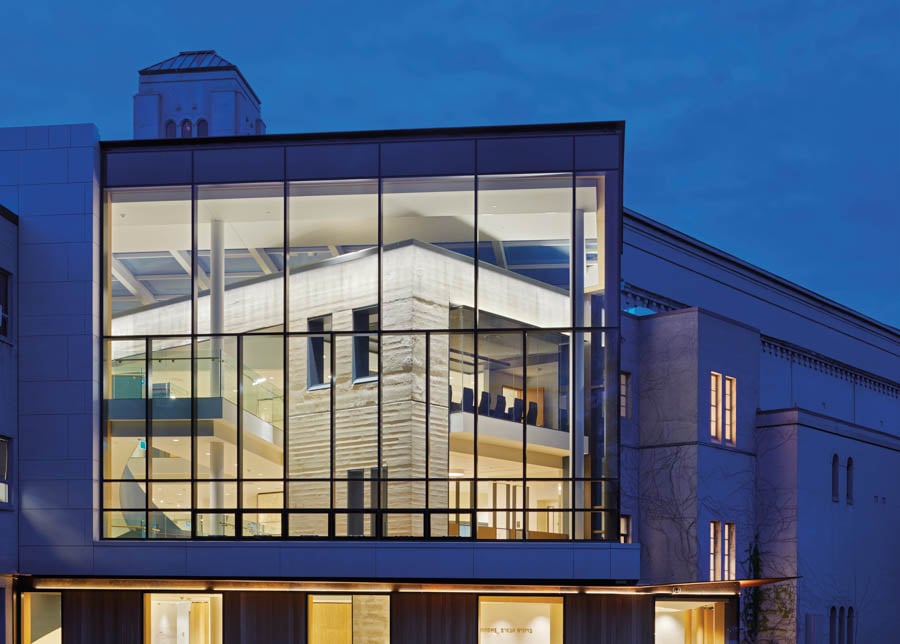 Toronto's iconic Holy Blossom Temple has always had a progressive agenda. Besides occupying one of the city's original purpose-built synagogues, designed in 1938, it is the first Canadian congregation to be led by a female rabbi. Naturally, when the time came to add a space for gatherings and events around 2003, its members sought out a firm steeped in contemporary practices. There was an added challenge, though: An adjacent educational wing and social hall, built in the 1960s, was linked to the rear of the temple by a warren of administrative offices. The ensemble had further robbed the complex of a defined foyer and an adequate front door.
The firm hired for the job, local studio Diamond Schmitt Architects, took an almost surgical approach by removing the interstitial space—a labyrinth of rooms and hallways that principal and project lead Martin Davidson describes as "a tortured pretzel." In its place is an oblong atrium three stories high and featuring a fritted glass roof that floods an unobstructed gallery with natural light. At one end, a circular stairway wrapped in cut steel leads to the upper levels, while cantilevered walkways connect auxiliary spaces like a family chapel with sycamore walls and oak floors.
Navigation is now so transparent that staff at the front desk can simply point visitors in the right direction. Before services, congregants enter the darkened sanctuary via the new atrium; after, they pour back into the ample space for lingering and chatting.
---
More from Metropolis
---
Rather than erase entirely what was removed, Davidson and his team left a trail of archaeological reveals that attest to the campus's past lives. For example, three metal rectangles outline the rabbi's previous office windows. And just inside the new foyer is an irregular pattern on the floor that demarcates the former entrance, replaced by a handsome pair of heavy wooden doors that lead to the heart of the complex.
You may also enjoy "Artist David Hartt Takes Over a Frank Lloyd Wright-Designed Synagogue"