July 13, 2020
A Pyramidal University Campus Towers over a Japanese City
With numerous functional and visual connections to the surrounding city of Ibaraki, Otemon Gakuin University's newest building is inviting despite its sleekness.
Mitsubishi Jisho Sekkei has designed a university campus for 3,600 students at Otemon Gakuin University in Ibaraki, Japan, featuring an inverted triangular shape that draws on the mystery and attraction of ancient Japanese temples to attract both students and nearby residents.
The five-story, 40,000-square-meter 'Academic-Ark' is located on an old Toshiba factory site, which has been transformed into a park-like landscape with a cherry tree-lined avenue. A cast stainless steel eco-screen facade replicates the cherry blossom motif, while three steeply angled, cantilevered 'gates' create welcoming entrances.
"The building should make people wonder what's inside and inspire them to come in to have a look around," says the project architect Yasuhiro Sube.
---
More from Metropolis
---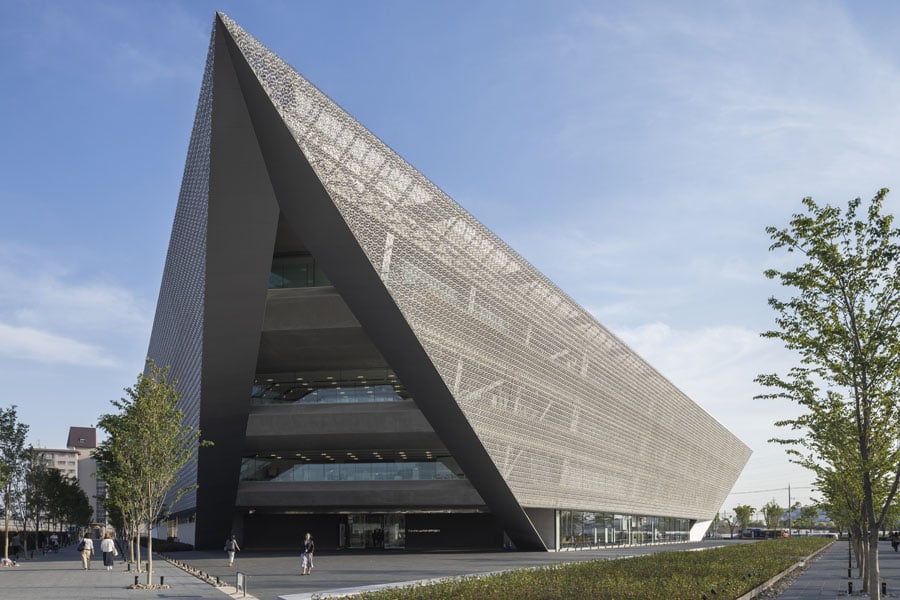 The small site footprint minimized the need for foundation works and reduced the area that had to be excavated prior to construction—there is a mandatory requirement to search for historical artifacts—which allowed for exceptionally rapid construction. The eco-screen acts as a sunshade, reportedly reducing the air-conditioning load by around 60 percent, and the rooftop garden terrace's large eaves mitigate outdoor heat entering the building.
Inside, classrooms, studios and a one-kilometer 'book trail' encircle a monumental central void with a floating silver structure that houses the main library. Smaller, more intimate spaces and cafés throughout encourage students and residents to sit and read or relax. In the way of integrating with the surrounding city, the building is also a designated temporary evacuation site and houses the local tourist board. At night its illuminated facade transforms the whole structure into an enormous lantern.
"I hoped to achieve a campus that would draw students out from their homes and spark unexpected encounters between people and architecture," Sube explains. "Since anyone can freely enter the areas, and library books are available to the public, the whole community is starting to discover new opportunities for learning."
You may also enjoy "A Kindergarten Near Montreal Uses Wood to Sustainable, Biophilic Effect."
Would you like to comment on this article? Send your thoughts to: [email protected]
---
Register here for Metropolis Webinars
Connect with experts and design leaders on the most important conversations of the day.