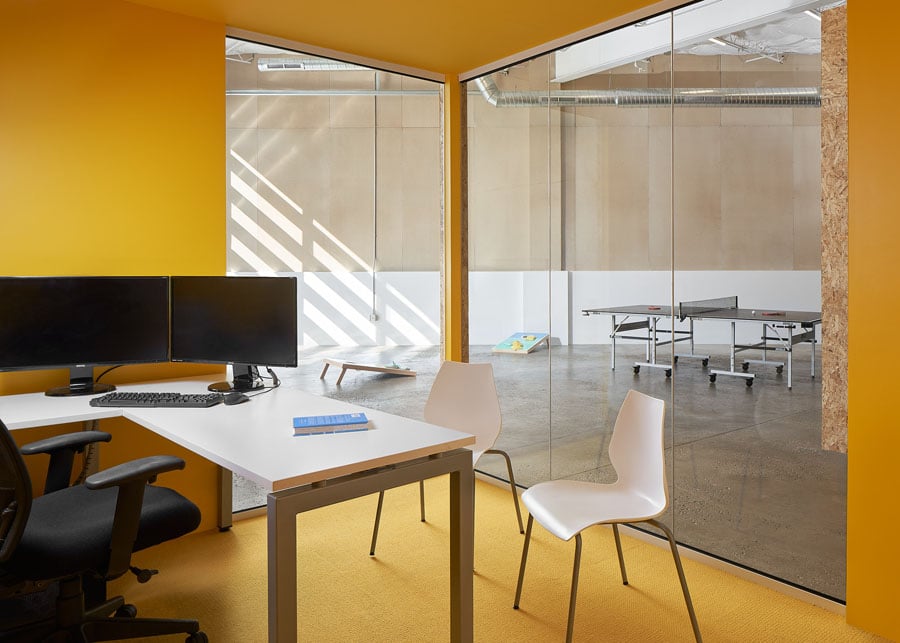 December 8, 2020
Adam Sokol Architecture Practice Converts a Plumbing Supply Warehouse Into a Design-Forward Workplace
The new Arbeit Software headquarters near Buffalo, New York, supports the tech startup's collaborative, casual culture.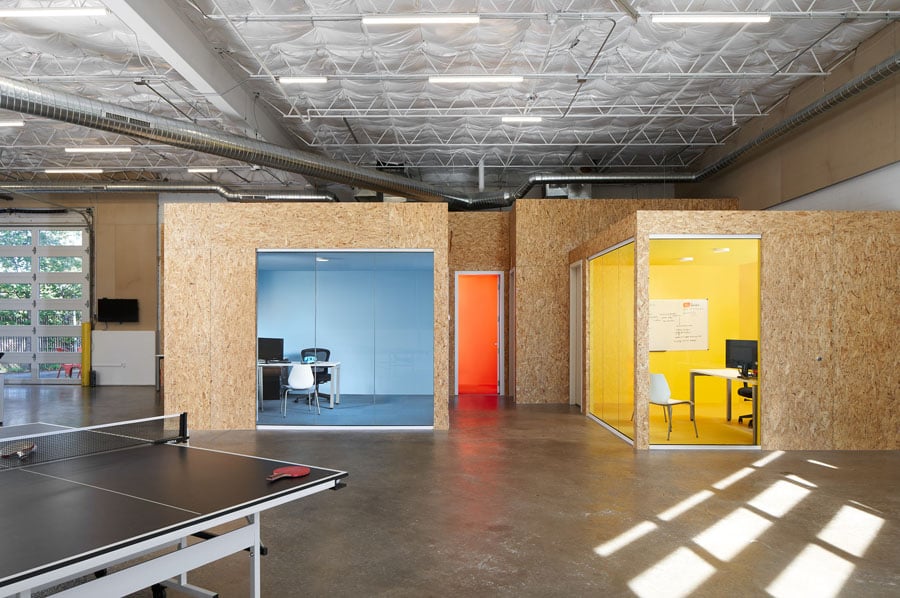 ---
While tricked out kitchens, DJ booths, and zip lines are often associated with tech startup office design, that's not the reality for many. At the headquarters of Arbeit Software in Tonawanda, New York, Adam Sokol Architecture Practice (asap) still incorporated elements of contemporary unorthodox workplaces into the building in a way that supports the young company's culture.
After having taught architecture at the University at Buffalo, Sokol still maintains contacts in the area and an office in New York. The architect now lives in Los Angeles and works out of a studio in the downtown Arts District.
---
More from Metropolis
---
This undertaking meant converting an 8,880-square-foot plumbing supply warehouse into a collaborative, innovation-oriented professional setting, all within a modest budget. The clients, who founded Arbeit Software in 2013, were based in a suburban office park and wanted a standalone structure with a distinct identity. Arbeit designs cloud-based programs for commercial phone systems and had approximately 20 employees when the project was completed in 2019. "It's interesting because it has a little bit of that post-industrial edge," Sokol observes about the new setting. This HQ provides some room to grow, or as current times demand, to work relatively safely at a distance.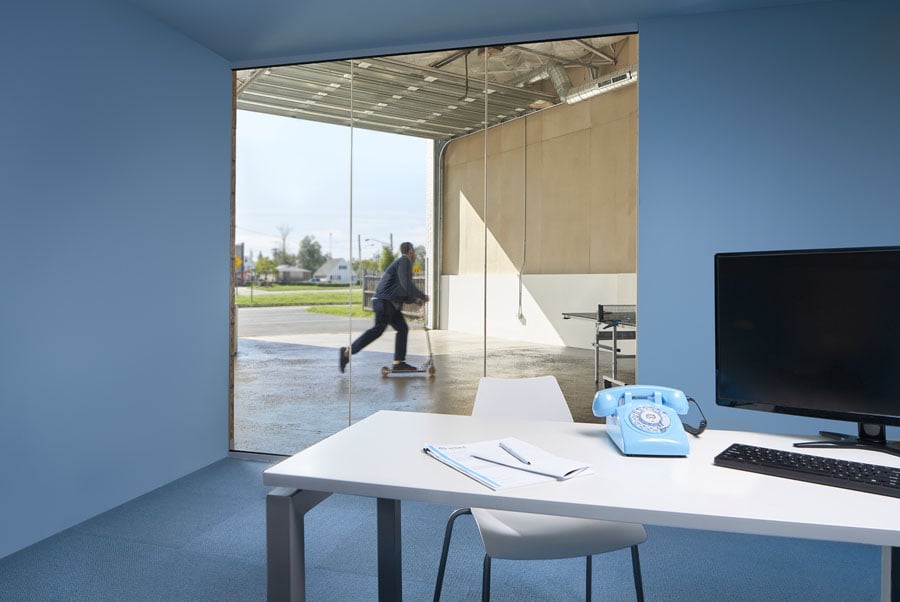 The cluster of central office volumes clad in oriented strand board (OSB) is "conceptually the core of the company," Sokol says. Leadership can "be in proximity to each other and have privacy, and with the windows they have a connection" with nearby colleagues. A bank of more uniformly sized offices houses the marketing team and the building contains ample space for software developers and other staff to work together in various configurations.
What Sokol describes as "primary-adjacent" colors saturate each defined office, from floor to ceiling. "Part of it was compositional, part of it was giving a different identity to them," he adds. (The colors themselves were selected from Arbeit Software's graphic design and branding book.) Two large garage doors were replaced with aluminum and glass to let in natural light. The preexisting tall ceilings help make the interiors feel relatively bright, so the designers didn't add windows or skylights.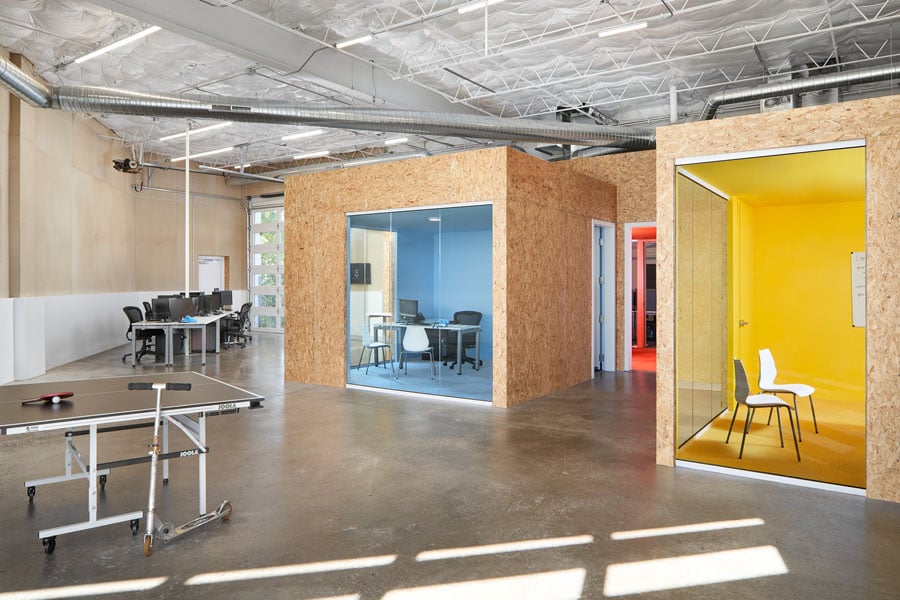 A flexible, open area can host guest speakers and special events. There's a ping pong table, and the expanse of concrete flooring is conducive to indoor scootering. (The western New York climate boosts the importance of indoor recreation, after all.) The rear of the building opens onto a patio to take advantage of the outdoors when the weather permits. In contrast to what's arguably a contrived hyper-casualness cultivated within Silicon Valley culture, this company's local origins mean employees' friends routinely stop by to visit.
The Arbeit Software space is simultaneously positioned for growth and "feels lived in and informal," Sokol notes. It's the kind of sincere homegrown and design-forward working environment that gives even the most over-the-top, shiniest tech office toy a run for its money.
You may also enjoy "Why Interior Designers Must Fight Climate Change"
Would you like to comment on this article? Send your thoughts to: [email protected]
---
Register here for Metropolis's Think Tank Thursdays and hear what leading firms across North America are thinking and working on today.