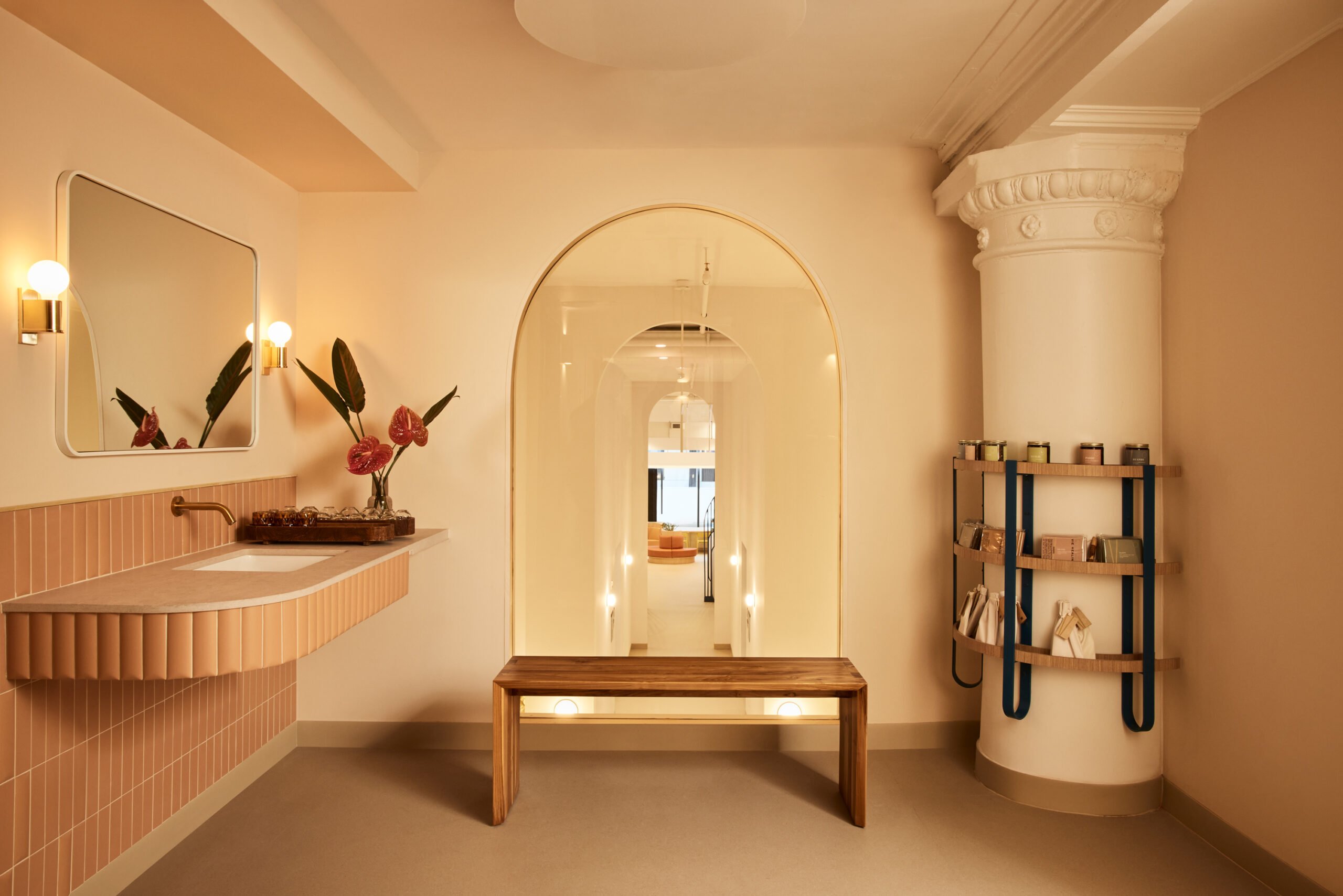 July 8, 2021
Alda Ly Is Raising the Bar for What Healthcare Should Look and Feel Like
A new health and wellness center in Manhattan takes cues from hospitality design.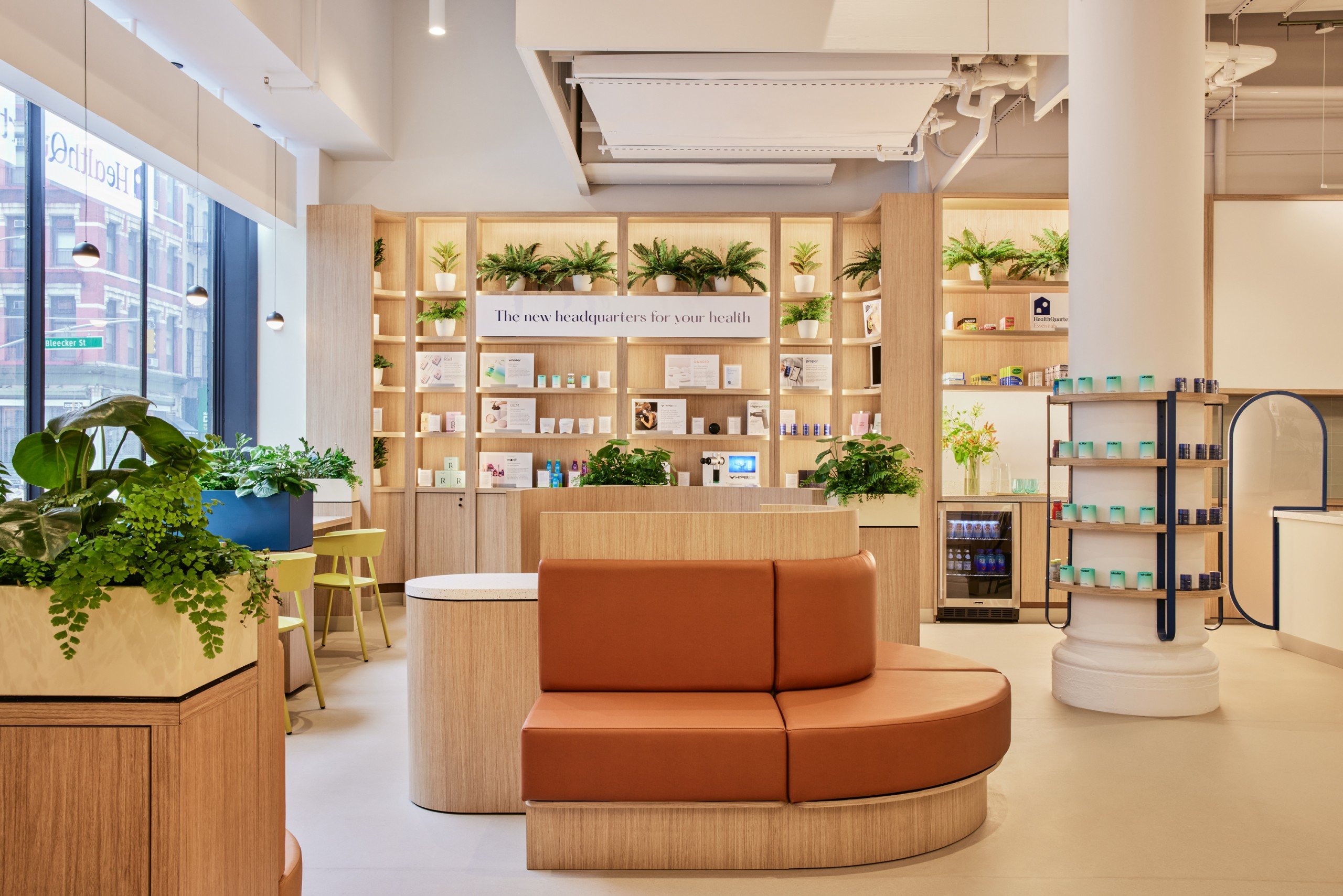 ---
The doctor's office has come a long way from being a generic, sterile room. Out with the stark white walls and stiff waiting room chairs; in with the warm colors, comfy seating, and biophilic design. Rooted in comfort, and defined by meticulous care for patient experience, the healthcare industry is turning over a new leaf, and it is doing so in style.
In Manhattan's hip NoHo neighborhood, a new healthcare player has entered the game. Bringing physicians from New York City's Mount Sinai Health System and independent wellness practitioners together under one roof, HealthQuarters wants to redefine health as one unified, holistic experience. To design it, the company engaged local studio Alda Ly Architecture (ALA).
---
Located in a historic building constructed in 1900, HealthQuarters spans 14,000-square-feet over three floors. The flagship health and wellness center is a vibrant, comfortable space where health care is blended with hospitality design, raising the bar for what medical care should look and feel like.
---
More from Metropolis
---
"The most important thing was to understand the true mission and values of HealthQuarters," explains Alda Ly. "We took those goals and those feelings and tried to design around that."
Working around five tenets—compassion, clarity, expertise, integrity, and courage—the six-person, women-led architecture studio focused on patient experience by designing a calming, intuitive space. "It's less about materials and more about how it makes people feel," says Marissa Feddema, director at ALA. Following the word "clarity" for example, meant designing clear navigation and spaces that feel approachable. For example, half-arched metal screens were favored over opaque walls in the lobby, offering a direct visual link between the street and the depths of the center.
---
By virtue of its layout, which is articulated around a central corridor, the center only gets natural daylight from its glass front on Broadway. With this in mind, ALA worked with architecture firm CallisonRTKL on the lighting, to ensure that the transitory experience from the lobby to the exam rooms was smooth.
Transitions were also key when dealing with the height changes in the space: the lobby opens with a double-height ceiling that is then compressed by a mezzanine level further into the building. "We had to be clever about how we could transition from these large open spaces to these teeny tiny ones," says Ly, whose team broke down the interior into waiting rooms and other spaces that help guide patients into "smaller, more intimate spaces." The colors changed, too, from lighter and brighter to deeper, warmer tones.
---
As the world emerges from a pandemic that has brought healthcare spaces to the forefront of public discourse, the design of such spaces is shifting too. At HealthQuarters, ALA has reinvented the now ubiquitous plexiglass dividers and replaced them with elegant, custom-designed screens that hug the reception desk. "We wanted to use HealthQuarters as a beta-test to come up with measures that are more integrated so when COVID-19 passes, these things won't feel like they're out of place," says Feddema.
The pandemic has certainly ushered in a new, holistic approach to designing restorative healthcare spaces. As Ly puts it: "It's not just providers and stores in a mall, it's a move towards hospitality in healthcare with a focus on service."
You may also enjoy "Kaiser Permanente and CannonDesign Imagine a Medical School That Prioritizes Student Life"
Would you like to comment on this article? Send your thoughts to: [email protected]
---
Register here for Metropolis's Think Tank Thursdays and hear what leading firms across North America are thinking and working on today.