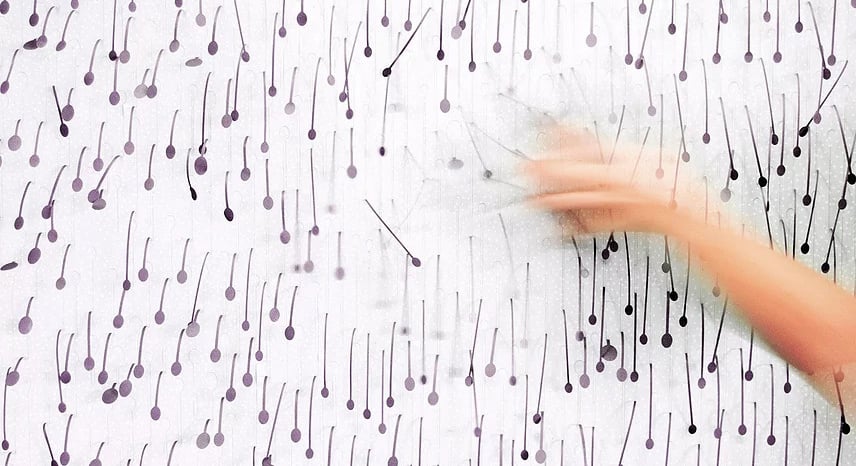 February 22, 2018
Dutch Design Duo Alissa + Nienke Transforms Flat Surfaces into Optical Illusions
The studio's recently-released tile collection with Decoratori Bassanesi is just the latest in an ongoing exploration of materials and their visual effects.
---
Whether developing a moiré effect fence for a music festival, three-dimensional wallpaper for Dior showrooms, or kinetic installations that respond to your heart rate, Eindhoven-based studio Alissa + Nienke has tread a path all its own. Their latest tile design for Italian ceramics brand Decoratori Bassanesi comes in a long line of projects that confront perceptions of depth, texture, and space. Dubbed IMPRINT, the new collection employs a simple scratching technique that produces different reflections and color tones depending on the viewer's angle of sight. "All of our projects work with the idea of layers," studio co-founder Nienke Bongers explains. "It's literally the idea that you can see things from different angles. We want to inspire people to stop, break with their routine, and become curious about their surroundings again."
Alissa van Asseldonk and Nienke Bongers' collaboration began fluidly during impromptu Friday evening discussions; the partnership became official in 2013. "It works well because we're so different," Bongers describes. "Alissa is more of a researcher, she knows how to look at a space and determine how people move through it. I'm more of a free spirit. I like to travel, meet new people, and find new assignments." Both Design Academy Eindhoven graduates were instilled by the school's "figure it out yourself'" mentality. The school, famous for launching the likes of Hella Jongerius, Maarten Baas, Wieki Somers, and other key figures of the so-called "Dutch Design" movement, encourages its students to unlearn traditional skills and foster a more bespoke and experimental approach.
---
This attitude remains the backbone of the duo's practice and has seen many novel ideas realized, such as the 2013 Volume wallpaper, which transforms flat acrylate, stainless steel, and recycled leather surfaces into three-dimensional objects. The formal discovery Alissa + Nienke made in this first experiment became the basis for their following designs. One such project is the motile Mirabilia wallpaper, whose bespoke iterations adorn Dior flagships in Madrid, Shanghai, Taipei, and elsewhere. Their first foray into furniture, the Elephunk table was created using left-over samples of the Mirabilia wallpaper. The table was developed in collaboration with Cambridge University professor Jenny Morton and the Enrichers initiative, a design research studio that explores how environments affect human psychology. Together, they discovered that Elephunk's tactile surface could provide a sense of comfort; something to brush up on or fiddle with when people are in conversation.
---
More from Metropolis
---
BioMirror, which was developed with the Technical University Eindhoven, is a biofeedback wall installation that uses a finger pulse oximeter to gauge heart and breathing rates. As a way of directly visualizing these measurements, hidden motors and levers activate the installation's cut-out paper patterns. With the Dangling Mirror project, Alissa + Nienke recognized that they could develop interactive surfaces without the use of additional technology. "We realized that the pieces could simulate breath by simply letting people blow on the surface," Bongers explains. Rather than employ a complex biosensing motor system, they opted to use an extremely thin reflective stainless material that is sensitive to air pressure. Hinged on a grid structure, small cut-outs ripple like a wave based on the movements of people passing by.
Though each project builds on the last, the duo continues to explore the structural and optical potential of different composites. Their workshop includes an ever-growing material archive from which they can draw new inspiration or solutions. For example, Hekeke, an installation mounted during the Lowlands Music Festival in summer 2017, used the simple technique of offsetting wood panels to create a "psychedelic" moiré effect.
For their next act, Alissa + Nienke's are exploring a radical proposition: the designers want to reconsider the traditional economics of how their works are sold and consumed. The duo is currently considering the possibility of a cyclical rent and return system. Rather than create objects that will be thrown away after their first use, they would develop durable designs that could easily be up-cycled for a new use. But according to Bongers, they're only in the early stages of this exploration.
You may also enjoy "10 Mexican Designers You Should Know from Mexico's Largest Art and Design Fair."