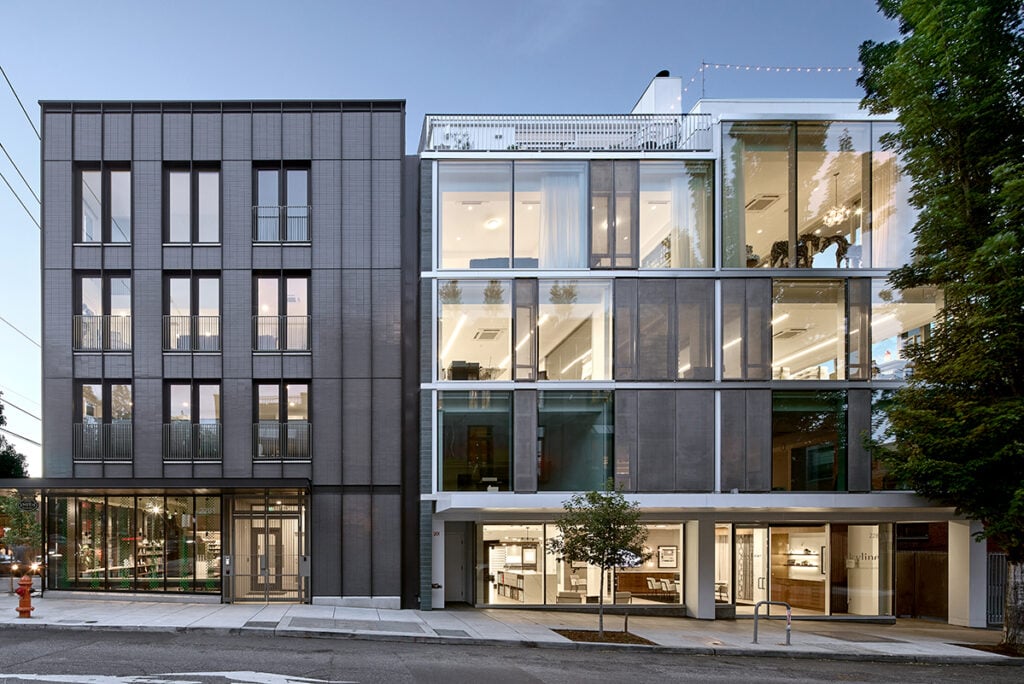 November 15, 2021
Allied Works Designs, and Redesigns, a Pair of Adjacent Portland Buildings
Two decades after designing 2281 Glisan—during which Allied Works has become known for a succession of museum projects in New York, Denver, Columbus, Calgary, and elsewhere—Cloepfil and his firm returned to the block for a double commission: restoring the first building and designing a new mixed-use structure next door.
2281's back wall was blown out and its front facade glass shattered, but thanks to quick evacuations, no one was seriously injured in the blast. In fact, the couple's wine glasses remained on the kitchen shelves, and their cat, Tank, actually stayed on the living-room sofa, unharmed, until a first responder arrived. At the time of the explosion, Allied Works was designing the United States Embassy in Mozambique and had been consulting blast studies. "We learned that blasts accelerate around corners and through slots, acting almost more like water than air," Cloepfil says. "The blast doesn't always do damage where you expect it to. It's so fascinating and somewhat horrifying."
---
More from Metropolis
---
Allied Works had never designed two buildings next door to each other. How could the structures complement each other while remaining distinct? "The first building was such a strong piece," the architect explains. "To do something somewhat different was part of our intent, but also not try to one-up our building from 20 years ago [we tried] to do something kind of elegant, simple, and quiet."
The new building, 500 NW 23rd, occupies a small, 1,800-square-foot lot, which was part of why the tiny Burkhardt House had remained for so long: A new structure was hard to pencil out there. But it's a prominent corner lot so the new building had to have a presence. Because it's located in the Alphabet Historic District, it also had to meet design guidelines. Neither Cloepfil nor the clients, who had commissioned the unmistakably contemporary 2281 Glisan, wanted neo-historic architecture. "It was a balancing act," Ann Sacks says, "to be respectful enough to meet the neighborhood requirements but still get the contemporary building we all wanted."
The small footprint makes the ensuing four-story structure look slender, as do vertical metal fins that divide the facade's Japanese porcelain tile cladding into tall, thin rectangular shapes that mimic the proportions of the 2281 building next door. The porcelain tile, common in Japan, also recalls masonry used for historic buildings while also seeming contemporary.
Even though the name Ann Sacks is synonymous with tile—or perhaps because of that—she was initially hesitant about the exterior cladding. "At first I worried it was gilding the lily: 'I'm going to build this building that's all tile.' It felt a little awkward to me," Sacks explains. But the idea grew on her. "I recognized that it would make the building special."
When 2281 Glisan was completed in 2000, the Alphabet Historic District had not yet been designated, which helped make the building's glass-festooned look possible. After the 2016 blast, the architects were told by city officials they could either repair the building without changing its look or create a wholly new design that followed historic-district design guidelines. Allied and their clients chose the former option, retaining 2281's storefront glass, wire-mesh panels and slate cladding but invisibly weatherizing the building with more insulation and more glare-resistant glass.
"It's a much higher-performing building now in terms of its energy efficiency," says Dan Koch, Allied Works associate principal, who also was part of the original 2281 Glisan design team. "The envelope is so much tighter."
Inside the residence, the couple decided on just one programmatic change. "When we built our apartment originally, Ann wanted the kitchen and living room on the top floor and the bedrooms on the fourth floor, but I said, 'I'm an East Coast guy. I don't go downstairs to my bedroom. I go upstairs," recalls Robert Sacks, a Boston native. "After the explosion, we've rebuilt it the way that Ann wanted, and it's much better." Now when entertaining, the couple and their guests move easily from the great room to the roof deck.
Though it may be misleading to directly compare these two buildings given their different constraints, Cloepfil believes each is successful by making a few simple moves. "Both buildings were built with limited budgets and they're modest buildings to a certain extent," he says. But particularly in recent years, the architect adds, "We've learned how to use the right hand, the right amount of pressure, the right amount of craft, and where to put the intention."
Would you like to comment on this article? Send your thoughts to: [email protected]