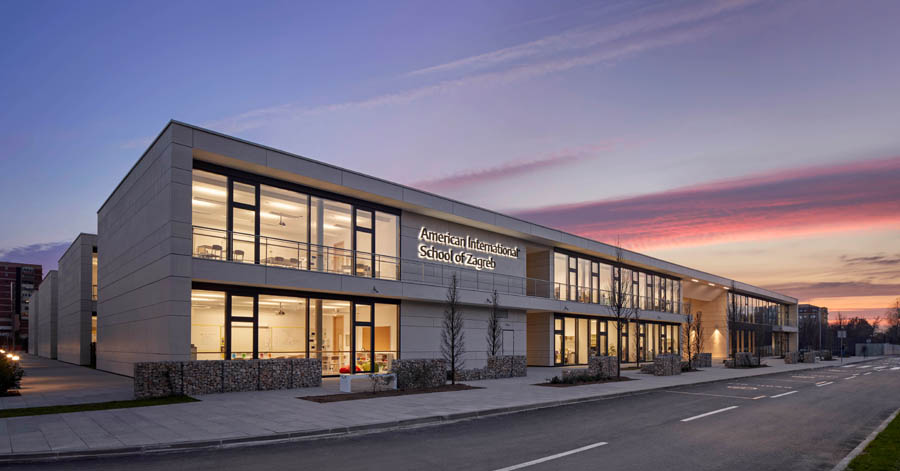 October 14, 2019
An International Design Team Crafts a Sustainable School Campus in Zagreb
The building, by Flansburgh Architects and SANGRAD+AVP, abuts a beloved public park and has become one of the most energy-efficient schools in the EU.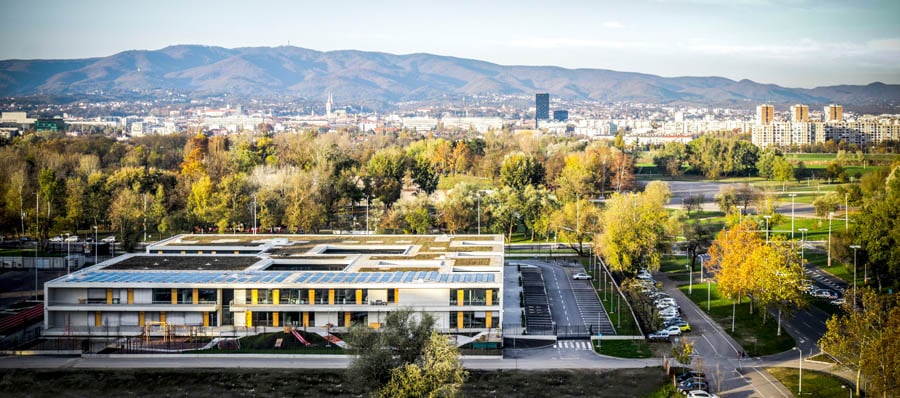 ---
The brand new campus of the American International School of Zagreb (AISZ) in Croatia is directly opposite the city's treasured Bundek Park. But nature doesn't stop at the park's gates or the school building's doors—AISZ has absorbed all the benefits and beauty of its leafy environs.
On land gifted by the city, the project's architects sought to honor both the city's Modernist tradition and lush environment. AISZ held a competition to design the campus and solicited an entry from Flansburgh architects, who teamed up with local firm SANGRAD+AVP.
Based in Boston and known for having crafted over 20 international schools with sustainable features, Flansburgh shares experience in educational architecture with SANGRAD+AVP, whose work is primarily in Europe and Asia. Both firms have accomplished projects requiring careful consideration of a range of community, climate, and educational needs.
---
More from Metropolis
---
AISZ's specific needs included security and comfort for American students, space for a neighboring Croatian public school, and an A+ Energy Performance Certificate from the European Union. After it was chosen by a jury composed of representatives from AISZ, the Croatian Chamber of Architects, and the City of Zagreb, the design was executed almost exactly as drawn.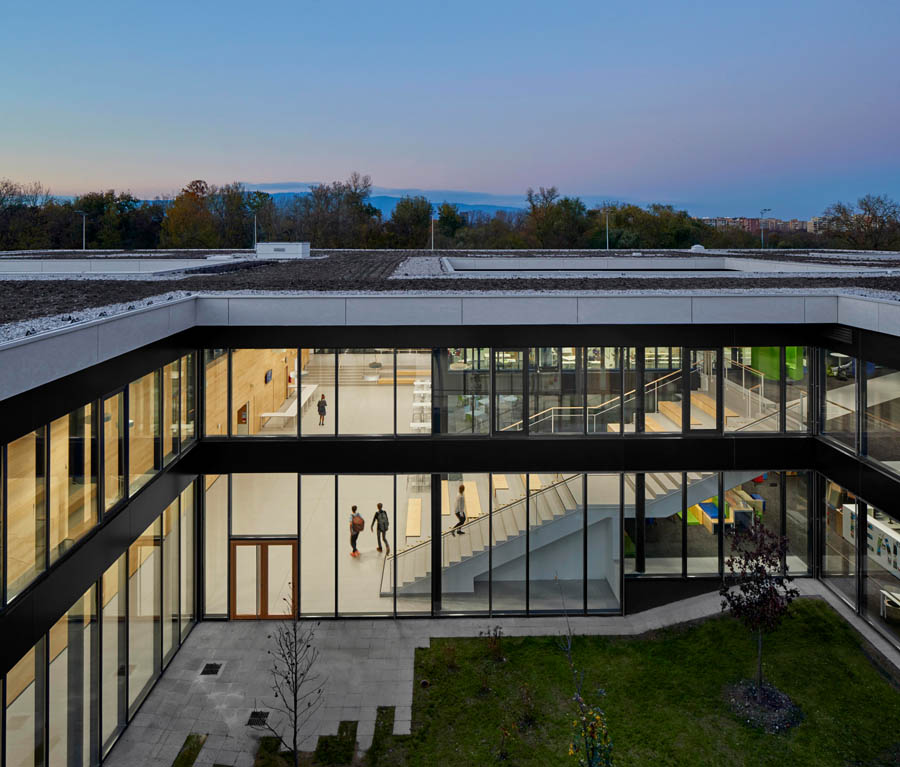 The building plan is an almost perfect square with several carved-in courtyards—three on its outside, for example, direct views toward Bundek Lake. It's also designed to align with compass directionals, helping manage incoming sunlight. "On the south side, when the sun is high you can block it so you don't get solar gain. All your light is indirect light," explains David Croteau, principal and president of Flansburgh. "The east and west walls are essentially solid, and the north and south walls are mostly glass." 
The architecture was conceived as a tightly controlled ecosystem to efficiently manage energy consumption. A green roof displaces much of the heat, while solar panels power the net-zero building and lush greenery absorbs rainwater. "It's as if the park was lifted up and sitting on top of the building," Croteau continues. Beyond designing the school to be mostly daylit, the architects built wood panels above courtyard doors for natural ventilation—ensuring the park's presence is felt whether in a classroom or outdoor session.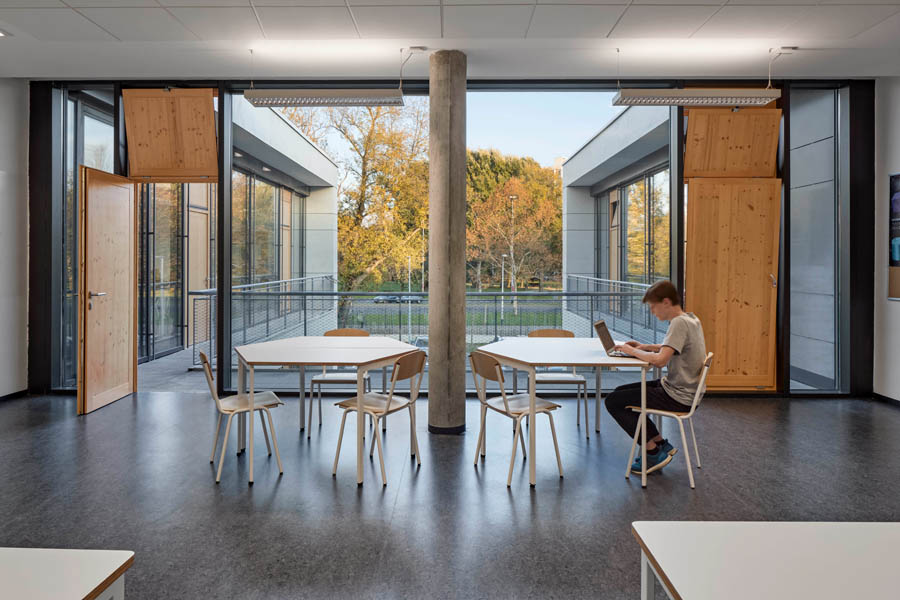 The design of the interiors was guided by an aim to facilitate collaboration, with a spacious, spare atmosphere and six courtyards. Other features, such as an atelier, black box theater, and second-floor terrace, foster the social learning experiences that AISZ promises students. On the outside, Croteau says he addressed security concerns while avoiding the rather unwelcoming look of a "walled fortress." 
Rather than crafting an "American school in Croatia," the design team and school director Paul Buckley shared a desire to honor Croatian history and involve local materials, symbols, and architects as inspiration. The finished campus's minimal facade and roomy interior together make a calm and elegant educational environment. Says Croteau, "It has a maturity and respect for the intellect of even the youngest kid."
You may also enjoy "What's Behind the U.K.'s New Approach to Designing Retirement Communities?"
Would you like to comment on this article? Send your thoughts to: [email protected]