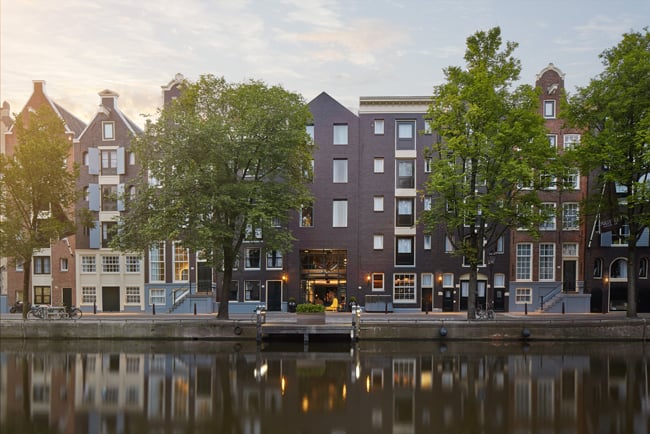 October 6, 2016
Amsterdam's Iconic Hotel, The Pulitzer, Gets A Whimsical Renovation
The Pulitzer, a hotel of interconnected canal houses (some 400 years old), goes modern without shedding its roots.
Images Courtesy Hotel Pulitzer Amsterdam
"I was nervous, being a designer not from here," says Jacu Strauss, Pulitzer's creative director and consulting architect. "Locals knew about the hotel and sort of adored it." Strauss, a former senior designer at Tom Dixon's Design Research Studio, whose projects included Jamie Oliver's Barbecoa and the Mondrian London at Sea Containers, is a South African–born newcomer to Amsterdam. For the past three years, he's shared responsibility for overhauling a precious sliver of Dutch heritage: the Pulitzer, a 45-year old icon that comprises almost an entire block of the city's UNESCO world heritage zone.
The hotel opened in 1969 after the former owner, Peter Pulitzer—a relative of the Pulitzer Prize's founder—and architect Bart Van Kasteel reworked a row of canal houses into a hotel near Dam Square.
"This was the beginning of the Pulitzer empire," reminisced Pulitzer in a recent statement. "The six houses we started with eventually turned into 25 houses, a five-star hotel, and the largest national historic monument of the Netherlands."
---
More from Metropolis
---
The main entrance, formerly marked by flashy revolving doors, is now an unassuming, abstract facade flush with its neighbors. The all-black structure—the first allowed within the UNESCO zone since 2011—is designed like the sleek silhouette of a traditional canal house, going modern without shedding its roots. Along the side facing Keizersgracht canal, there's a beloved lounge and a corner restaurant, Jansz., full of copper finishes, turquoise wainscot, and an all-round sweet ambience, which is designed to serve locals just as much as guests. A former apothecary has become the new side entrance; its restored historic paneling and shelves are kitted out with ornaments and instruments from its glory days.
Inside is more complex. Finding your room is like finding your way through an Escher drawing. A labyrinth of staircases and corridors, ups and downs, are reminders that Pulitzer is a conversion of those brilliant canal houses for which Amsterdam is known, some 400 years old. 
To understand the space, Strauss spent one night in each of the 225 rooms—none of which are exactly alike. Strauss unified the rooms with pastel blue carpets patterned in woodgrains and painted gray walls that fade into the background. For character, framed descriptions of each room's history—occupation by merchants of silk or stone, acquisitions by aristocrats—hang on the wall.
Strauss pulled from a grab-bag of decor; items feel like they could have been passed from one owner to the next. The furnishings, like lilac drapes, dimpled ottomans, yellow throws, lacquered bar-carts, and mixed-metal fixtures, wryly mix textures and materials. Inherited items from the former hotel, like art and vintage furniture, along with tailor-made fixtures, high-concept furniture, and even embellishments sourced from neighborhood shops, all sit together, composed and cozy: in with the old, and in with the new.
"This hotel is like a sponge," Strauss explains, referring to the tremendous space's ability to absorb everything you throw into it.
The same could be said for Amsterdam itself. For decades, Amsterdam's open-minded spirit welcomed  everything and everyone. That sensibility is most pronounced in the boisterous Red Light District, marked by gritty streets and dubious "coffee" culture. The other side to Amsterdam—picnic-perfect parks, renowned museums, coveted architecture, and a flourishing contemporary spirit—is no interloper, but an indwelling character that's now resounding. 
The corresponding, bonafide rebirth of Pulitzer is a deft reflection of both Amsterdam's gentle, historic side, but also its daring, cosmopolitan future. The previous hotel was a fine but dated example of late-eighties hotel design. Its iconic Dutch exterior had character, but its streamlined interiors did not. Now, a cozier, boutique aesthetic nestles into the hotel, one that embodies the vibe of the neighborhood, where chic artisans and of-the-moment designers mingle with longstanding craftsmen and antique dealers. 
Indeed, perhaps the most important change to the space is one that welcomes the neighborhood inside. The interior outdoor space, one of the largest private courtyards in Amsterdam, was previously used for garden sheds and staff-only facilities. Strauss added fantastic, oversized wooden animals, whimsical swings, and ample seats that guests are encouraged to rearrange at will. Slightly more formal, the adjacent and mid-century-styled Pause café serves light fare amidst landscaping that naturally attracts butterflies and bees.
It's this arc that runs through Pulitzer's renovation: design that's both wry and sincere. The result presents like an elegant dance through smart, assorted styles, the Amsterdam of yesterday, long ago, now, and tomorrow.
Some might call that timeless.