November 6, 2017
Studio Tack Fuses Alpine Modern and the American West for the Anvil Hotel in Jackson, Wyoming
The hotel–previously a two-building roadside motel–includes a restaurant, fireplace, lounge, café, and general store.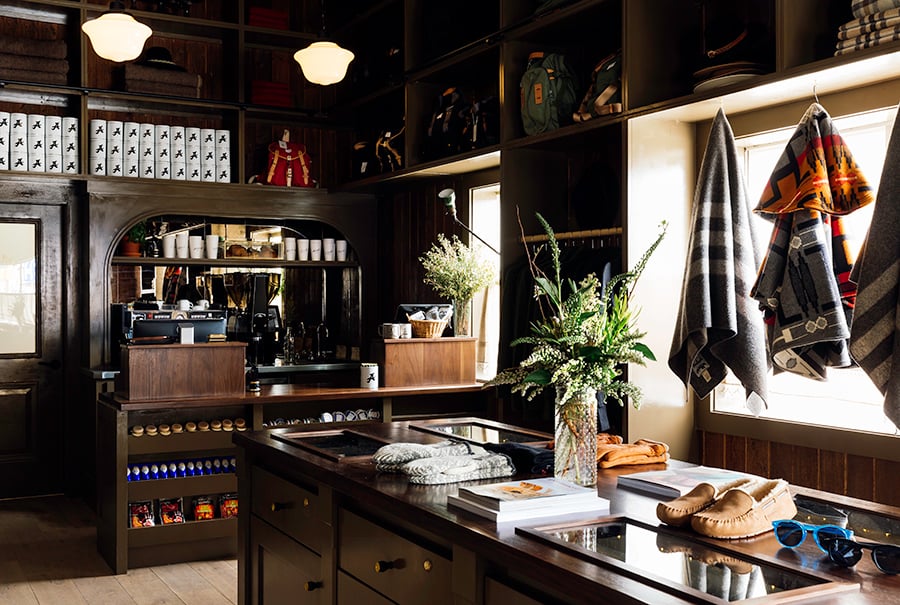 A particular aesthetic dominates the many lodges and hotels of the northwestern United States: warm blond woods, Native American–inspired prints, and mounted heads of wild animals, among other tchotchkes.
Such tropes are refreshingly absent from Studio Tack's design for the Anvil Hotel in Jackson, Wyoming, which is more alpine modern than hunting-lodge chic. The 49-room property, which opened in March, was previously a two-building roadside motel above a blacksmith's workshop (a historical detail that inspired the new hotel's name). "In this case there really weren't that many physical components of the original hotel that we felt we had to maintain," says Studio Tack's Ruben Caldwell, who moved to Jackson to oversee the project. "We were just trying to build on the seeds of what was there." The new design expanded the somewhat poky lobby to create a more communal space that has a lofted level with booth and bar seating overlooking the fireplace, lounge, café, and general store below. The other beloved remnant of the property's previous life is the original neon sign proclaiming, "You're a Stranger Here But Once!" (a welcoming catchphrase that also adorns the matchbooks of Anvil's on-site Italian-inspired restaurant, Glorietta Trattoria).
While warm wood tones are still present, they're used in moderation, offset by sophisticated navy and off-white tints and brass fixtures. Furnishings include custom metal beds designed in collaboration with Charles P. Rogers, as well as custom benches from Portland, Oregon–based studio Tretiak Works and side tables from Hedge House.
---
More from Metropolis
---
Rehabilitating run-down motels into sleek hotels has been popular in the hospitality world this year, but Studio Tack is far from following a trend: Revamped timeworn buildings have always been part of its portfolio. Several of its key hotel properties from the past few years—including Scribner's Catskill Lodge, Brentwood Hotel, Dogfish Inn, Coachman Hotel, and its recently opened Sound View Greenport on Long Island—occupy renovated motel buildings.
"We've learned a lot about this particular typology over the years," Caldwell says. "Specifically, the need to create spaces that are slightly unexpected within the ubiquitous roadside motel. We've learned to embrace any and all of the eccentricities that come along with an older property— and we celebrate what we find, using it as a means to create a unique experience that can't necessarily be planned or designed from scratch."
You may also enjoy "Snøhetta Reveals Design for Underwater Restaurant."