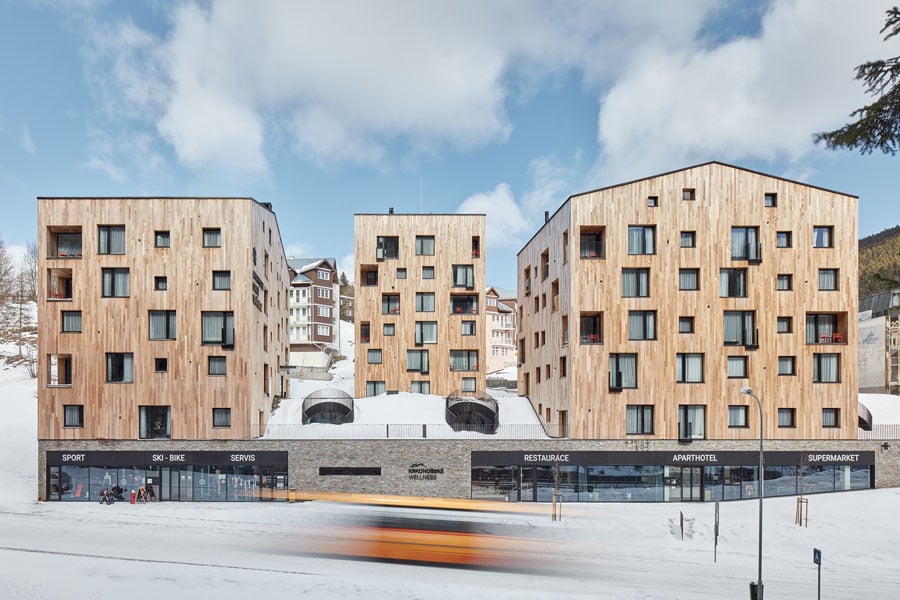 November 15, 2019
In the Czech Republic, an Eye-Catching Resort Draws on the Local Vernacular
Aparthotel Svatý Vavřinec offers a unique ski resort experience to enjoy Czechia's picturesque landscape while connecting to local architecture.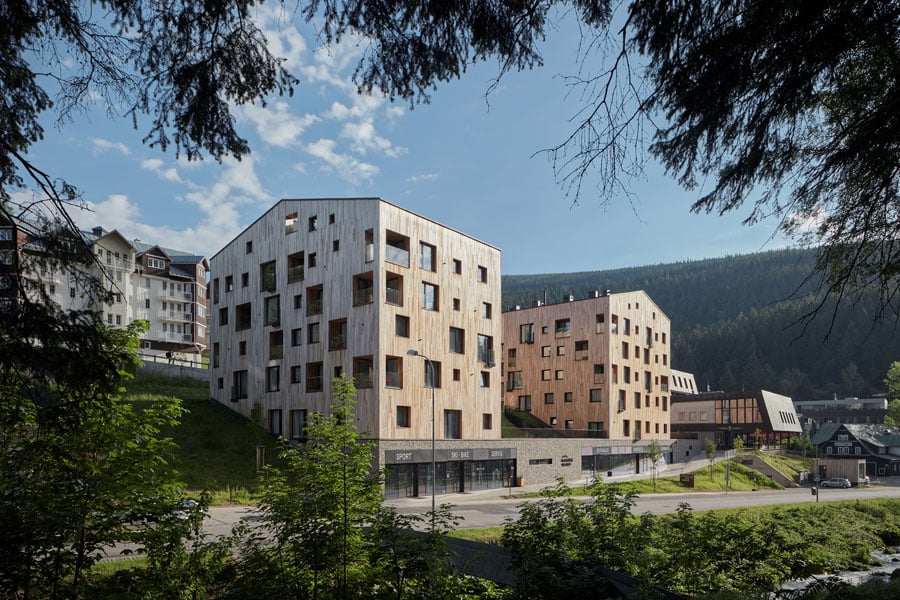 It's no wonder Pec pod Sněžkou would become one of the largest ski resort towns in the Czech Republic: The small municipality is surrounded by picturesque views of its neighboring mountains and valleys—an idyllic respite from the bustling capital city Prague just two hours away. For an all-encompassing retreat, visitors might opt for the Aparthotel Svatý Vavřinec, designed by Prague-based architects OV Architekti (OV-A). The nearly 114,000 square-foot outpost, which opened in 2018, has been outfitted with amenities that will appease adventurous types as well as guests who prefer to stay out of the elements.
At its street level, Aparthotel Svatý Vavřinec is lined with commercial spaces, including a supermarket, ski service shop, and pharmacy. To enter the main building, visitors process up a ramp that leads to a cluster of four wooden buildings of differing orientations. The facades here, according to OV-A principal architect Jiří Opočenský, feature a seemingly erratic window placement which gives each iteration a distinct and visually interesting character. Aparthotel's materiality draws from traditional architecture with a wood-faced stone base—a style typically seen in multi-story buildings around Pec pod Sněžkou in the early 20th century. "Local architecture is mostly wooden, so there's a wood carving that covers the steps, which is inspired by the spirit of this mountain architecture," explains Opočenský.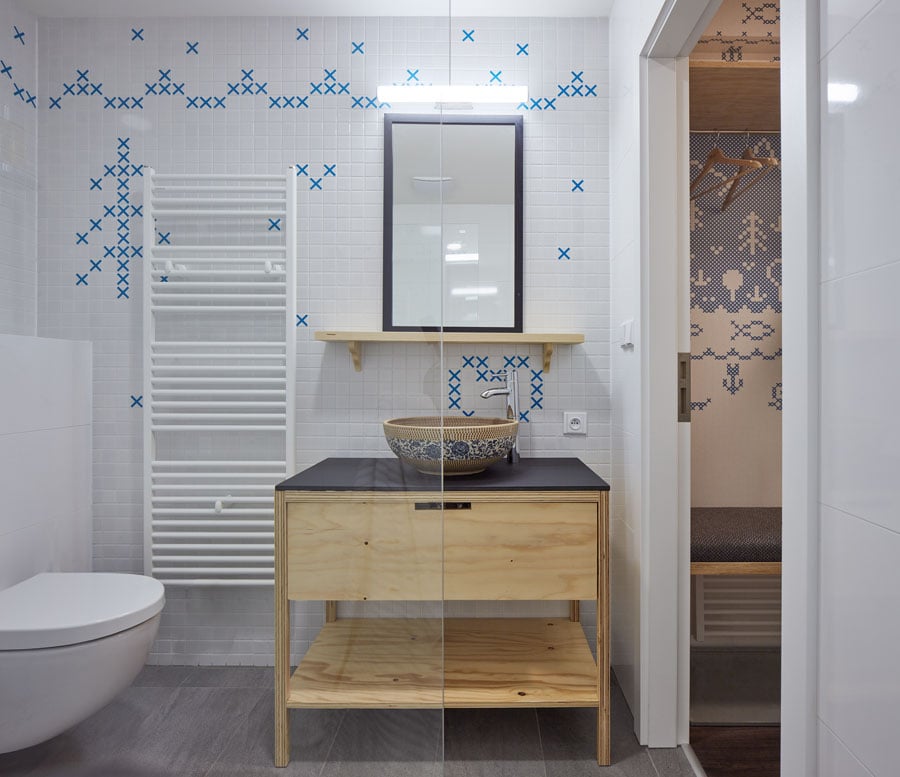 Each building interior follows a theme—"Glamour," "Scandinavia," "Modern," and "Krkonoše (the Giant Mountains)"—all distinguished by color palette and materials. "Scandinavia," for instance, incorporates mostly light hues with dark blue accents; "Glamour" is characterized by dark-toned oak finishes and gold embroidery, creating a homey burrow under the deep snow. OV-A used natural materials, such as stone and pine, to evoke the mountainous topography and to connect visitors with nature while being indoors. Though disparate in design, the four buildings are interconnected through the underground retail shopping center units with wellness and gaming areas.
---
More from Metropolis
---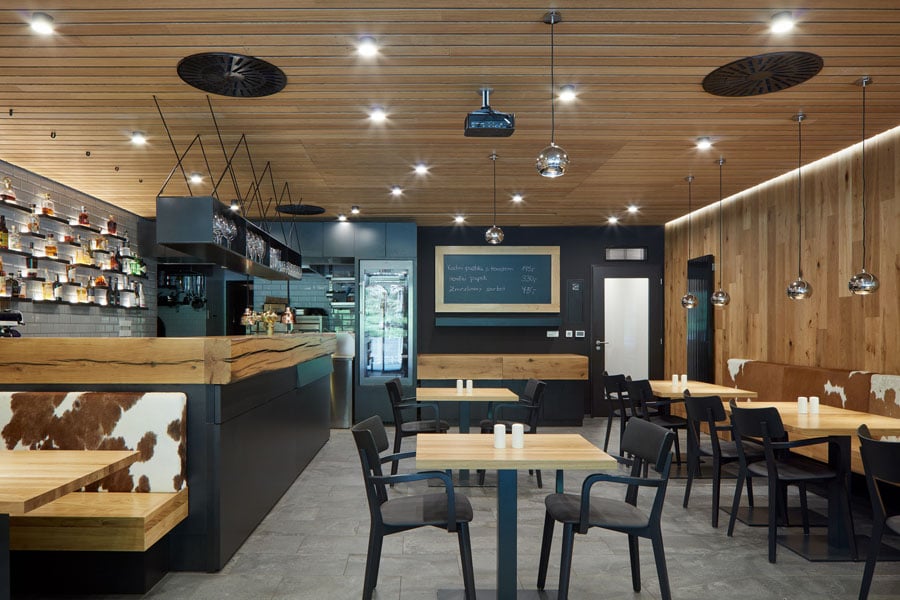 Aparthotel Svatý Vavřinec was completed in 2018 after nearly seven years of design and development. The outpost features 90 units in each building, which range from one bedroom to four bedroom apartments, and also boasts an outdoor swimming pool. Even with its numerous indoor amenities—which include a restaurant and saunas—OV-A was able to contextualize what could have been an anonymous resort by integrating natural materials inspired by Pec pod Sněžkou's local architecture and respecting the surrounding greenery. "Sometimes when you see a building you worked on, you only see its problems," reflects Opočenský. "But when it's all finished, you can step out a little bit and enjoy a weekend there to take in the landscape. You somehow get another experience of the place. In the end, all the struggles along with way led us to a nice design as a whole."
You may also enjoy "A Richard Neutra Penthouse in Your Own Backyard?"
Would you like to comment on this article? Send your thoughts to: [email protected]