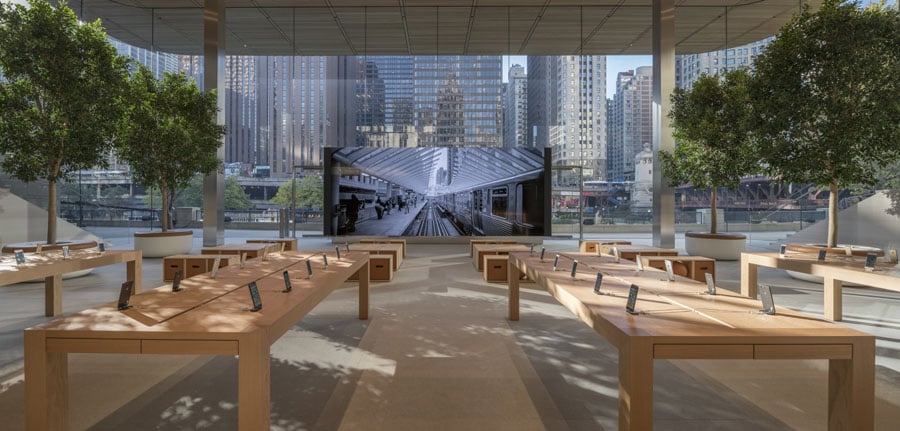 November 17, 2017
Does Apple's New Chicago Store Have Something to Say About the Future of Cities?
The company's new flagship has plenty of civic ambitions, but doesn't quite live up to them.
The steel and carbon fiber roof of Chicago's new Apple store is a few feet thick at its center, tapering down to inches at its edge. Starship metallic gray and rectangular, it resembles a closed MacBook laptop, which you can buy inside. The glass corners of the building, splendidly curved, call to mind the contours of an iPhone.
In the parlance of Robert Venturi, it's a "duck," that is, a building literally shaped by its function. But it might also have been a "shed"—a functional structure where ornament announces its use—had the company gone through with its plans to affix a giant Apple logo on the roof. Typological ambiguities aside, the building is meant to showcase Apple's interest in and commitment to civic space. The reality is less than convincing.
The store, by Foster + Partners, is, without a doubt, expertly composed. Located alongside the Chicago River, it abuts the wildly successful Riverwalk and seems to have drawn some inspiration from it. "It really started off as a landscape project," says Foster + Partners' Stefan Behling, who modulated the building's siting to craft a new and generously proportioned tiered public space. From a street-level plaza, the store cascades down two levels toward the water and the riverside esplanade. When approached from the south, along the city's famed Magnificent Mile, it seems to dematerialize in a spell of glass and steel.
---
More from Metropolis
---
The interiors are equally pristine, all neutral grays and granite. Products and staff are tucked under the upper plaza level, covered by white American oak along the ceiling. These materials are an effective foil to the terracotta calligraphy of the nearby Wrigley Building, or the Neo-Gothic tracery of the Tribune Tower, which you see through curved panes of glass. It's such a well-controlled exercise in minimalism that your attention is immediately drawn, not toward the Chicago River outside, but to a monumental media screen. On an early Tuesday afternoon, this screen showed an iPhone X twisting in space, the camera hovering lustily over its every curve.
Behling admits that "the building is more of an object," and likens the media screen to "a giant iPhone or iPad" or an "electronic blackboard." These analogies give the duck/shed comparison more salience, especially when you realize that the focal point of the object you're in is a media screen. And if it's a duck (which cost $1,350 per square foot, according to the Chicago Tribune), it's a mercilessly high-end one.
Foster + Partners, who is responsible for Apple's new headquarters in California and a growing number of its retail stores, has been working with the company for nearly a decade, so absorbing some of their austere design language is unsurprising. But Behling says he's interested in using retail to rebuild vibrant civic realms in cities more than any formal games. "The future of retail is bringing people together and having joint experiences," he says. "We think it's interesting to create a place where people can teach each other stuff."
Indeed, Rem Koolhaas once argued that shopping was the "last remaining form of public activity." Yet, a post-retail city is quickly becoming a reality. Increasingly, an internet connection is all that's needed to acquire the necessities and luxuries of life, and so seemingly obviates the need for a public realm.
Foster + Partners' Apple stores—in San Francisco, London, Singapore, and, soon, Milan—attempt to restore the civic nature of retail. But the Chicago outpost, encroaching on the Riverwalk paid for by $20 million in public funds, has an intensely unresolved relationship with the public realm. It capitalizes on its singular urban setting, but then blocks views of it with a giant TV screen. It adds quality public space, but also hews a bit too close to urban-scale product placement with its laptop roof. It's a project that benefits from the fruits of investment in the public sphere, yet, though it purports to reinforce these efforts, can't quite match it.
This ambiguity on the role of public space mirrors the national mood. A year into President Trump's term—after promises to rebuild inner cities and overhaul crumbling infrastructure—the assault on the public sphere has only intensified, with heightened threats to education, the environment, healthcare, and welfare.
Behling, of Foster + Partners, rightly describes cities as a "battleground of the future." But making yet another venue for well-heeled Apple customers in an affluent urban district like Chicago's downtown hardly constitutes a strategy for inclusive, sustainable communities to house—and grow—humanity. (Apple declined to comment on the new store.)
Apple and its designers claim to have notions about how to make the urban public realm a more humane and welcoming place. But do these ideas hold any viability outside of investment- and amenity-rich downtowns?
You might also enjoy "Apple's New Union Square Flagship Store Emphasizes Community."