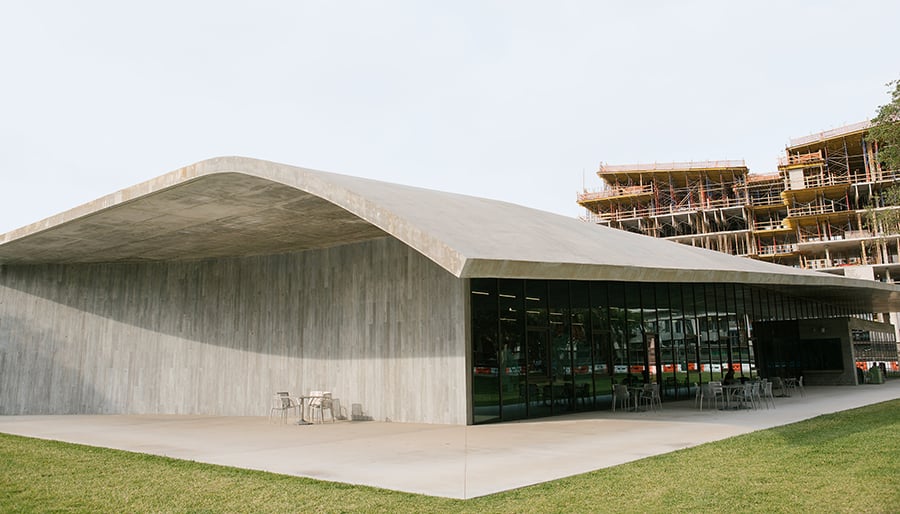 June 25, 2019
The University of Miami's New Architecture School Offers Teachable Moments in Concrete
The Arquitectonica-designed neo-Brutalist structure is an unmitigatedly open shed in which to host studios and foster a design culture.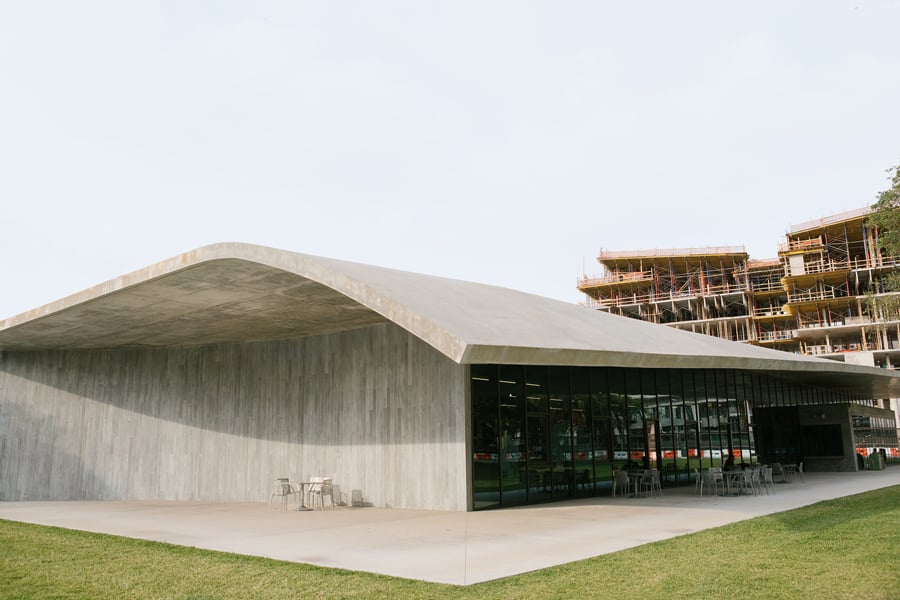 ---
Over four decades, Arquitectonica has cultivated a house style that can be described as "steroidal Modern," applying it to hulking waterfront developments and shopping malls in cities across the hemispheres. The firm's work tends toward girth and swagger, eschewing subtlety in favor of arena rock aplomb.
Perhaps this is why Arquitectonica cofounder Bernardo Fort-Brescia can't get past size when contemplating the Thomas P. Murphy Design Studio Building at the University of Miami School of Architecture. He designed the modest, low-slung concrete building with his son and Arquitectonica lead designer, Raymond Fort; both of them seem genuinely surprised by the buzz it has created on campus. The building's exterior is neo-Brutalist in its bearing, gaining immensely from a visceral appreciation of material that breaks with the firm's penchant for sheen. Inside, the mood is airy, if not exactly Miesian. Yet Fort-Brescia dwells on its diminutive proportions, as if his willingness to take the commission were the result of an offsetting mechanism, i.e., charity. "We seldom have projects of this scale—which we love!" he says.
At 20,000 square feet, the Murphy Design Studio accommodates only about a third of the program's 350 students, though this proportion will increase. Despite its size, the project is freighted with meaning for a school historically aligned with the New Urbanism movement (founded, in part, by one-time Arquitectonica partner Andrés Duany). Under Rodolphe el-Khoury, who was appointed dean in 2014, the institution has been moving out of the shadow of New Urbanism, hiring young instructors and investing in technologies like robot arms. With this in mind, the Murphy Design Studio crosses over from mere building to recruitment tool. The architects—presumably under the guidance of Fort, 31—shrewdly tapped into the younger generation's yen for a past age of "concrete monsters," when exposed formwork, bullish forms, and mean grays predominated. (Arquitectonica's interpretation of Brutalism is a tribute act, akin to a polished and reverent rendition of a radio classic.) El-Khoury even credits the design for a dramatic uptick in freshman applications this year.
---
More from Metropolis
---
---
Opened last fall, the Murphy Design Studio also kicked off an expansion plan for the architecture school, whose campus in the coming years will grow to nearly a dozen buildings on the southwestern corner of Lake Osceola. A continuous metal canopy designed by the New York– and Boston–based firm NADAAA will unify the odd collection of structures, its surface flaring and tapering like boomerangs at important nodes. Functionalist blocks—developed by South Florida's first female architect, Marion Manley, for returning soldiers after World War II, and later converted into architecture studios—are the most vintage of them, though the Bauhausian trim of the facades, like Miami Beach's pastels, is ersatz, dating back to the 1980s. But the centerpiece is Léon Krier's 2005 Jorge M. Perez Architecture Center, chilly and retrograde, looking as if it were chiseled out of a giant sugar cube. The planned removal of a roadway that orphans the Murphy Design Studio from its neighbors will allow for the planting of a quad, further cohering the campus.
In the immediate term, the building has finally given the school what it has always lacked: an unmitigatedly open shed in which to host studios and foster a design culture. The Manley buildings work well enough for administrative purposes—el-Khoury's office is particularly enviable, cross-ventilated and overlooking a small shaded courtyard—but as architectural studios go, they are inhibiting. "There are a lot of walls that splinter your studio," says Germane Barnes, an architectural designer who has taught at the university for five years. "You might be able to have five or six students per bay, and 10 to 12 students per studio, so when you make announcements you have to stand between the doorways just to address everyone." And because the serried layout reduces visibility, the buildings can be quite isolating, especially for students working well into the night.
---
The Murphy Design Studio makes easy work of these problems. Operating on a capacious 25-foot grid, the plan is bookended by thick, load-bearing concrete walls, with point columns making up the structural difference. (The longer two sides are glazed.) The solution of a shed may have been a foregone conclusion, but the architects also recognized that it should perform a pedagogical role. Concrete—"the building material of choice in South Florida," says Fort-Brescia—was particularly conducive to this purpose, and is used instructively throughout. Fort highlights how the shuttering on the sole curved wall differs from the others. The boards of the formwork were laid vertically, because "it's easier than laying them horizontally, in which case you have to bend the planks," explains Fort. "You can express little teaching moments like that only in concrete."
The spareness of surfaces inside and out reduces the complexity of the design so as to reinforce this imperative to instruct. The lack of false ceilings reveals HVAC systems, and the glazed north and south facades, in which full-height panes of hurricane-grade Tecnoglass are interspersed with operable windows, offer a demonstration of cross-ventilation. The buoyant roof overhead—reaching 18 feet in places and falling off to 9 as it cantilevers over the south wall, furnishing a deeply shaded porch—renders form functional. "On the one hand," explains Barnes, "you're able to take a line on a piece of paper and point out to first-years that it's actually four inches thick, and on the other, you can articulate to upper-level students how air circulation and mechanicals work."
Even the lapses in design can be recovered for pedagogical ends. The theatrical red acoustic curtains delineate pinup and review zones, but have been ineffective in mitigating environmental noise. (They will be replaced with a more absorbent, but still red, fabric ahead of the next term.) And the placement of a modular glass conference room (by DIRTT) along the building's spine was found to hinder circulation and collaboration, and will be relocated.
In this vacated space, el-Khoury envisions a forum for creative combustion, where students can congregate on larger projects: "What the building gives us is this messy vitality that, after two semesters, the students can't get enough of."
You may also enjoy "A New Headquarters Revitalizes the International Olympic Committee."
Would you like to comment on this article? Send your thoughts to: [email protected]