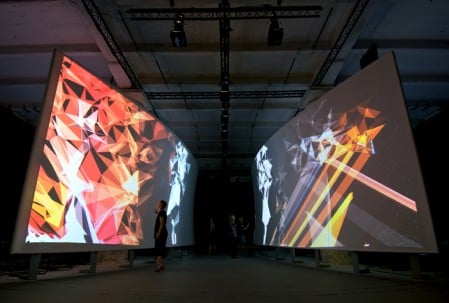 October 6, 2008
Artful Facilities
Venice's Arsenale is transformed into another arena of grand design.
The Republic originally used Venice's Corderie dell'Arsenale to both produce a rumored ship a day and demonstrate to visiting dignitaries their ferocious might (not so subtlety suggesting that they excelled at winning naval battles).
Housed in the halls formerly used to braid ropes, the Arsenale exhibition stretches through hall after endless hall that can take the better part of a day to explore.
---
More from Metropolis
---
Zaha Hadid's Lotus
Much like the foreboding tour foreign dignitaries used to make, today's space represents an all-star team of today's superstar architects. One of the two curated spaces by Aaron Betsky, the Arsenale consists mostly of the established theoreticians, educators, and practitioners in the field. The list includes: Frank Gehry, Zaha Hadid, Coop, Asymptote, Unstudio, MVRDV, and others. By contrast, the Italian Pavilion in the Giardini (Betsky's other curated space) includes many more newcomers and up-and-comers which I will cover in another post. 
The entrance promises to excite with a grand installation by David Rockwell Group with Jones/Kroloff. Promises of multiple screens and multiple experiences created by motion sensor technology projecting fragmented images from iconic films as you walk through the space greet you at the beginning of your journey. However, the installation falls short of nearly every promise. The potential exists for an incredible transition space but fails to deliver when there are only a few people walking through the installation. With the opening ceremonies over and winter weather setting in, the attendance has fallen off drastically and the installation is not sensitive enough for the occasional visitor. It really needs a sort of sensitivity control in addition to the motion detectors that adjusts responsiveness based on the user population.
The speed, number, and direction of visitors walking between the screens choreograph the sound throughout the entry space.
(Image: Paul Wesley Griggs)
Moving on, Asymptote presents Three Houses for the Subconscious; a vision of buildings imagined as if they were put in a wind tunnel. The houses themselves hardly resemble a structure but the notion addresses difference between mass-produced airplanes and cars and one-off houses.
Asymptote's windtunnel buildings in attractive white light (above) and in subdued blue light (below).
MVRDV's 5th Element-esc presentation of Skycar City (below) with flying cars also suggests a future world where wind testing of buildings would be a necessity rather than a fantasy.
Woven throughout the exhibition are the talking heads, large monitors of the architects speaking about their work as it pertains to the theme of Architecture Beyond Building. Though a bit freaky to witness a 4-foot tall Aaron Betsky talking to you (below), it does provide some more insight into what each studio focuses on and could take a better part of a day to just listen to all of them. If you go, plan to get there early and pack a lunch because it will take you all day.
Speaking of talking heads, Coop Himmelb(l)au's Feed Back Space resembles a strange brain from some sci-fi movie. With two pulse readers in the center, the large brain reads one's heartbeat and projects images onto four screens in time with the heartbeat. Based on a project from 1969 meant to incorporate and project the invisible aspects of the inhabitants of the city, the inflatable brain presents the user to those outside the bubble and incorporates them into society at large. I couldn't help but compare it to Rafael Lozano-Hemmer's installation Pulse Room for the Mexican Pavilion at last years Art Biennale. In dealing with the same notions of projecting the participants into a space, his 100 lighbulbs, each one blinking to the respective pulse of the public participants who passed before, proved a much more effective solution and left a far more memorable impression causing one to wonder about those that came before and after him. By comparison, Coop's installation seemed more like something from a sci-fi movie and it served to energize the space.
Coop Himme(l)blau's Feed Back Space
For the big shots, shock and awe seemed be more the theme and Zaha and Patrick Schumacher lead the charge showing glam beats form and function. Actually, the form they present is quite innovative in concept. Called Lotus, they claim the form is both furniture and house and is meant to include a mobile desk with screen and chair, a bed, shelving, wardrobe rail/ room divider, and an end table. What separates the Architecture Biennale from the Art Biennale is that usually the visitors can touch, sit, walk around/ in the exhibitions but in this evolving era of the designer as artist, the installation was closed off so, apart from the bed, I couldn't even tell where the rest of these components were worked into the form. Forgetting to illustrate the innovations of your design doesn't make you great, it makes your design quite forgettable. That said, it was pretty…ok, kinda cool too.
Hitting cleanup in the superstar lineup is Gehry's clay building skin, Ungapatchket (Yiddish for "thrown together"). Long fascinated with facades, for this installation Gehry explores the effects of time on his exteriors. Surprisingly, his installation seems the most thoughtful of the big names. Dare I say meditative; with workers covering a wooden scaffolding in smooth, wet, clay panels, the structure slowly ages, panel by panel, significantly cracking as the clay dries, revealing a building before, during, and after all in the same instant. It seems the work itself could serve as a metaphor for Venice through the evolution of its buildings.
Equally as thoughtful is Chain City, the contribution from Diller Scofidio and Renfro. Exploiting the infamous value of Venice's tourism trade, they chose to take the visitor on a gondola ride. However, this gondola isn't just a ride through the canals of Venice, rather, it includes Venice and all the other pseudo Venices around the world in Las Vegas, Macau, Doha, Nagaya, and Tokyo in a continuous video gondola journey. Close your eyes for a second and the city changes, questioning the authenticity of Venice or the gondola ride itself. Equally surprising, the real Venice gondola ride is the least serene of the lot with the hustle and bustle of city noises distracting from the experience suggesting that perhaps the Venice of Las Vegas is more authentic to the old Venice than Venice today. Enough to make one wonder given our virtual reality worlds we are so often wrapped up in today.
Diller Scofidio and Renfro's Chain City
There really are several other notable contributions throughout the exhibition and it will surely entice, entertain, and perhaps annoy all once. Some studios continue along a well-established path while others show their knack of innovation and change. Notable contributions include:
UNStudio's Changing Room- Couture of Architecture which plays on the double meaning of their changing architectural forms and the changing world of fashion to create a space both changing and standing firm;
The Evening Line collaboration of Matthew Richie and Aranda/Lasch and Arup AGU dealing with scalable fractal units to transition from floor patterns to sculptured space to wall markings;
Atelier Bow-Wow's "Furnivehicle" meant to provide a movable furniture mobile throughout the Arsenale space to provide a much needed resting zone in the mad dash of projects;
and the Droog & Kesselkramer designed S1ngletown which I already heaped enough praise upon in my last post.
But then, just when you think the superstars are presenting something of value, Greg Lynn comes along with another wasted enterprise, Recycled Toy Furniture. Through advanced modeling technology, he created a 3d map of recycled toy furniture and then sliced and diced it together to make table bases, bench bases and a shoe rack resembling little more blobs of colorful crap. In doing so, he proves that just because you have a fancy CNC machine doesn't make everything you cut equally as fancy. When you use the wrong tool of material for the job it just makes you a bad architect. Of course, he won the Golden Lion for his innovative use of materials but that still doesn't make the work any better (the Golden Lion win however does suggest that perhaps others think higher of this work than I do).
Had he suggested this work in the line of Marcel Duchamp's readymades or Damian Hirst's formaldehyde animals then he might have had an argument for their innovation, yet he chooses to take an environmental stance and indicates that he is reusing materials thrown out as we age. This however insults the viewer more than anything. It seems like he has jumped on the commercial environmental bandwagon and feels anything that had any other purpose whatsoever and is repurposed is all of a sudden environmental even if it is wasteful. There is no recognition that to accomplish these creations he needed to use several of the same plastic animal forms in their new state to fit together perfectly with his computer planned cutting and mending. Nor does he recognize that the amount of plastic used to create the tables bases amounts to far more than a traditional table leg system or that the excess cut part is discarded. So essentially, he has gone out and bought a bunch of plastic goods and thrown large quantities of them away to create forms and objects that are both wasteful and actually quite ugly.
A table base by Greg Lynn
A shoe rack by Greg Lynn
(Photography: Eric Holm, unless otherwise noted)
The only thing worse in the city of Venice is Calatrava's bridge which, in an effort to reduce its exposure to liability, the city has decided, after less than three weeks of being open, to retrofit the steps because so many people have tripped on them.
Come and check it out for yourself- bring your child's favorite rubber ducky to sacrifice for the sake of furniture or to float along side during your gondola ride and be sure to watch your step on the aforementioned bridge.