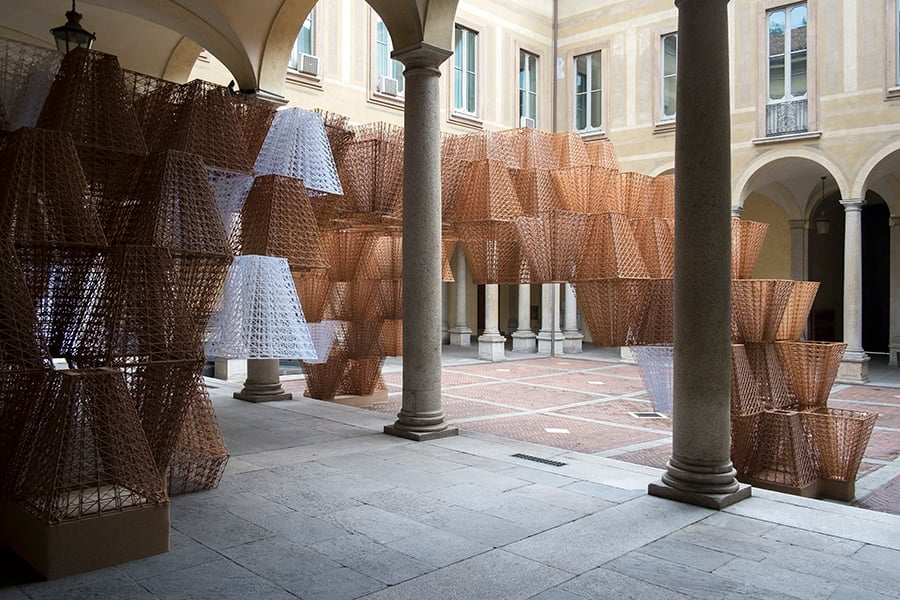 April 17, 2019
A 3D-Printed Installation, Made With Sustainable Bioplastics, Debuts at Milan Design Week
Fashion brand COS commissioned the 3.2-ton structure, which was designed by London-based architect Arthur Mamou-Mani.
---
Amid the chaos of Milan Design Week, the garden and courtyard at Palazzo Isimbardi is something of an oasis. Located behind the 16th-century palazzo's austere stone facade, both are a calm sun trap, with the latter peppered with fir trees. They also proved to be an ideal spot for London-based architect Arthur Mamou-Mani's 3D-printed installation, dubbed Conifera, which was commissioned by the fashion brand COS for the design fair.
Mamou-Mani says Conifera is a "fractalized" version of the palazzo's courtyard and its strict Neoclassical geometry. Its eruption of rectilinear forms amid the courtyard's arched colonnade creates an arresting visual. It seems to grow virus-like from its host structure, replicating the vaulted archways and drawing visitors through the center of the palazzo. Each of its 700 "bricks" is a truncated pyramid that appears to be part spider web, part truss system. The gossamer-like objects are made from a bioplastic and wood mix, meaning each brick can be composted and recycled when the installation is dismantled. Despite their airiness, the bricks have a surprising structural strength, supporting the 3.5-ton installation, one of the largest 3D-printed bioplastic structures to date. From afar the ensemble also creates an interesting illusion of weightlessness that contrasts nicely with the palazzo's heavy Doric columns.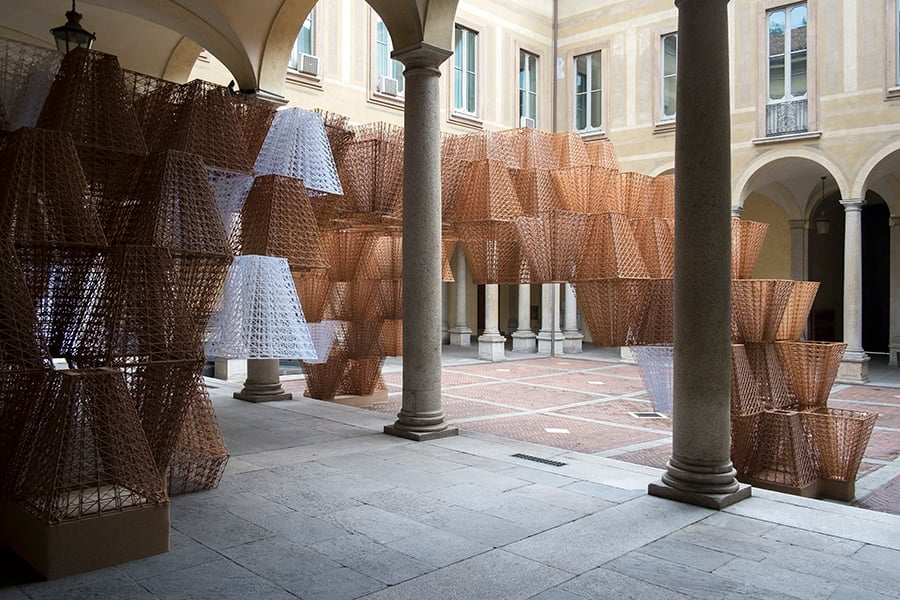 ---
Up close, however, the bioplastic finishes are a little messy, gloopy even, and it quickly becomes apparent that the individual bricks are attached to each other by cable ties. Considering the experimental nature of the project, this isn't so unexpected, nor is it a mark against the design. Rather, it's an acknowledgement of the realities of working with new materials. If anything, Conifera's imperfections stand out as a breath of fresh air in the context of Salone del Mobile, where manufacturers pull out all the stops required to sell high-end furniture.
---
More from Metropolis
---
In addition to focusing upon materials, Mamou-Mani seems equally interested in exploring a related theme: production and fabrication. The design and manufacture of the brick modules was completed in collaboration with four fab labs around Milan, all working with shared code and software to design and print the bricks. Mamou-Mani is no stranger to parametric design—his past projects have included temporary Burning Man pavilions characterized by sculptural forms. But this is his first major foray into large-scale 3D printing and he's already seeing its potential to change architecture.
"It brings the architect and designers closer to the finished thing," he explains. "The factories are directly within your studio and that means what you are producing is not a blueprint but…the actual thing. It means you can work on highly sophisticated design and you can work cleverly at minimizing the amount of material you use."
Like his fellow Burning Man attendee, Bjarke Ingels, there is an air of the techno-utopian about Mamou-Mani; a faith in the supposedly radical potential of new technology which has, up to now, only produced some interesting structures in hyper-exclusive surroundings. While 3D printing's potential lies partly in its innovative materials, it's the technology's collaborative aspects that might interest him the most. As Conifera has suggested, the design and fabrication process could be more democratic and open. As Mamou-Mani writes on the installation wall text, "I want to have something that's accessible, I'm a hacker by nature."
You may also enjoy "Safdie Architects Designs a 130-Foot-High Indoor Waterfall for Singapore's Jewel Changi Airport."
Would you like to comment on this article? Send your thoughts to: [email protected]