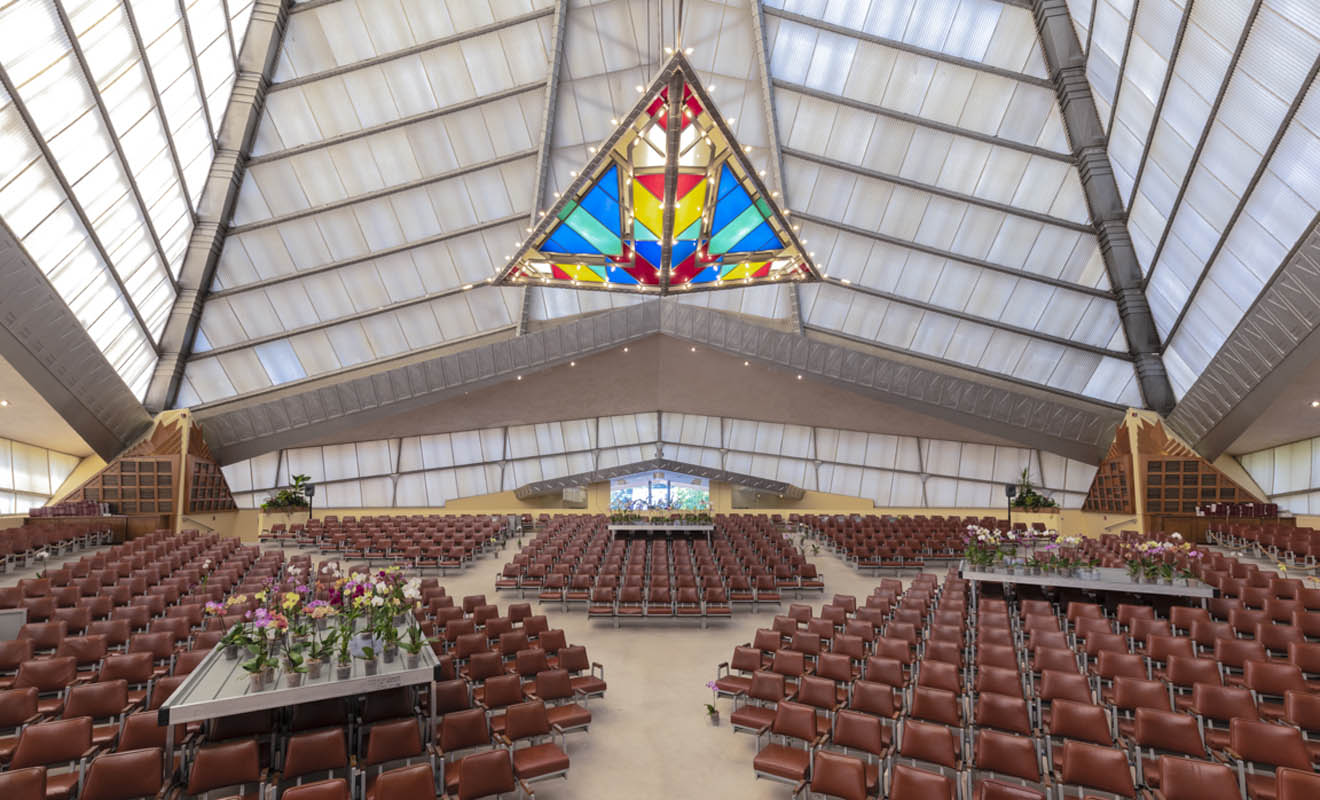 October 22, 2019
Artist David Hartt Takes Over a Frank Lloyd Wright–Designed Synagogue
On view through December 19, David Hartt: The Histories (Le Mancenillier) explores themes of diaspora and belonging.
---
Frank Lloyd Wright once said, "Music and architecture blossom on the same stem." Both are in bloom in Wright's Beth Sholom Congregation in Elkins Park, Pennsylvania, a national historic landmark dating to 1959 and that, this fall, opens its doors to the artist David Hartt. The Histories (Le Mancenillier), curated by Cole Akers of The Glass House, is a meditation on exodus that incorporates tapestry, drone footage, 19th-century African-American and Afro-Caribbean music, and gardening. It's a take on Wright's concept of total design—for a time of total peril.
The congregation itself has lately been concerned for its future. After a bit of soul-searching a few years ago, they embarked on a project to activate the synagogue in the hope of raising its profile, and brought in Akers, who in turn brought in Hartt, newly local after an appointment to the department of fine arts faculty at the University of Pennsylvania. Hartt has a history of activating architecture in the service of ideas, having produced such works as in the forest, which found him exploring an overgrown, post-Habitat 67 city designed by Moshe Safdie in Puerto Rico.
---
For Le Mancenillier, which is on view through December 19, the artist has used the sacred architecture of the Wright-designed synagogue to contemplate the way communities scatter and reorganize themselves in response to their built environments—a line of thinking that aligns with the congregation's own history. The Beth Sholom community's first building was located just a few blocks away, in a fairly conservative building in north Philadelphia. After moving to the suburbs following World War II, it asked Wright for a hopeful monument to their existence. "The rabbi got a designer credit because he kept giving Wright symbols he should be mindful of," Akers says. "The slope of the space is like God's hands, cradling creation. It's meant to be Mount Sinai in glass and concrete, an American synagogue that aligns the Jewish experience with American culture and broader ideals of democracy." The original building, meanwhile, found a new purpose as home for an Evangelical church for the local African-American community.
---
More from Metropolis
---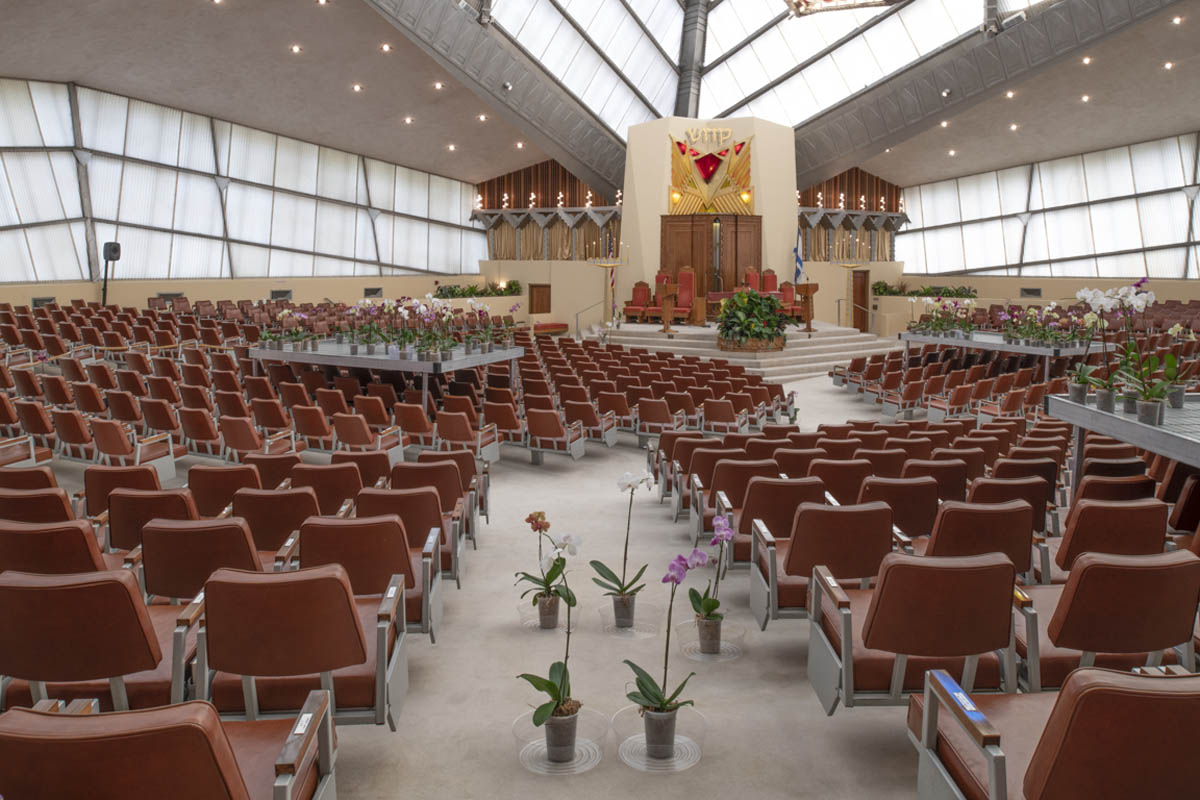 ---
Hartt began researching, finding what he calls a "cipher" for the project in 19th-century composer Louis Moreau Gottschalk, who was born in New York to a Creole mother and a Jewish father. The artist travelled through New Orleans and Haiti shooting digital video and photography of Gottschalk's families' lands, then enlisted the Ethiopian pianist Girma Yifrashewa for new recordings of Gottschalk's compositions, which were as much a hybrid as his own racial identity, and prefigured the vernacular revolution of jazz by some half a century. Hartt also became fascinated with the painter Martin Johnson Heade, a contemporary of Gottschalk's, whose elegiac portraits of orchids and other botanicals migrated from flea markets to museums in the 1980s and '90s.
And then there was the significance of the building itself. "I knew it was an incredible burden. The work could be overwhelmed by the narrative of the synagogue's development," he says. Or its flamboyance, just shy of camp with a spiked roof, chicken-wire glass with sandblasted fiberglass, high-gloss orange floors, angular benches upholstered in merlot velvet, and even gold lamé curtains around the Torah Ark. "I saw it as a truck coming right at you, and you have to step onto a path and see where that takes you."
---
As it happens, Hartt was driving around lost in contemplation of all this when he passed horticultural experts City Planters. Inside, he saw rows of orchids and was struck by their diasporic nature—how, like human migrants, they can adapt and thrive in new surroundings. And so Hartt brought them to the synagogue, pulling out the plastic plants that previously adorned the elegant walnut planters downstairs and installing fuschia grow-lights. "I wanted to call attention to that space," he says, "so that what was there was unmistakable as an intervention, as opposed to trying to pass as something else."
Nearby video screens showing his drone footage of Haitian forests are also unmistakable, as are two Heade-y, jaw-dropping tapestries—one in the women's lounge of an orchid, surreal and stretched, and another of supernatural digital lightburst—which act as architecture themselves. "Their scale helps determine the geometry of the rooms," he says. A men's lounge includes a piano and custom microphone stand for live performances programmed by the Philadelphia-based Haitian baritone Jean Bernard Cerin (including Gottschalk and contemporaneous Jewish and Caribbean compositions). This live music broadcasts throughout the synagogue, intermingling with the recordings by Yifrashewa.
---
Hearing these compositions below Wright's semi-opaque roof, which sometimes looks like that of a spacelab and sometimes like that of a tropical bus depot, a melancholy descends. Also descending? Drops of rain, which penetrate weaknesses in Wright's engineering often enough that the congregation built networks of kiddie pools and buckets to stave off water damage. Hartt has replaced them with orchids from City Planter—170 in all—some on chairs, some in the aisles, and others awaiting their call on low steel risers. "When Cole and I laid them out," Hartt says, "they became congregants."
When The Histories itself becomes history, the Beth Sholom community is free to take the orchids home, creating a new diaspora of blooms. Until then, they serve as living proof of the beauty that can grow out of displacement, from the failure of architecture, through artistic achievement. "I'm thinking of what will most likely happen with this space, given our current trajectory," Hartt says. He's speaking globally, not necessarily locally but, certainly, clearly: "This is an anticipation of a ruin."
You may also enjoy "At the Lisbon Architecture Triennale, Wondering 'Can Architects Curate?'"
Would you like to comment on this article? Send your thoughts to: [email protected]