July 2, 2019
Cool Customer: With Restrained Finishes and Custom Craftsmanship, This Bermuda Boutique Cultivates a Relaxed Atmosphere
Design firms inc_a and Tri-Lox focused on using color, texture, and lighting to evoke the island's atmosphere and architecture.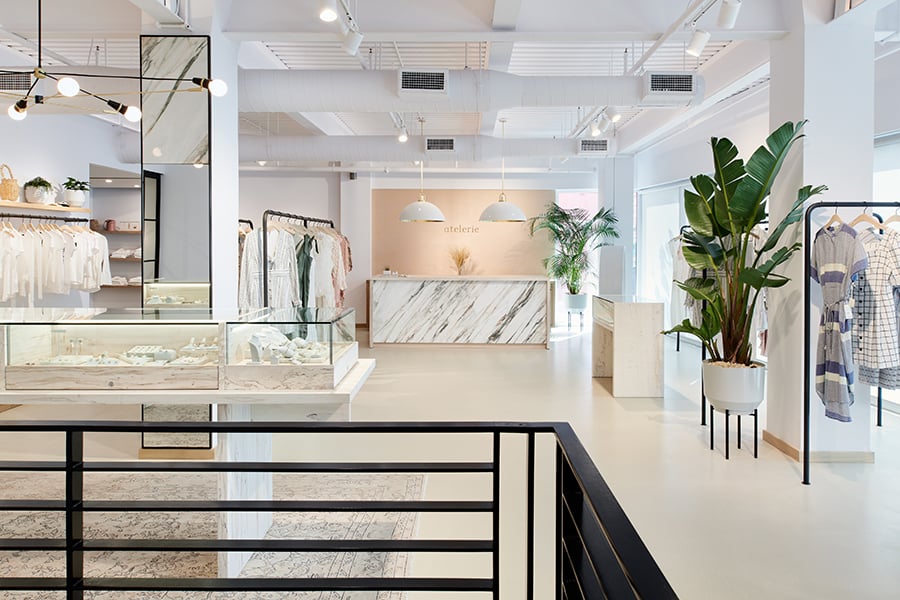 ---
It's difficult for architecture to truly capture the spirit of a place, but that's what the designers of Atelerie's new location in Hamilton, Bermuda, set out to do. An updated look for the luxury boutique—a local favorite since 2008—combines Bermuda's natural beauty and vernacular charm with a refined splendor. Guided by the vision of Atelerie founder and owner Heather Macdonald, New York City–based practices inc_a and Tri-Lox, a wood workshop, managed to cultivate an inviting atmosphere that reflects the natural beauty and laid-back quality of the small island. "Bermuda is a pretty amazing place and it has a lot of unique colors and architecture. For this project to be successful, it really needed to speak to all those elements," says Jonathan Chesley, founding partner of inc_a (short for It's Not Corporate Architecture).
The project came about because Atelerie had outgrown its previous Hamilton location; its new digs span 2,400 square feet and includes two stories linked by a white-oak cantilevered staircase. Custom shelving and display cases by Tri-Lox organize the store into distinct sections, each suited to a particular product category. On the ground floor, a large centerpiece table with an accompanying bench exhibits an array of housewares while wine, pantry, and party supplies neatly line adjacent shelves and wall alcoves. In the nook beneath the stairs, a pebble garden with chairs encourages customers to sit and relax. Upstairs, a cast iron interior window separates Calacatta Monet marble counters, which showcase beauty and wellness merchandise, from collections of high-end apparel and jewelry.
---
Featured prominently throughout the store is Tri-Lox's trademark Figured Maple with a Stone White finish, which the workshop sustainably harvests from salvaged trees in New York City. (Tri-Lox focuses exclusively on sustainably-harvested wood, offering customized fabrication, milling, and design services based on their offerings.) The spalted wood closely resembles the veining found in both white marble and Bermuda's abundant limestone. In many ways, the Figured Maple perfectly encapsulates the store's signature blend of pared-down opulence and eco-consciousness. "There is no need to sacrifice sustainability for luxury," says Tri-Lox co-founder and managing partner Alexander Bender. "It's all about the synthesis of thoughtful design, authentic materials, and craftsmanship."
---
More from Metropolis
---
Although Atelerie incorporates a number of tropical tropes, its unmistakably Bermudian ambiance is also owed to the specialized lighting scheme conceived by inc_a. According to Bender, multiple scales of lighting work together to emulate the Bermudian sunlight in a way that is "impactful, but not overstated." Hidden fixtures along exposed beams illuminate the ceiling to evoke the glowing Bermuda sky—a perfect complement to the stained, sand-colored concrete floors underfoot. Spotlights directed at displays and specific accent pieces create dappled moments similar to those found in the broken shade of a palmetto tree. Meanwhile, under-lighting on shelves and stair treads produce a dramatic effect comparable to the island's radiant sunsets. Adding to the attention afforded to detail, individual changing rooms give customers the option of three different intensities of lighting, demonstrating how a garment would look at different times of day.
"Atelerie is the result of a unique collaborative process: equal parts design, craft, and brand vision," remarks Bender, emphasizing the importance of Tri-Lox and inc_a's close partnership with both client and Bermuda-based contractor Araujo Construction. The team, working in unison, strove to use materials and lighting to capture the essence of Bermuda; all that remains absent from the  microcosm is the cerulean blue ocean itself.
You may also enjoy "This Brazilian Getaway Is Designed for Indoor-Outdoor Living."
Would you like to comment on this article? Send your thoughts to: [email protected]