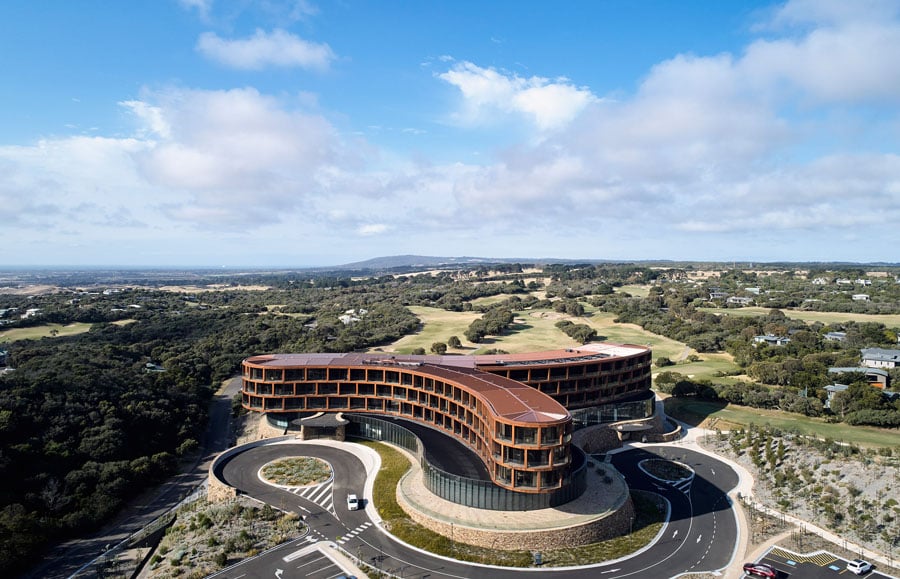 January 5, 2021
An Australian Resort Takes Cues from Its Stunning Surroundings
Wood Marsh Architecture referenced dramatic landforms for the sculptural design of the RACV Cape Schanck Resort in Australia.
What do you do when a hospitality client wants a landmark Australian resort on a scenic, yet underused coastal site? In the case of Australian design firm, Wood Marsh Architecture, you literally look to the landscape.
In designing the RACV Cape Schanck Resort, a sculptural 120-room hotel defined by high-drama curves of weathering steel, glass, and stone, "we looked at the context," explains the firm's co-founder Roger Wood. "The resort is in among secondary dune systems [set] back from the coastline, which has a very soft, eroded undulation. And so the building is reminiscent of those landforms."
For those not from Down Under, the RACV (the acronym for the Royal Automobile Club of Victoria) is a bit of an unusual client. Much like the AAA in the U.S., the non-profit organization provides roadside assistance to card-holding motorists, but it also owns a portfolio of hospitality properties, ranging from world-class resorts to a high-end wellness club. The RACV already owned a golf course and clubhouse in Cape Schanck—a picturesque promontory south of Melbourne—but that building was not only "Postmodern and awful," its systems were also past their prime, according to Wood. The RACV saw an opportunity to bring top-notch dining, lodging, and event space to an under-leveraged locale, which would also generate jobs for the region.
---
More from Metropolis
---
In 2011, Wood Marsh won a competition to design the new Australian resort. It's easy to see why: In 2013, the firm designed the RACV's first five-star resort in the beachside town of Torquay, a sweeping, coastal resort defined by weathered wood battens and rammed earth walls. The Cape Schanck project, however, demanded an entirely different solution.
One of the biggest challenges was to keep the old clubhouse in operation during construction. The architects also wanted to minimize their footprint on local ecosystems, home to protected plant and animal species like the white-footed dunnart (a tiny marsupial), the leafy greenhood orchid, as well as rare coastal moonah tree woodlands. The golf course's existing parking lot proved to be the perfect location, preventing the new building from further disturbing the land and allowing the building to hunker down between two natural ridges.
To further reduce the building's visual impact (not to mention to foster goodwill with nearby homeowners), the design team buried parking, back-of-house services, and a golf pro shop in two basement levels. Above ground, things get interesting. Beginning with the ground floor, the steel-and-concrete building follows a trefoil-shaped plan as it rises from the ground—one level for a spa, yoga room, and health club, another for reception, conference, and dining spaces. The three hotel stories perch atop this three-lobed podium in a swooping, bisected form, almost like a banana peel, and culminate in dramatic 20-foot-long cantilevers. "A characteristic of our work is to look at perspective," Wood explains. "As you walk around this building, it keeps evolving, and rotating, and diminishing in perspective."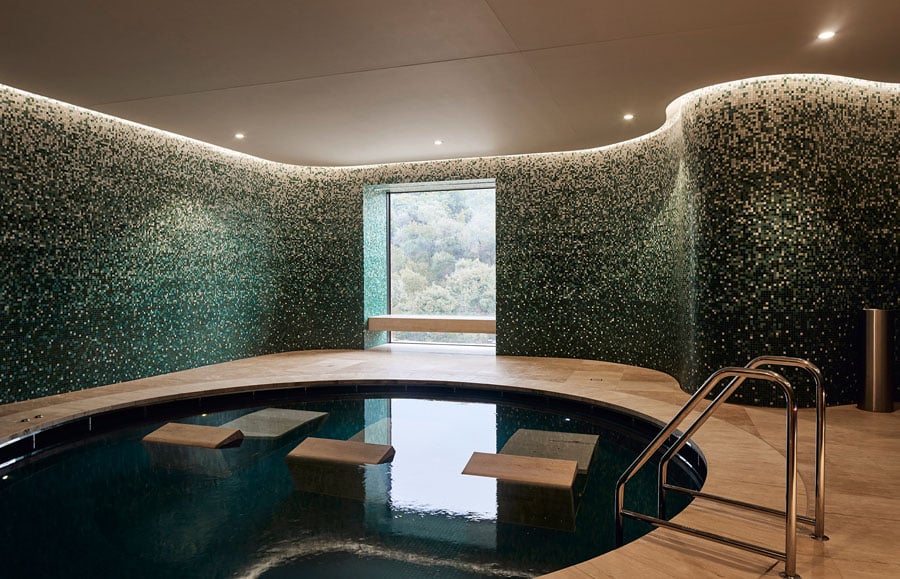 From outside, these separate levels form an enticing layer cake of materials inspired by the dusky hues of Cape Schanck National Park nearby. The ground floor features 15-inch-thick sloped stone walls, while the second level contains dining and event space in a transparent strip of glass. Floating above that, the curved, three-story hotel volume appears as a celled COR-TEN monolith, a move accentuated by the glazed ribbon beneath. "It's slightly classically based, from an architectural point of view," Wood muses. "There's a plinth, there's a ribbon of glass, which is the colonnade, and then there's a COR-TEN steel waffle, which is the cornice."
Inside, the building moves from brawny to sumptuous. As visitors walk inside, they are greeted by a soothing mix of surfaces and colors. Choice materials include cool gray Italian marble, blackened steel, gleaming terrazzo, and warm timber-slat walls. The architects even added a splash of gold leaf above a blackened-steel stair leading down to the spa level—but it feels sophisticated not blingy thanks to its soft, burnished texture. "We wanted it to feel like it was not in the city," Wood explains of the coastal-inspired tones. "So instead of black and white or silver, it's cream, charcoal, and tan. Something like you'd expect in an Hermès handbag."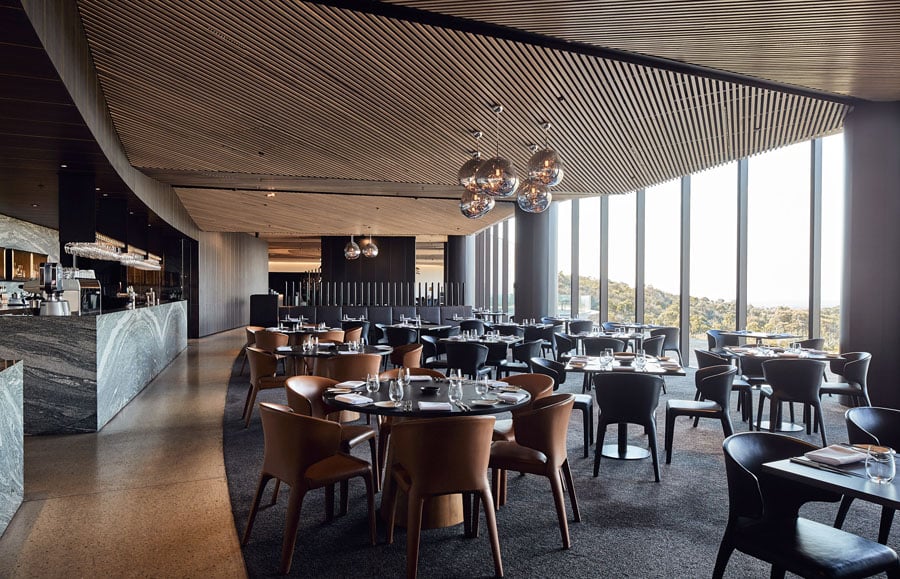 These materials continue into the hotel rooms, where the building's perforated exterior and significant curves allow for private terraces and sweeping views north to the golf course and south to the Cape Schanck National Park and the Bass Strait. "The land falls away pretty significantly so you get this dramatic view out over the peninsula," says Lachlan Anderson, the associate director at Wood Marsh who oversaw the Australian resort project. "I don't think we foresaw that it was going to be quite as good as that!"
The RACV Cape Schanck Resort opened to the public in 2018 and was a hit locally, both for the top-notch food and 18-hole golf course. "They're totally loving it," Wood says, adding that occupancy usually hovers around 99%. The pandemic, of course, changed that but the architects anticipate Aussies, itching for a staycation, will be flocking to the Australian resort. Regardless of what the future holds, "I think it is the jewel in the crown now," Wood says, "and they are really proud of it."
Courtesy Wood Marsh Architecture
You may also enjoy "Melbourne's NGV Triennial Ponders the Distant Past and a Post-Pandemic Future"
Would you like to comment on this article? Send your thoughts to: [email protected]
---
Register here for Metropolis's Think Tank Thursdays and hear what leading firms across North America are thinking and working on today.