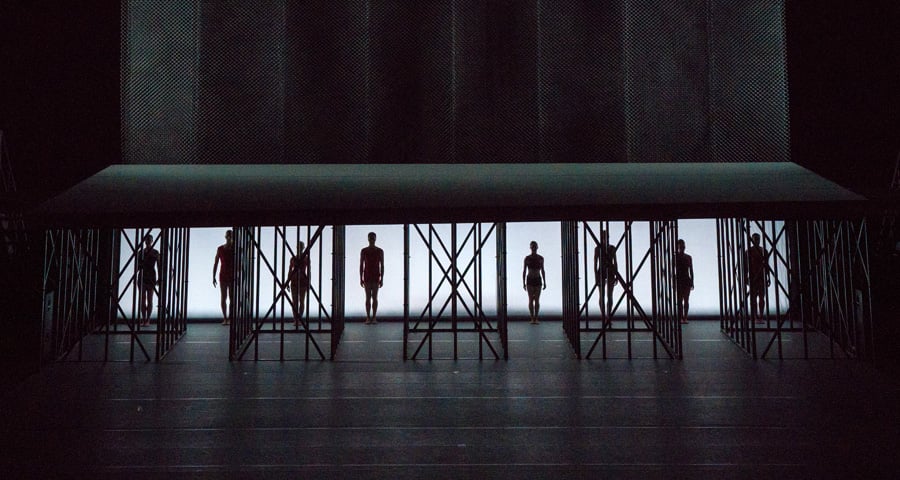 July 13, 2018
Frank Gehry's Minimalist Set For a 1983 Dance Performance Is Restaged for the Final Time in New York
Available Light, created in collaboration with choreographer Lucinda Childs and composer John Adams, is performed in New York City for the first time in 35 years at Lincoln Center.
In 1983, the Museum of Contemporary Art in Los Angeles commissioned an unlikely trio of emerging artists to collaborate on a site-specific dance piece: the choreographer Lucinda Childs, the composer John Adams, and the architect Frank Gehry. Though the three were largely unfamiliar with each other's work, they came together to create the masterful performance Available Light.
Gehry, who at that time had gained notoriety for his avant-garde residential work and his scrappy material sensibility, conceived of a minimalist, two-story stage, supported by aluminum-framed boxes and backed by a humble chain link fence. This architecture allowed Childs to create a double-layered performance, one in which dancers could both mirror and oppose each other's movements.
The piece came alive in the interplay of Childs's stark, gestural movements, Gehry's plainspoken materials, and Adams's shimmering, nonlinear score. And it eschewed traditional dance conventions (it received a snippy review in the Los Angeles Times). But that was precisely the point: "Its beauty is, first of all, an art of refusal," the critic and philosopher Susan Sontag wrote at the time.
---
More from Metropolis
---
Available Light was staged once again that year at the Brooklyn Academy of Music in New York and was briefly shown in Europe, but it was largely forgotten until a 2015 revival. This week, it returned to New York for a brief two-day run, as part of Lincoln Center's "Mostly Mozart" series, in what could be its last staging.
Though Gehry's stage was restored for its 2015 run, it still retains its raw character—one that is astonishingly contemporary. On stage at Lincoln Center, flooded by light, the chainlink backdrop is elevated into a gleaming metallic scrim, one that plays a supporting role to Childs's skipping, jumping, and twirling dancers.
The piece is a unique time capsule—a freeze frame of when these three artists were on the cusp of fame. This is especially evident in Gehry's handling of materials, ones that he featured prominently in his own residence, or other Postmodern-inflected buildings throughout Los Angeles. The architect would receive his Pritzker prize just six years later, the same year Adams won a Grammy Award. Childs went on to choreograph more than 30 works, and last year, received the Venice Dance Biennale's Golden Lion for Lifetime achievement.
Though the performance marks Childs's company's final season, Available Light will be remembered as it was first received in Brooklyn—as the New York Times put it, a "blaze of formal beauty."
You might also like, "This Small Rehearsal Studio in London Seamlessly Disappears Into Nature."