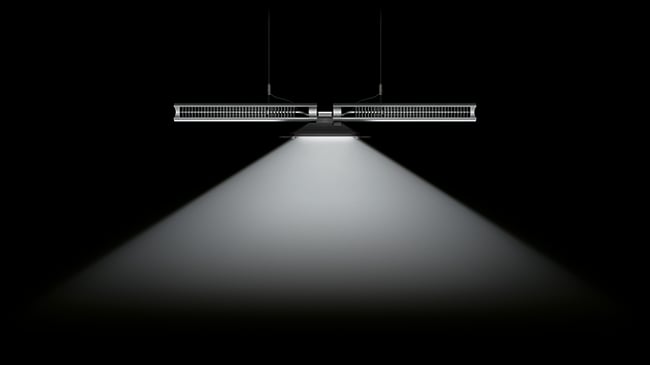 June 30, 2016
Back to the Fold: Jake Dyson's Return Puts Dyson In A New Light
A new LED line brings fresh clarity to Dyson's commercial offerings—and marks Jake Dyson's return to the company after 12 years.
The Cu-Beam light uses a single high-powered LED that is kept at peak efficiency by heat-pipe technology. It comes in both uplighting and downlighting versions.
All images courtesy Dyson
---
Open up most LED lighting fixtures and you'll probably see the same thing. Tiny bumps of plastic are arranged in neat rows inside, each one contributing its little pinprick of light to the powerful beam that finally illuminates your desk. There's a certain beauty to that image; it seems so appropriate in our world of Twitter activism and Occupy Wall Street that the singular incandescent bulb or fluorescent tube of yesteryear has been toppled by so many small, hardworking bulbs. But unfortunately, as with large groups of people, the individual beams of LED light need to be marshaled by a diffuser. That necessarily eats up some of their energy in the process.
If those tiny LEDs were simply replaced with a single large one, however, it would overheat and burn out. "Lighting manufacturers use hundreds of mini LEDs, because they don't want to engineer thermal protection," says designer Jake Dyson. But his London-based lighting company could, and did—and then brought the design to the technology company led by his father, Sir James Dyson. The Cu-Beam light casts a wide pool of light, providing more lumens per square meter at almost half the energy that conventional LED fixtures would require, but with only one high-powered LED.
---
More from Metropolis
---
Dyson has always worked through a process of deletion. Twenty-three years ago, an ad for the DC01 vacuum cleaner boasted: "No bag. No loss of suction power." Starting there, the company's design engineers have deleted paper towels from bathrooms, blades from table fans, bacteria from humidifiers, and this past April, noise from hair dryers. Cu-Beam follows in this tradition, of course, but it's an important milestone for the company for two reasons. First, it marks Jake's return to the Dyson fold after 12 years of running his own business. And it is representative of the company's growing emphasis on solutions for commercial—as opposed to residential—spaces.
Dyson's first foray into commercial solutions was the release of the Airblade hand dryer in 2006, which squeegeed the moisture off people's hands with a fast-moving sheet of unheated air.
In ten years, the Airblade range has expanded to include three new products. The original hand dryer was replaced by the Airblade dB, which is 50 percent quieter. In 2013 came the Airblade V, a sleeker version that also had HEPA filters that remove 99.97 percent of all particles the size of bacteria or viruses. The final gizmo in the series is the Airblade Tap range, which combines a faucet and a hand dryer in one sleek object.
Last year, Seattle-Tacoma Airport became the first American airport to put Airblade Taps in its restrooms, as part of a sustainability drive initiated in 2009. "We're going to save more than two million feet worth of paper towels," says Steve Rybolt, the airport's environmental manager. "That's equivalent to about 3 one-way trips from Seattle to Portland, Oregon."
It took $38 million and seven years to develop the Dyson digital motor V4, which is at the heart of the slim Airblade V. The easy-to-mount machine costs about 69 percent less to run than other hand dryers.
The Airblade Tap, available in short, tall, and wall-mounted versions.
---
In contrast to the development of Airblade, Jake Dyson's lighting designs—the latest additions to the company's commercial stable, Dyson Professional—have a refreshingly different story, and point the way forward for the technology giant.
When Jake founded his own lighting business in 2004, he was deeply frustrated by the status quo of the lighting industry. "It upsets me that we see disposable LED lightbulbs," he says, "and that we see life claims for LED lighting products, expensive lighting products, that are nowhere near as long as they could be." From an environmental standpoint, "I noticed that a lot of high-end lighting companies were not looking at the function of light, but looking at the object as a sculptural piece," he adds.
In 2011, Jake and his team of two design engineers in London produced an LED desk lamp called CSYS. Its form was inspired by construction cranes, but the critical technology was a cooling system of copper tubes, similar to the ones used in satellites or microprocessors. The tubes carried heat away from a strip of eight LEDs, allowing them to perform at peak efficiency 12 hours a day, for more than 37 years. It was an incredible leap in longevity for LEDs, "and we're not adding additional electricity to solve the problem," Jake says.
In the meantime, his team started work on the product that would become the suspended Cu-Beam light. The central idea was to illuminate commercial spaces using a single LED, relying on the cooling technology they had already developed to keep it performing at its best for 180,000 hours. "It would probably outlive me if you were to install it," quips Ed Culley, global managing director of Dyson Professional.
"Coupled with the reliability and light that we've engineered in, we're also able to distribute light throughout large areas," Jake says. "There's been a lot of engineering development in custom lens design." One big lens for one big LED, and it can light up an entire boardroom table. And it comes in both uplighting and downlighting versions.
First released in 2011, Jake Dyson's CSYS lamp, which also uses heat-pipe technology to keep LEDs running longer and more efficiently, is now available in a floor version. "What we'll be doing now is developing more lights with Dyson," Jake says, "so we're working with the company as opposed to bringing nearly finished products into Dyson."
---
Jake brought his two inventions with him when he joined his father's company last year, and Cu-Beam's hyperefficient functionality fits right in with the other Dyson products. Its aesthetics, however, are a subtle departure. Dyson devices tend to be closed containers, for the most part, that highlight just one dramatic feature—the spirals of air in the vacuum cleaner, or the lack of blades in the fan. The Cu-Beam, on the other hand, proudly displays its single LED, flanked by slotted heat sinks on either side, like the solar panels of some deep-space probe. "One of the characteristics of my products is that every single component on that product has a function," Jake explains. "How that product works will dictate how that product looks." This allows him to revel in subtle mechanisms. "You can see all the heat pipes, you can see how it's releasing the heat, but it becomes beautiful."
"We've had amazing reactions [to Cu-Beam]," Culley says. "In some offices that we go into, people are asked to do enormous amounts of work in inferior lighting." Improving these lighting conditions across all kinds of workplaces and commercial interiors is a keystone of Jake's mission. "I think healthy lighting is fundamental," Jake says. "For years people have worked and been in environments causing migraine, stress, and all sorts of [ill] effects on their bodies. You have to remember that humans are like plants—we're biological."
If taken to heart, that could be a revolutionary idea for an engineering-focused company whose reputation is still based on mechanical efficiency—despite recent efforts to make the health benefits of its products known. The foray into lighting under Jake Dyson's lead means the company may just have found the battle cry that could rally all of its commercial and residential products, infusing them with a higher purpose. "If you start combining air purification, quality of lighting, hygiene in the bathroom and the washroom," Culley says, "then you start to think about well-being. We can make a difference to health, not only in the home but also in the workplace or the leisure sector or the education sector. That really is the overarching goal."
The CU-Beam's aluminum wings carry thin copper heat pipes, each with a single drop of water in it. As the LED heats up, the water evaporates and travels along the pipe because of a pressure difference. When it reaches a cool spot, it condenses, thereby dissipating heat, and is then drawn back to the hot LED through capillary action.
Thanks to a custom-designed lens, the Cu-Beam directs light without any loss of energy.
 
Each Cu-Beam light weighs only three and a half pounds, so it can be hung from drywall ceilings. A low impedance cable both suspends the light and carries power.