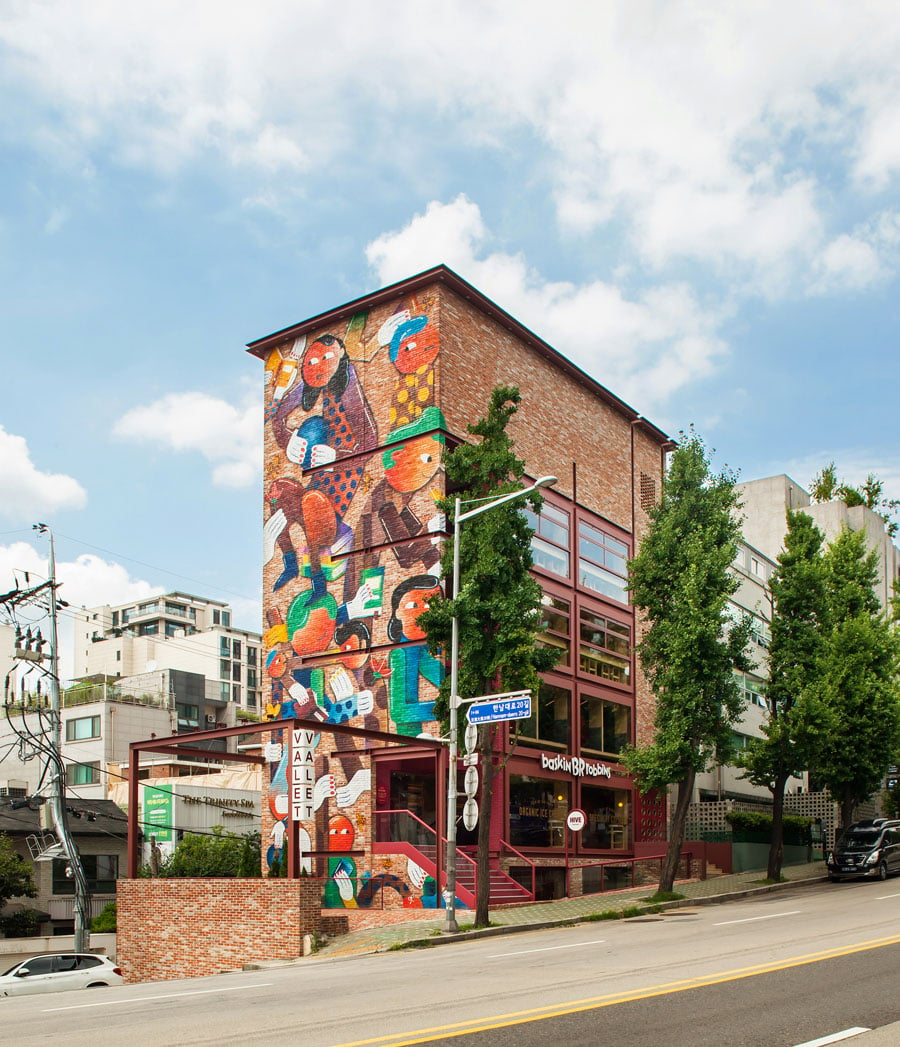 September 25, 2020
Cross-Continent Collaboration Brings West-Coast Color to Seoul
Portland design firm Osmose helps transform a Korean Baskin Robbins into a vibrant, art-filled hotspot.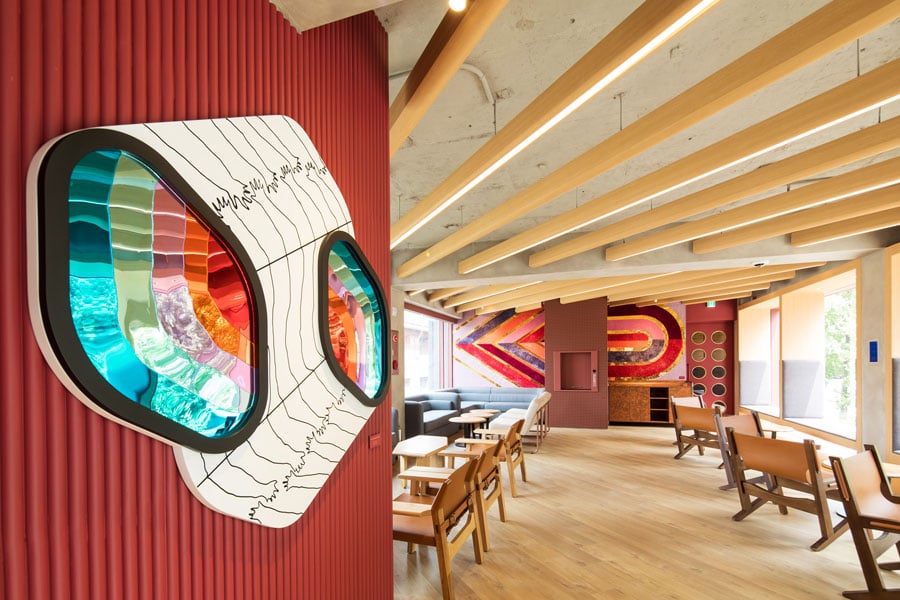 While American ice cream chain Baskin-Robbins is recognized in the United States by its pink and blue branding and Original 31 Flavors, the brand lives quite a different life abroad. As known in Korea, the company develops innovative, high-concept ice cream shops that double as meeting places, cafe lounges, and Instagrammable pop-up galleries. So when Baskin-Robbins South Korea courted boutique design firm Osmose to help create a photo-worthy environment with a uniquely West Coast vibe for their new location in Seoul, the Portland, Oregon-based studio jumped at the opportunity.  
 "We came to the attention of Baskin-Robbins in Korea because of our relationship with Salt & Straw over the past 7 years creating and refining their brand aesthetic and environment," says Andee Hess, principal and owner of Osmose. The firm's flexible work style made it an ideal choice for a complex project involving cross-continent collaboration on multiple levels. "I've structured this company to stay small, agile, and highly collaborative. We're used to bringing in architects, designeers, and working with a shifting group of artists. We develop a kind of collective of people to suit each specific project," says Hess.  
---
More from Metropolis
---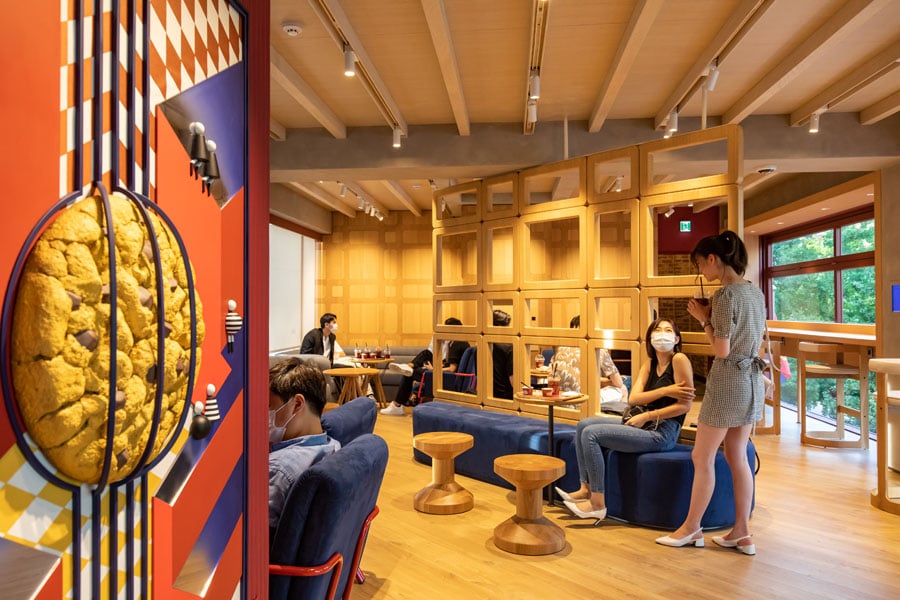 Baskin-Robbins Hive Hannam, completed in March, 2020, is a free-standing, five-floor structure with low ceilings and smaller footprints on each floor. It stands out in a neighborhood with few multistory, free-standing buildings, and even more so with the addition of a vibrant exterior mural by Pattern People, a Portland-based surface design studio. All five floors of Baskin-Robbins Hive, Hannam are open to guest access, with baking and production in the basement, ice cream and beverage service on the first floor, and three upper floors of open lounge space and seating 
 The process was collaborative from the start, with Osmose stepping in as creative director and working with Seoul-headquartered confectionery conglomerate SPC Group and Baskin-Robbins Korea's internal design team to evaluate everything from branding to product consideration. The team wanted to imbue the space with West Coast style, so Osmose brought in a host of local Portland artists and designers including Maria Cornelius, Francesca Capone, and GRADA Inc. The team in Seoul then hired local artisans to fabricate the designs.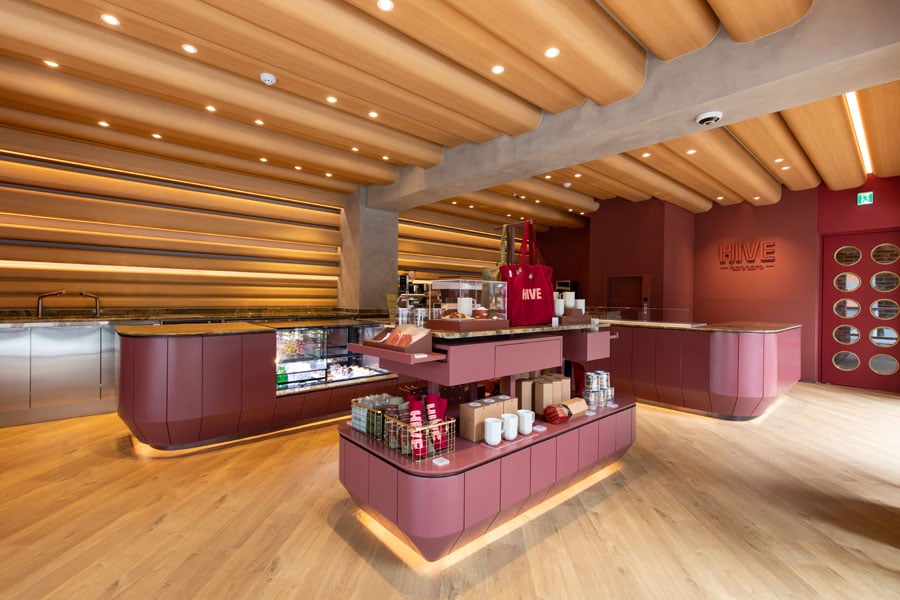 Francesca Capone's chic but playful Calligraphies, weavings crafted with Maharam and Kvadrat fabrics, soften the space with clean, curved lines and a slightly muted color palette. Hess says, "We originally proposed that the upper floor would be an activated gallery space. But this idea evolved into the curation of artist installations throughout the building on each floor." 
Full-service Portland design company GRADA Inc. contributed Experiencing Delicious, a multicolor, mirrored piece that evokes the spirit of Keith Haring line drawings. And Osmose's own team designed the "Ice Cream Connection" wall, a counter-to-ceiling mosaic featuring stripes of shag carpeting and reflective lines forming a textural supergraphic in warm red and purple tones.  
 Baskin-Robbins Hive, Hannam's color palette was developed as gradients of the classic Baskin-Robbins logo colors, and light wood flooring adds a modern, California-loft warmth throughout the space. The resulting atmosphere is a kaleidoscopic melding of West Coast pop and the cool comfort of Korean cafe culture. "We don't like to chase an aesthetic," says Hess. "We dove into the brand—where it's been, where it's going, and considered how to develop both a sophisticated lounge space as well as a completely new experience."
You may also enjoy "Beijing's SUPERFLY Blends Pop Culture with Traditional Chinese Street Life."
Would you like to comment on this article? Send your thoughts to: [email protected]
---
Register here for Metropolis Webinars
Connect with experts and design leaders on the most important conversations of the day.