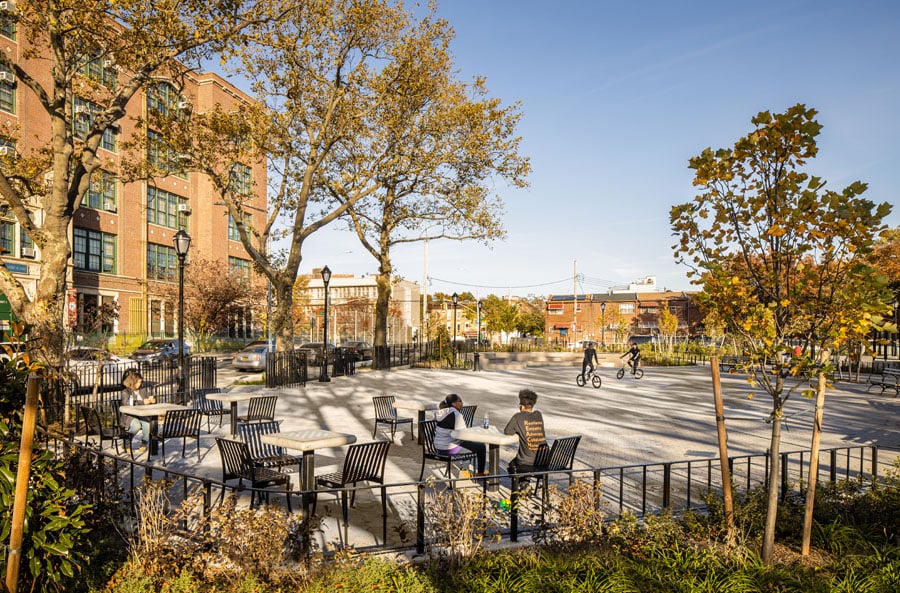 March 17, 2021
The New Betsy Head Park Is an Accessible, Pandemic-Friendly Retreat for Brooklynites
Abel Bainnson Butz led the expansive $30 million redesign of Brownsville's biggest park, with a focus on serving diverse abilities and activities.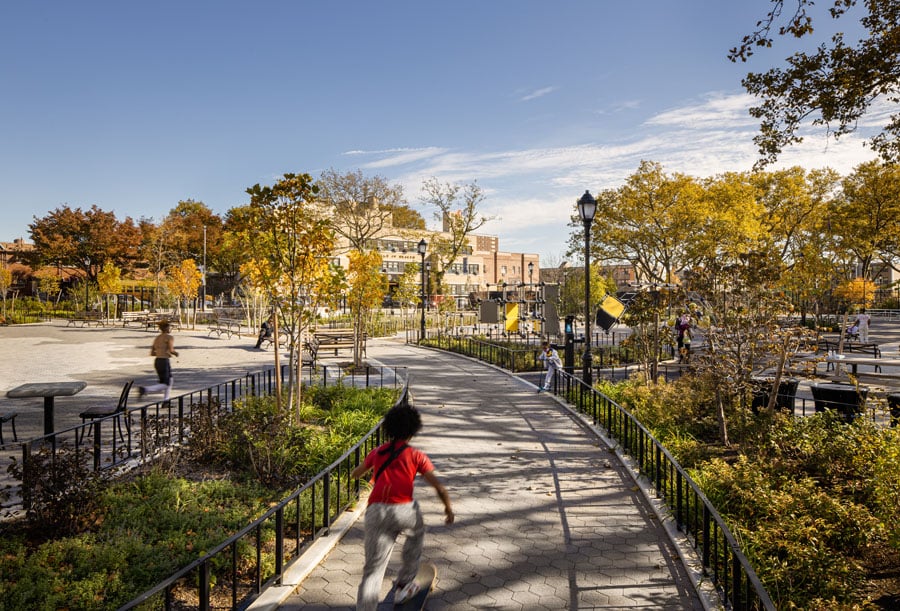 When Betsy Head Park was designed more than a century ago, it was one of just a handful of public parks in Brooklyn. At the time, the park was a model of outdoor recreation, featuring a wading pool, playground, garden, bath house, track, and tennis court. For decades, the park served as a hub for the eastern Brooklyn neighborhood of Brownsville, even receiving a renovation in 1939, but the then updates stopped. "The park hadn't seen investment from the city in a long time," says David Weissman, a principal at Manhattan-based landscape architecture firm Abel Bainnson Butz (ABB).
That changed five years ago, when the New York City Department of Parks and Recreation (NYC Parks) commissioned Weissman and his team to overhaul Betsy Head. The recently reopened $30 million redesign is part of New York City's Anchor Park initiative, which gives one park in each borough funding for a comprehensive update. When ABB began working on Betsy Head in 2016, it was outdated and run down after decades of use, but the 10.5-acre tract of land had good bones and lots of potential. 
ABB started the redesign process by holding visioning sessions with the Brownsville community, organized by NYC Parks. More than 39,000 people live within a half-mile of the park, and even more consider it a destination. During conversations with residents, Weissman heard that the park needed to be more accessible and inclusive for everyone: the young, the old, the athletic, and the casual park-goer. "In New York, not everyone has a private terrace or outdoor space," Weissman says. "So how do you design for all of these different needs?" 
---
More from Metropolis
---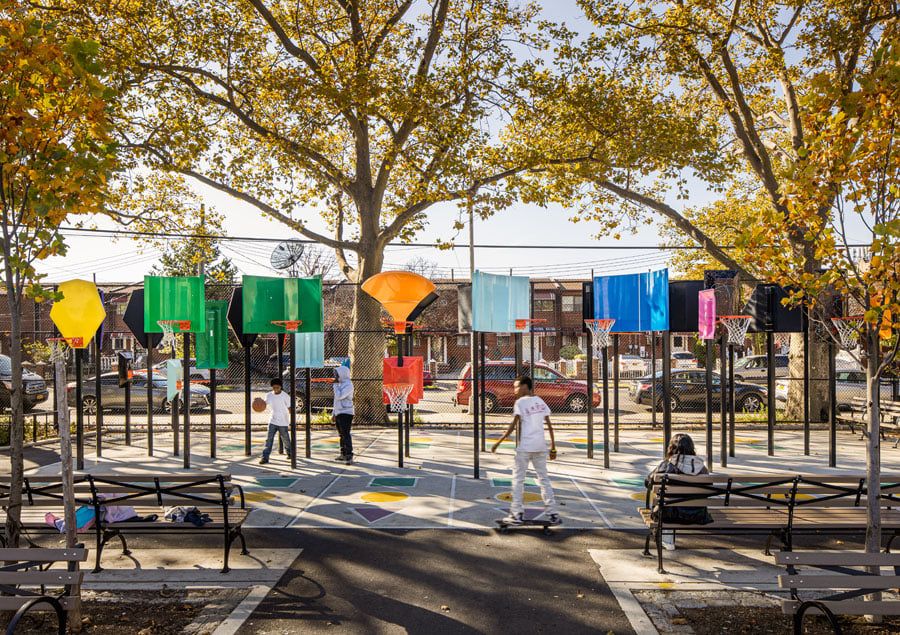 ABB began to answer that question by rethinking how people access the park. Previously, the park had a tall bleacher at its southern end that created a visual and physical barrier to entering. The firm replaced the bleacher with a new entrance and made sure the park was accessible around its perimeter for people with wheelchairs and strollers. 
Betsy Head is split into two parcels of land that serve different functions. To the north ABB reimagined an asphalt lot for flexible programming where residents could hold events and markets. Weissman says an important part of their job is to give people a playbook for how they can approach the space. "We went to the community, we showed them, 'This is how you can arrange farmers market tents, here's the double gates where you can back your truck into to unload,'" he recalls. 
The redesigned north parcel sits adjacent to the David Rockwell–designed Imagination Playground that was built in 2016. ABB drew inspiration from the playground's organic forms to create plant-lined pathways that lead to a small amphitheater and a geometric skatepark designed by California studio Spohn Ranch. It also includes outdoor fitness equipment and a parkour course whose pieces were manufactured in Finland. To the south sits a redesigned track and field, which accommodates space for softball, soccer, football, and lacrosse.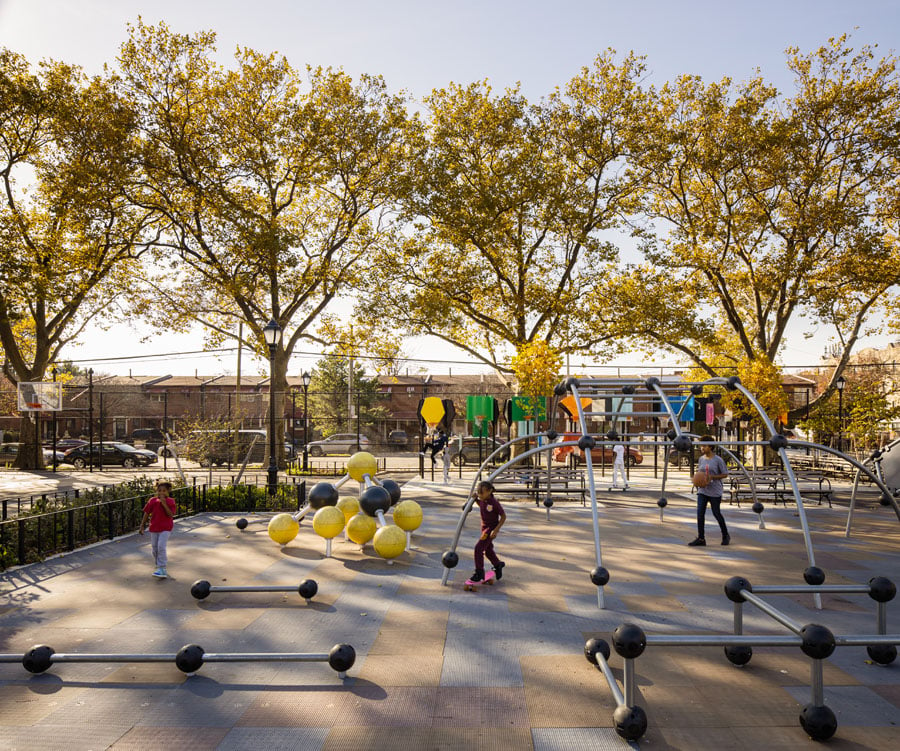 The community wanted more room for basketball, so ABB replaced four handball courts in the south parcel with a full-size basketball court. (Two handball courts were reconstructed on the other side of a reimagined traverse wall.) Another full-size basketball court and bankshot basketball court were added to the northern lot, the latter featuring a row of varying height rims with colorful, geometric backboards. Also on the south parcel is a row of granite domino boards that sit underneath leafy trees, positioned next to the comfort stations. "We knew from the community meetings that there was a really big group of domino players here, and they're seniors," Weissman added. 
In a city like New York, parks function as an extension of people's living rooms, and with COVID dominating throughout the last year, Betsy Head's redesign took on new importance. Though Weissman couldn't have anticipated the pandemic when his team started to design, he believes the park is flexible enough to meet the community's needs in the present and future. "As landscape architects, we've kind of always known the power of green spaces," he says. "Because of the pandemic, I think a lot of people now understand the importance and value of these spaces that we've been championing for years."
You may also enjoy "Q&A: Mariana Mogilevich on New York City's Path to a More Democratic and Diverse Civic Realm"
Would you like to comment on this article? Send your thoughts to: [email protected]
---
Register here for Metropolis's Think Tank Thursdays and hear what leading firms across North America are thinking and working on today.