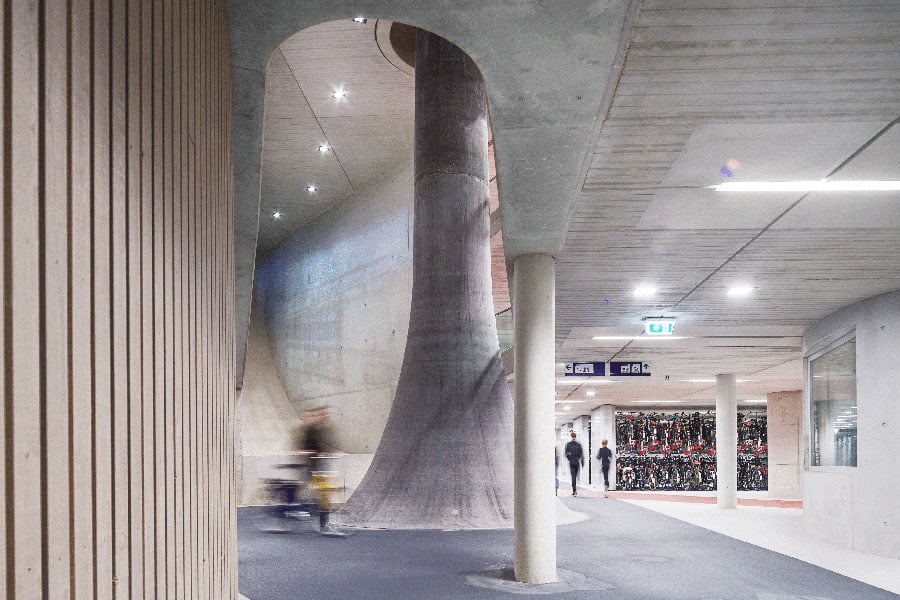 September 6, 2019
In Cycle-Crazed Utrecht, the World's Largest Bike Parking Facility Opens
The Netherlands, a country with more bikes than inhabitants, invested over €30 million in the multistory structure.
Photo by Petra Appelhof
What used to be a sea of bicycles parked outside Utrecht Centraal railway station and the Hoog Catharijne shopping center is no more. The bikes are now tucked away below the station's public square, in what is now the largest bike parking facility in the world.
Commissioned by the City of Utrecht, infrastructure agency ProRail, and Nederlandse Spoorwegen, the national rail company, the project was designed by Rotterdam-based Ector Hoogstad Architecten in collaboration with landscape architects Buro Sant en Co and engineering firm Royal HaskoningDHV (RHDHV). Previously, says Ellen Wijnant, senior project manager at RHDHV, the station and Hoog Catharijne were separate entities. Now, she explains, Stationsplein integrates the once-disjointed station area and links it with Utrecht's historic city center.
The team designed the underground parking garage to maximize convenience, speed, and safety for both cyclists and pedestrians alike. To achieve these goals, it carefully conceived traffic systems that could not only streamline the commute for the 186,000 people filtering through the station but also accommodate the garage's 12,500-bicycle capacity. A system of stairwells, elevators, and ramps allow cyclists and pedestrians to ride or walk easily in and out of the facility, with separate ramps for parking and moving cyclists. In a bid to combat a dark, subterranean feel in the underground structure, the team inserted a glass roof and large windows to illuminate the space. And for those who need quick maintenance, additional facilities include a repair shop and rental outlet.
---
More from Metropolis
---
While state investment in bike infrastructure has the potential to encourage more sustainable modes of transportation, critics have struck a skeptical note. Saskia Kluit, director of the Dutch cycling union Fietsersbond, for example, told The Guardian in August: "There's a gray area growing where the government wants a clean appearance and wants to get rid of the bikes, but parked bikes give the street liveliness and movement…. It's better [cyclists] can stop anywhere they want."
Whether a government attempt to clean up Utrecht's somewhat chaotic streetscape or a genuine contribution to the city's bustling bike culture, the facility was designed to optimize the flow of movement across one of the busiest transit hubs in the Netherlands. "It was a huge project to accomplish," recalls Wijnant. "Between all the stakeholders involved, it took a lot of communication to explain why each decision was the best solution. In the end, I'm very proud to have been a part of that process."
You may also enjoy "Amsterdam's Iconic Bridge Houses Get a Second Life—as Hotel Rooms."
Would you like to comment on this article? Send your thoughts to: [email protected]