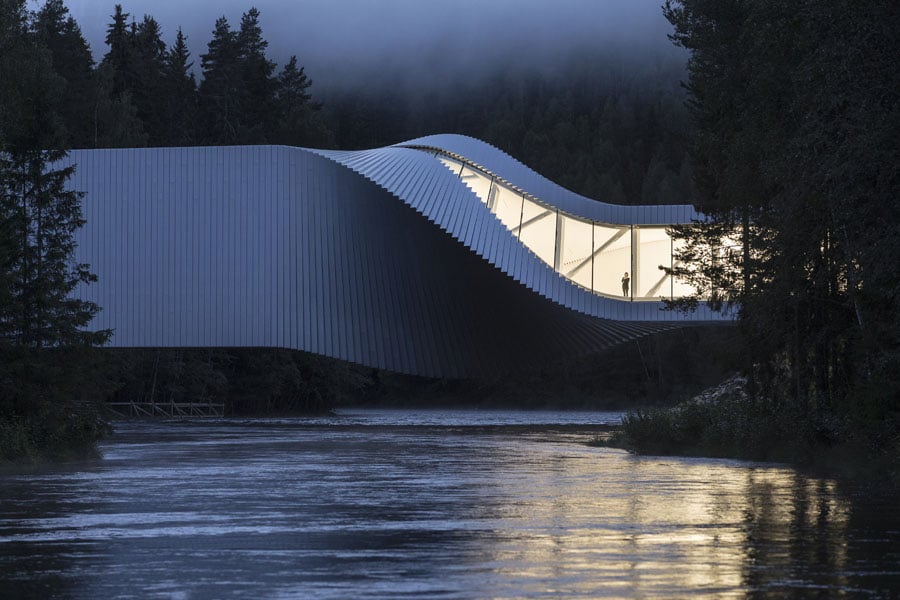 October 28, 2019
BIG's Kistefos Museum Puts a "Twist" on Conventional Art Galleries
Opened last month, the unusual structure reconciles the features of a challenging site.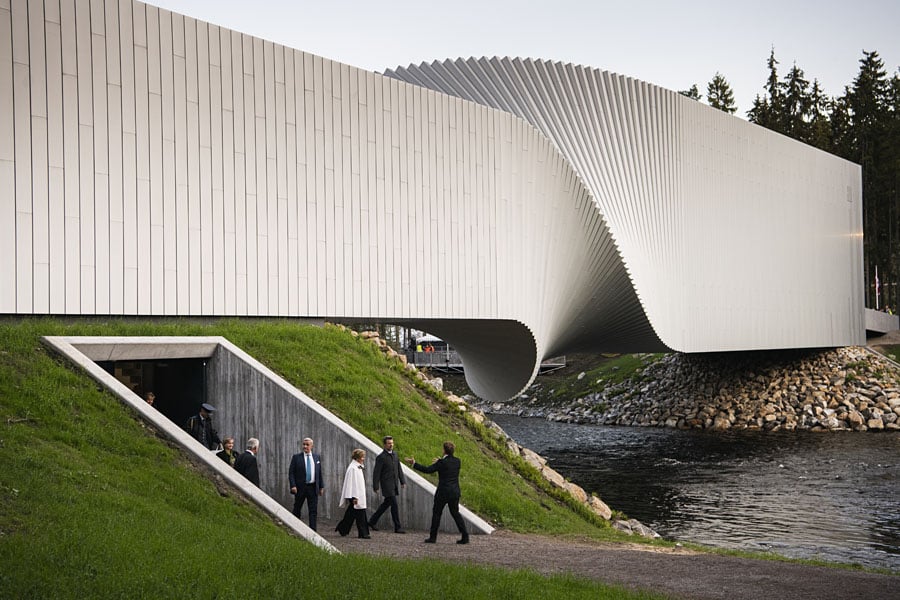 An hour north of Oslo, in Jevnaker, Norway, a new gallery peeks out from a forest of tall spruce, pine, and birch. Designed by BIG as a part of Kistefos sculpture park, the structure takes the form of an inhabitable bridge spanning a winding river. Appropriately dubbed The Twist, the aluminum-clad steel building torques 90 degrees at its center—a feat that, beyond being impressive and eye-catching, also lends a practical solution to some site-specific issues.
Crucially, the twisted design resolves the height discrepancy between the two riverbanks that it connects. But it also turns a visit to the sculpture park into a processional journey. Whereas visitors previously had to follow a circuitous route down the river, back and down again on the other side, to see the entirety of the park, they can now tour it in one go by way of the connective gallery.
On a more metaphorical level, the unique architecture of the nearly 10,800-square-foot gallery transforms a container for art into a piece of sculpture in its own right. And in the process, it creates three distinct interior spaces: a wider, naturally lit gallery with panoramic views of the surroundings, a central undulating space with a tapering skylight, and a double-height, windowless gallery at the southern side.
---
More from Metropolis
---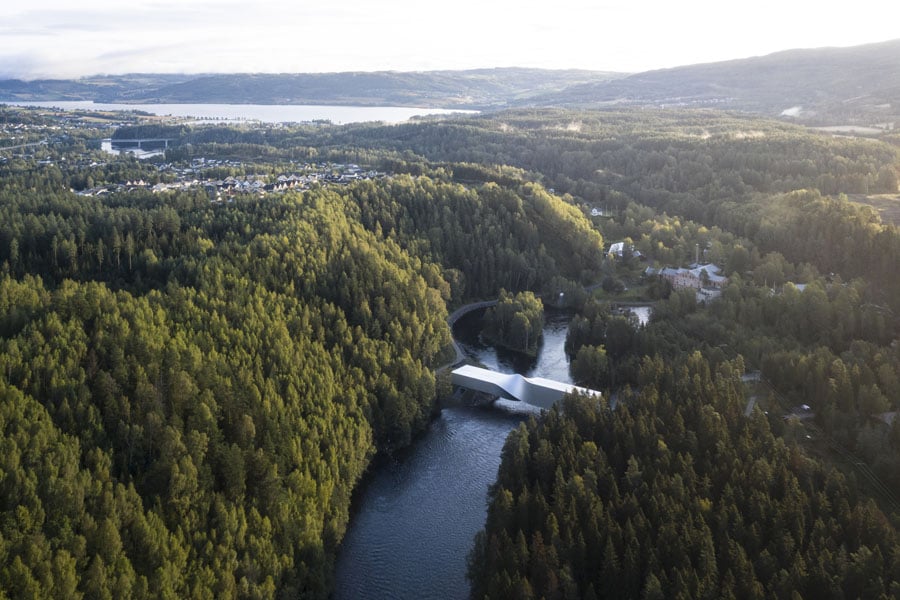 In another striking space on the building's undercarriage, there are restrooms and a glass stairway that provides seating. Here, a full-length glass wall brings visitors up close to the shimmering river, and face to face with an enigmatic bare-chested male figure by Elmgreen & Dragset that peers in through the window.
Although it required complex engineering to build The Twist's fanning form (also known as a hyperbolic paraboloid), the result feels surprisingly clear and rational. "Wherever you look, you see arches and curves, Fibonacci spirals and saddle shapes, but when you look closer you realize that everything is created from straight lines—straight sheets of aluminum and straight boards of wood," says Bjarke Ingels, the founding principal of BIG, in a press release. In a Designboom audio interview, he elaborated: "It's a world of curves that is created with purely straight elements."
Kistefos Museum Foundation was founded by Christian Sveaas, a businessman and art collector, in 1995, and held its first art exhibition three years later. Since then the site has been inhabited with site-specific artworks by the likes of Giuseppe Penone, Tony Cragg, Shintaro Mitake, Marc Quinn, and Ilya Kabakov. For Sveaas, art is a passion and a way to attract outsiders to visit a major former industrial site and buildings once owned by his family. "My point has always been that not many would come and see an old factory alone, so we decided we needed to produce something new every season," he says.
Hønefoss, the closest train station to the sculpture park, is due to get a new motorway and a high-speed train link from Oslo in the not-too-distant future, which promises to halve the travel time to Kistefos. But even without enhanced transportation, it's worth the trip. The journey out there is scenic—emblematically Norwegian—and once there, the visitor is rewarded with a restored piece of industrial history (a former pulp mill) and an art gallery that is as spectacular from outside as it is calming within. It's an unexpected paradox that stays with you long after you leave.