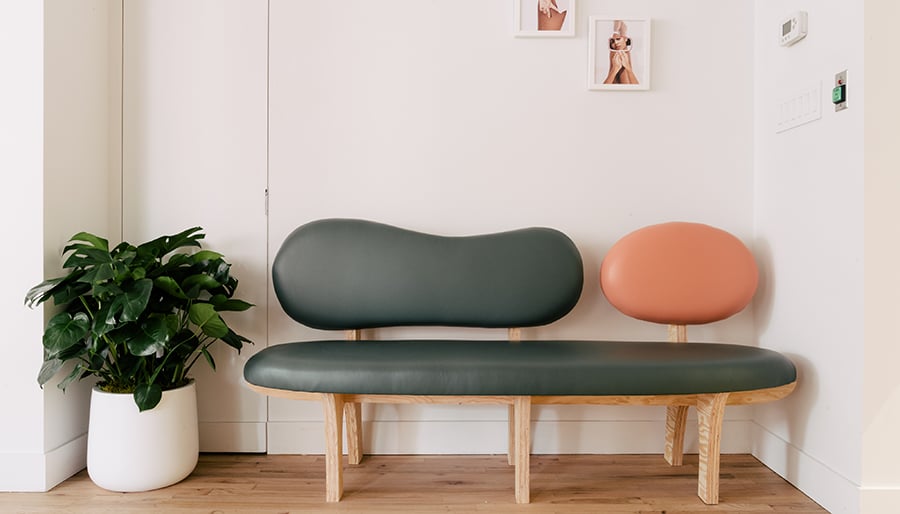 July 24, 2019
This Office Is a Fresh Take On a Workspace For a Female-Focused Product Company
Michael Yarinsky Studio designed this open office in Manhattan's Soho neighborhood for women's shaving company Billie.
Since its launch in 2017, Billie has upended the male-dominated shaving industry with its reasonably priced, well-designed razors and body products for women. So when the female-first shaving company was ready to build out its first global headquarters, the challenge was to translate the brand's playful, feminine ethos into a functional workspace. Founders Georgina Gooley and Jason Bravman turned to Michael Yarinsky Studio—the Brooklyn-based interdisciplinary design practice—to reimagine the 2,500-square-foot, loft-like corner office in Manhattan's Soho neighborhood.
"We're a fun brand online—how can we bring that to life in a physical space?" Gooley recalls discussing with Yarinsky in their initial conversations. "It was about finding that balance between a place that feels like you can get work done, you can be collaborative and productive but without a super sterile, corporate feel."
The space they found had all the essential qualities they sought—high ceilings and large windows—but it was in need of a major overhaul. The former tenant, Gooley says, had turned it into a "rabbit warren" filled with built-in cherry millwork at every turn. "The first thing we knew we needed to do was to strip back the whole interior to raw space and start anew," explains Yarinsky.
---
More from Metropolis
---
His approach was two-pronged: to convey the brand's personality and to design an inviting interior that provided room for the young company to grow. After considering several layouts, Yarinsky and the founders decided on an open-office plan with breakout spaces built out along the perimeter, including two conference rooms, three private phone booths, and a kitchen area. Different departments, such as technology and marketing, are clustered together along the three rows of desks, with areas left open for new hires.
In addition to handpicking lighting, objects, and furniture by designers such as Ladies & Gentlemen Studio, Vladimir Kagan, and Muuto, Yarinsky's office designed multiple custom furnishings, including the conference tables, desks, kitchen cabinetry, and seating. "Every detail is both functional and fun—from elevated, non-traditional light fixtures to wiggle-shaped desk legs and custom two-toned couches," says Yarinsky.
These touches and pops of color were added by Yarinsky to provide whimsical counterpoints to the otherwise clean, pared-down interior. The predominant material, however, is a raw marine fir plywood, which Yarinsky liked "because it is a heavy construction material and broke from what one might think is a 'feminine' material—if you can even gender a material."
The project recasts notions of what a female-focused workspace might look like while still remaining true to the Billie brand, Gooley says. "We are very confident and strong with what we believe in, but [we] never shy away from femininity."
You may also enjoy "A Brutalist Landmark and Skateboarding Mecca in London Is Restored."
Would you like to comment on this article? Send your thoughts to: [email protected]