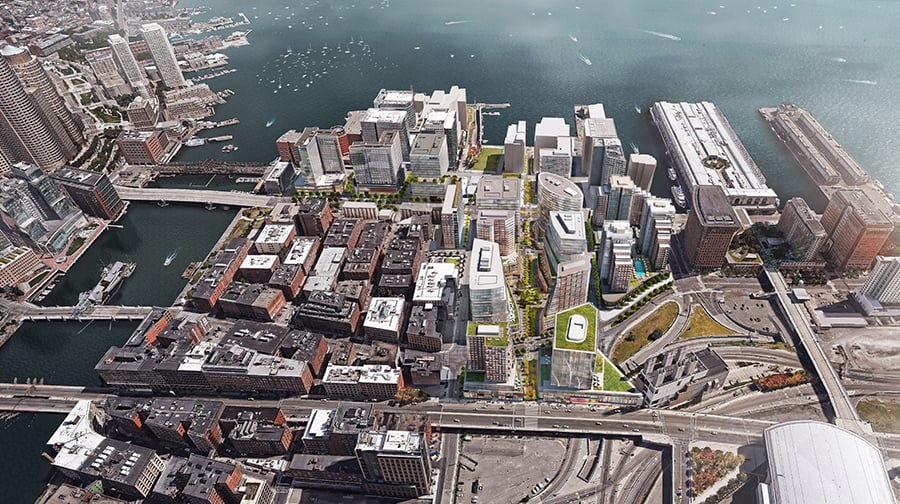 July 12, 2018
The New Development That Promises to Transform Boston's Waterfront
The Boston Seaport development features planning by James Corner Field Operations, Sasaki, and NADAAA, as well as a new high-rise by OMA's New York office.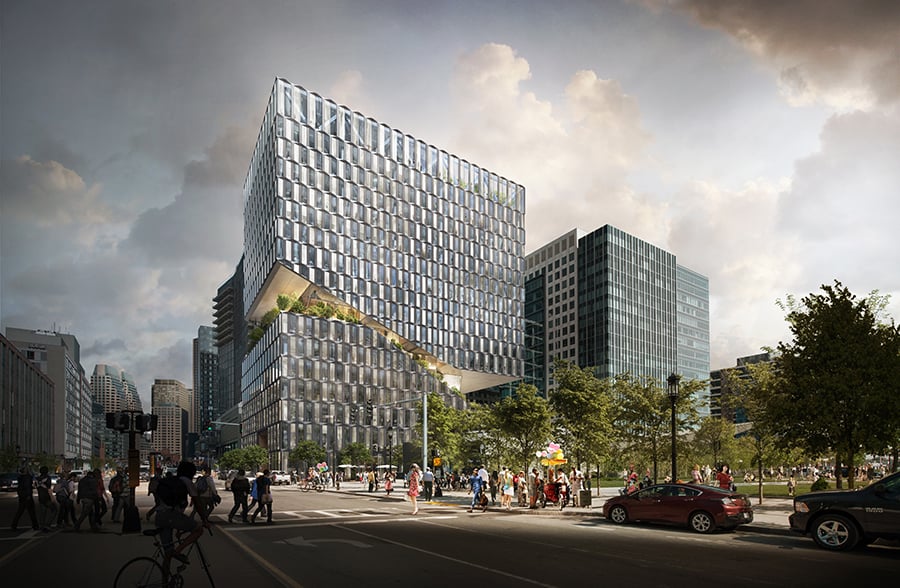 ---
Countless cities across America have sprawling, empty waterfront sites that once hummed with factories, trucks, and trains. For Boston, it was its Seaport District—a swathe of land approximately a mile deep and long, located east of the city's downtown. And while the Seaport District still features its fair share of industrial buildings and surface parking, a 23-acre development situated right next to downtown Boston is sprouting new towers: around eight blocks have complete buildings, with one block under construction and nine blocks awaiting development. The under-construction block includes 88 Seaport, an OMA-designed retail-and-office project that will rise 18 stories. And while the Boston Seaport development promises a series of new public amenities, including landscape architecture by James Corner Field Operations, this concentrated growth has called attention to the resiliency and flooding challenges facing the broader Seaport District.
Given it's prime location—a stone's throw from the Financial District and the Rose Fitzgerald Kennedy Greenway—the site seems like a natural locus for density. However, this wasn't always the case. Once clam flats, the Boston Seaport became a rail yard in the late 1800s, fell into disuse after WWII, and later became notorious for its parking lots and criminal activity.
Development came slowly: a large federal court building (1999), convention center (2004), and new bus rapid transit stations (2004) all landed there, followed by Diller Scofidio + Renfro's new ICA building (2006). The 2008 recession slowed the neighborhood's growth, and while one company—WS Development—isn't the only developer operating there, that company became a major force in 2015 when it bought multiple parcels (20 city blocks total) in the Seaport District. In doing so, and having obtained the permits to modify the area's public space, WS set it sights on using good urban design to support a vibrant retail scene.
---
More from Metropolis
---
"We talk a lot about [developing] the character of historic European neighborhoods," says Ali Ribeiro, WS Development project manager. She says the company views the Seaport as a very long term investment, one where quality design could pay dividends for generations.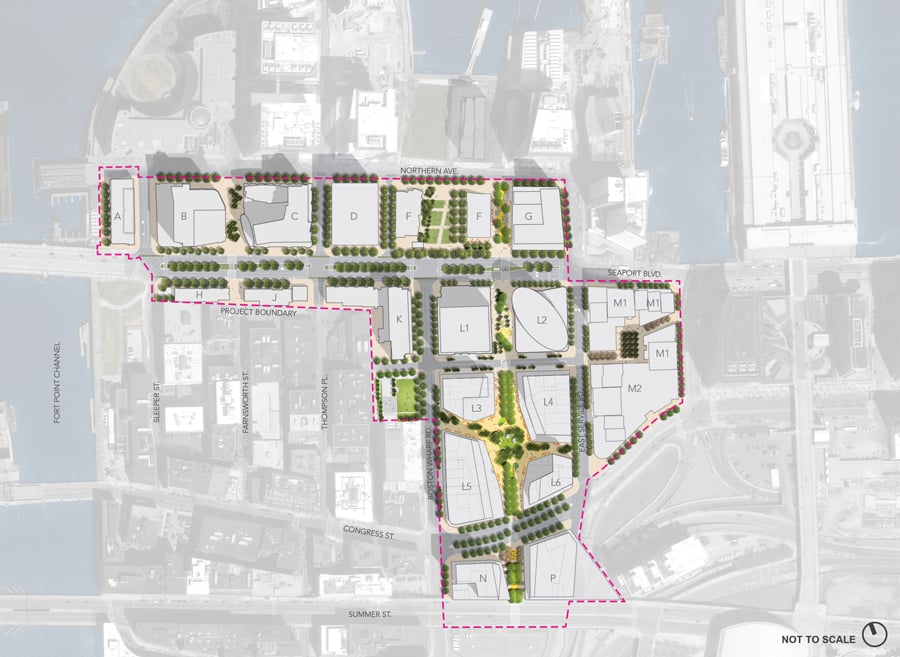 ---
Consequently, in 2015 WS also engaged a trio of firms to compose a master plan for the site: New York City–based James Corner Field Operations (JCFO), Boston and New York–based NADAAA (led by Nader Tehrani, dean of the Cooper Union's architecture school), and Watertown, MA–based Sasaki. The three firms (which are landscape architecture, architecture, and multidisciplinary, respectively) collaborated closely to shape the neighborhood, coordinating its landscaping (both plantings and hardscapes), urban design, building massing, and building programming.
The resulting master plan has two main pedestrian axes. The first is a North-South linear park dubbed "Harbor Way" that runs from Summer Street (where Boston's main convention center is located) to Northern Avenue (just short of the ICA and waterfront). This pathway is punctuated by "Harbor Square Park," a 1.5-acre park nestled between four of WS's towers. The second pedestrian axis is Seaport Boulevard, which runs East-West and features several lanes of traffic, though is being redesigned to include pedestrian-friendly features like a green median.
Harbor Way will reference New England's geology by featuring several "glacial erratics," essentially massive boulders that mimic the stranded stony masses left behind by glaciers. Harbor Way and Harbor Square Park are the project's grandest gestures: "It's meant to be a connector to the water, to the other open spaces, and in and of itself, fun and family-friendly… [Harbor Way and Square Park] are that live-work-play spine," says Lisa Switkin, senior principal at JCFO.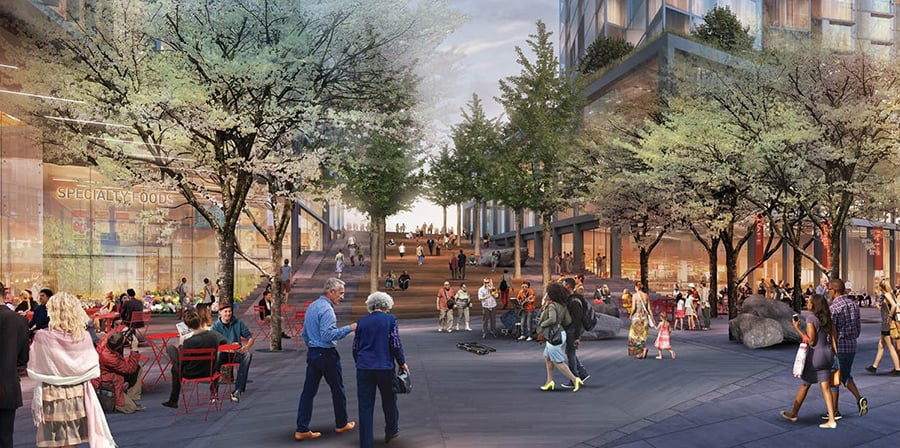 ---
Like any major development, Boston Seaport hasn't been without its controversies. In early 2017, WS scrapped plans for a 200,000-square-foot cultural center, opting instead to build two performing arts complexes: Seaport Performing Arts Center (SeaPAC), which will feature a 500-seat venue and 100-seat black box theater, and the Fort Point Community Theater, a 150-seat black box theater. A late 2017 Boston Globe article portrayed the broader development of the Seaport District as a missed opportunity to help correct the city's socioeconomic and racial segregation.
WS says it's doing its part—the development is complying with the city's 15 percent affordable housing requirement, with the affordable units spread throughout the Seaport's residential buildings. All in all, the entire seaport will feature 3,200 residential units when complete, with around 480 designated "affordable." ("Affordability" is calculated using Area Median Family Income, with the City of Boston administering the lottery for the affordable units and rent subsidies.) While the Seaport District can be hard to reach on public transportation, and short of inexpensive parking, there are public amenities for the Bostonians who make it: Already built destinations include Seaport Common, a half-block plaza and green space, and District Hall, a public workspace that includes a cafe, restaurant, common areas, and meeting rooms. (The Hall was funded by WS and its partners, and designed by Hacin + Associates, who also designed IDEO's new Cambridge office.) Additionally, WS says it has committed to an additional 10,000-square-foot civic space which may or may not include a public library.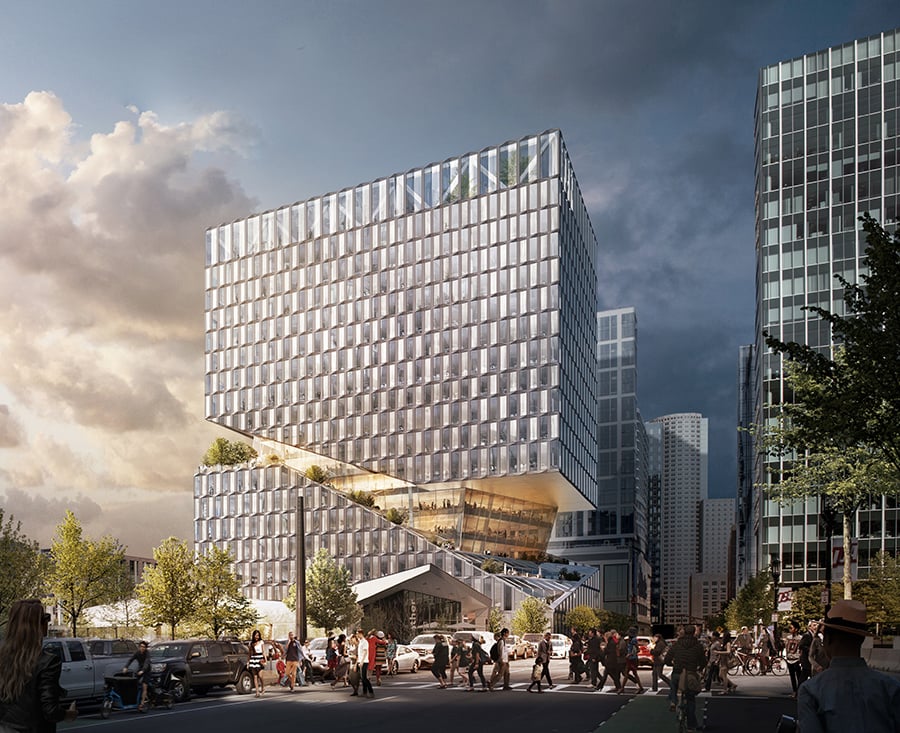 ---
But the Seaport's biggest challenge may come from it's biggest neighbor: the ocean. Recently some have questioned the long-term viability of the Seaport District and the City of Boston has been candid about the risks. Richard McGuinness, a city planning deputy, told U.S. News and World Report that "We know the water is going to be coming in through South Boston, pretty much from every direction, by 2070." In coming decades, rising sea levels will expose the area to increasingly severe flooding.
WS insists it's taking steps to avoid disaster. Yanni Tsipis, a senior vice president at WS Development, tells Metropolis that ground under six city blocks in the Boston Seaport development (all located between Congress Street and Seaport Boulevard) have been elevated above the 500-year floodplain. "We believe in science and, in many cases, are raising the existing grades in the neighborhood by four or five feet to ensure that our future buildings are well above long-range flood elevation," says Tsipis. While all of WS's Boston Seaport projects are elevated above the 100-year floodplain, many other nearby buildings (especially those in the adjacent Fort Point area) remain susceptible to flooding.
Moving forward, the newer buildings in the Seaport District—and many U.S. waterfronts—will simply have to be designed with resiliency foremost in mind. 88 Seaport's mechanical equipment will all be located on the building's second and third floors, well above any future flood waters. Speaking to Boston.com, Tsipis said "we go into development in the Seaport with eyes wide open."
The entire Boston Seaport development should be complete within the next six to nine years.
You may also enjoy "A Closer Look at David Adjaye's First Skyscraper, Now Rising in Lower Manhattan."