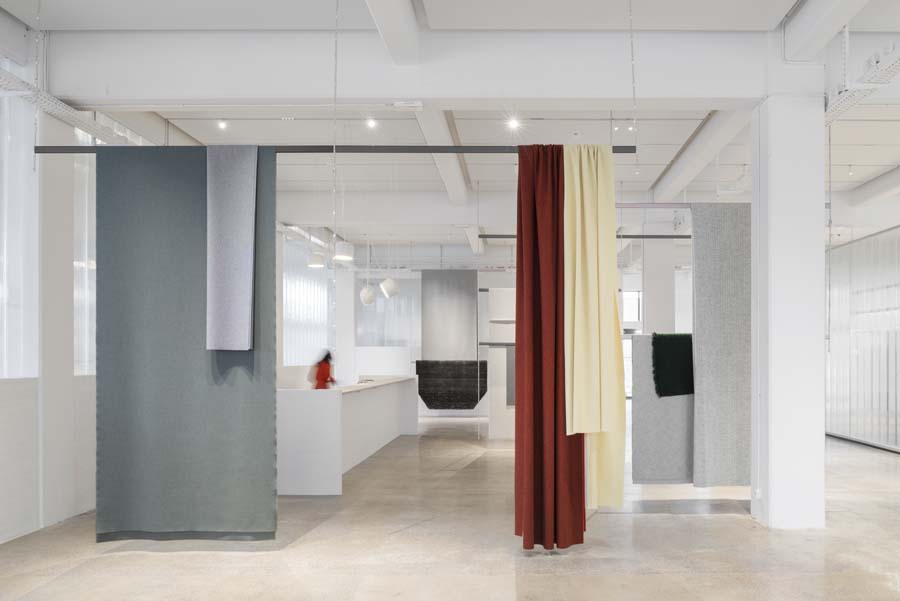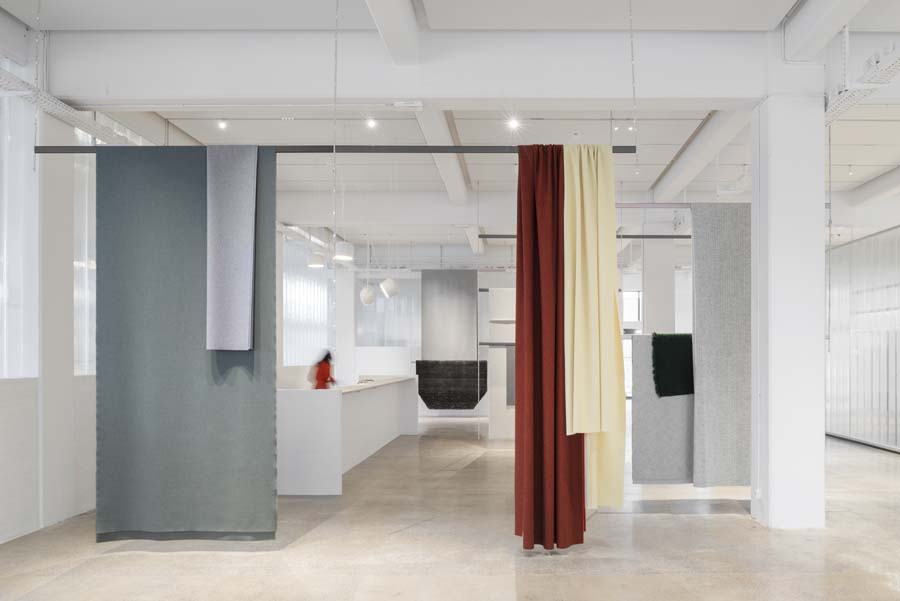 December 13, 2017
Bouroullec Brothers Design Elegant New Showroom for Kvadrat in Copenhagen
The French designers used the Danish company's signature textiles as artwork throughout the new light-filled office and showroom.
Danish textile behemoth Kvadrat has a new showroom courtesy of long-standing collaborators Erwan and Ronan Bouroullec. The company had outgrown its previous address in a former warehouse in Copenhagen's industrial harbor district, so the 18 staffers moved next door to a space twice the size at the end of a terrace.
The French siblings' task was to make the 8,500-square-foot space work as a showroom, a workplace for the marketing department, and a collections library.
The back wall is mostly floor-to-ceiling glass overlooking the water, and there are windows along the right-hand wall. One early idea was to have the desks near the room's entrance, and for the showroom to be at the far end of the room.
---
More from Metropolis
---
However, Danish law insists that workers get access to a certain amount of daylight. So the marketing department hugs the right-hand wall.
The central part of the room is given over to displaying Kvadrat's textiles, something that was less of a priority in the previous space. For this, the Bouroullecs devised a special hanging system. Elongated anodized-aluminum chain links are suspended from gridded tracks attached to the ceiling. The vast textiles are draped over poles between the links. "For me, textile is really art but in a good way," says Erwan, who trained as an artist as well as an industrial designer. Now, he adds, "they [Kvadrat's staff] have the freedom to show textiles and the burden to show textiles."
The Bouroullecs' invention of a new way to display Kvadrat's products reflects their continued efforts to "always try to rethink something," says Kvadrat CEO Anders Byriel, alluding to their Ready Made curtain range.
This gallery-like environment is separated from the workstations and the collections library by vertical panels of fluted architectural glass typically seen in multistory parking garages, sitting on top of low whitewashed brick walls. "It's old-fashioned," Erwan says of the brick, "but people love it and its sense of welcome. More and more, I try to balance the new and the old."
He says of the showroom that "everything we designed wasn't a cultural question, but a functional question." The brothers sometimes found the answer in their work for other brands; the interiors showcase more than Kvadrat's wares. Also on display is a sampling of other Bouroullec-designed products: from Flos's Aim and Piani lights to Vitra's Plume sofa pods and the Mutina tiles in the bathrooms.
This is the Bouroullecs' 12th project with Kvadrat, and will be followed by their design of the company's new Stockholm showroom.
You may also like "Raf Simons Champions 'Feminine Fabrics' for New Kvadrat Collection."