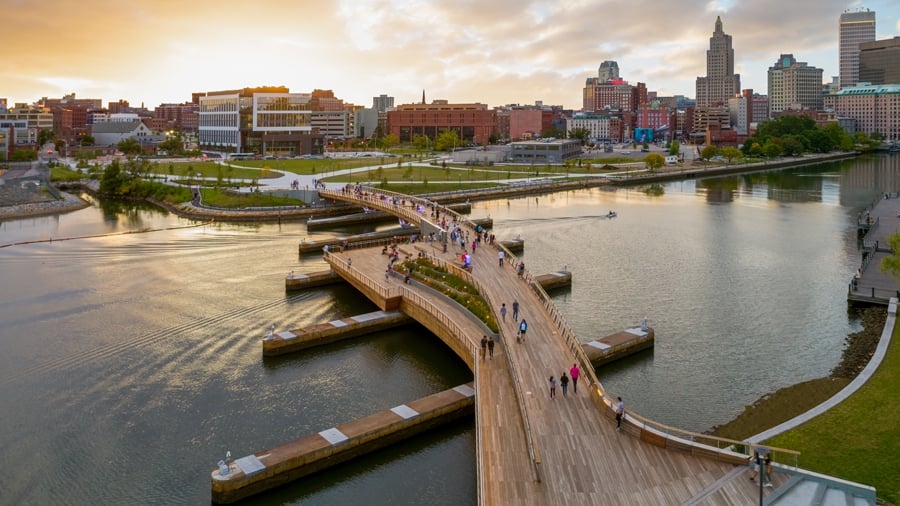 March 24, 2020
This Bridge in Providence Was Designed as Public Space
A part of Rhode Island's extensive Iway project, the infrastructure supports a pedestrian pathway, gardens, and occupiable spaces.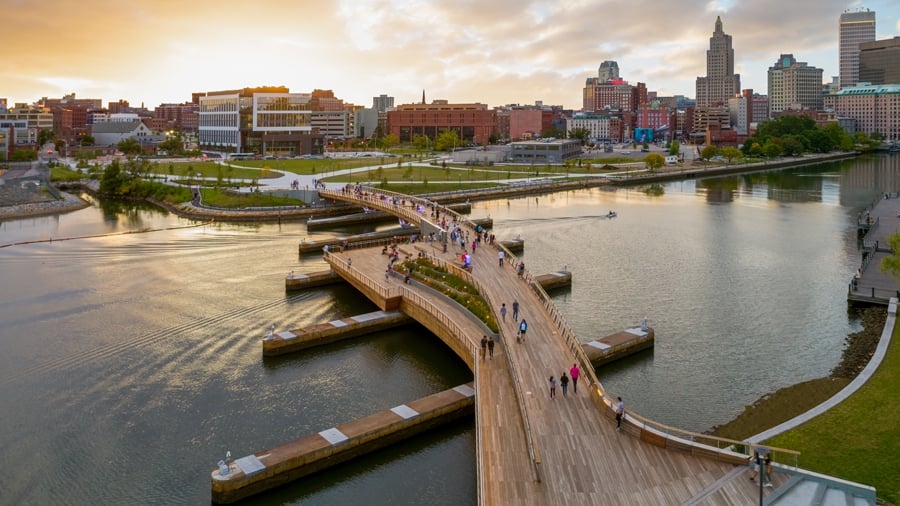 Five granite piers posted in the middle of the Providence River once propped up a segment of I-195 that sliced through downtown Providence. Today, those same piers support a newly opened 394-foot-long steel-and-wood bridge that is helping fuel a renaissance on both the east and west banks of Rhode Island's capital.
A signature feature of the $610 million Iway project to reroute I-95 and I-195 around Providence, the bridge was designed by Detroit-based architecture firm inFORM and engineered by U.K.-based BuroHappold. In addition to a broad pedestrian pathway, it features a cascading series of terraces and gardens at its center where people can exercise, gather, or relax.
"Often pedestrian bridges are narrow," says BuroHappold partner Craig Schwitter. "Because we reused the highway piers, we were able to build something more robust, a structure that could also support large artworks or host an outdoor concert."
---
More from Metropolis
---
Completed in the summer of 2019 at a cost of $21.9 million, the new bridge has already become a magnet for visitors, residents, and the 59,000 people who work within walking distance. By BuroHappold's own estimation, the bridge—in uniting the city's commercial, educational, and cultural clusters—could spur economic development yielding up to $5 million in additional revenues for Providence.
"A bridge can be a functional space for us to get from A to B," says Schwitter. "But this bridge is a public space, and a space that provides far more value than the cost of the steel and wood and lighting you've used to build it."
You may also enjoy "A Restaurant by Olson Kundig Recedes into the Background."