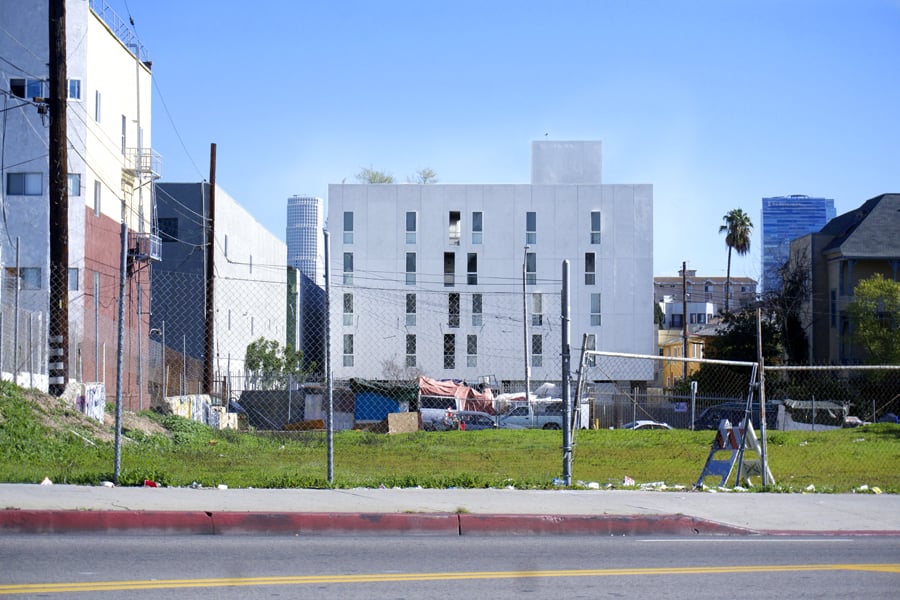 August 31, 2017
Brooks + Scarpa's The Six Raises the Bar for Affordable Housing in LA
A new veteran-focused housing development seeks to offer a more sensitive salve to Los Angeles's growing homelessness crisis.
MacArthur Park is quintessentially Los Angeles, as picturesque as it is dingy. The multiethnic working-class neighborhood planned around a lake-filled park of the same name is wedged between Westlake and Koreatown. The area is home to one of the city's largest assemblages of first-generation Honduran, Salvadoran, Guatemalan, and Mexican immigrants. Los Angeles Times food critic Jonathan Gold dubs the district "L.A.'s crossroads of Central American commerce." A concentration of 120,000 people in 2.72 square miles makes MacArthur Park one of the densest population centers in the United States. It is an impoverished part of town lined with underrated restaurants, street vendors, strip malls, and recently, a worrying number of tent cities.
Hard-pressed by a dire housing crisis and stagnating wages, Los Angeles County's homeless population has shot up 23 percent, to nearly 58,000 in the past year alone. Its increased visibility has prodded voters into passing (by two-thirds majorities) a sales tax hike (Measure H) and a $1.2 billion bond initiative (Measure HHH) to provide housing for the homeless. With L.A.'s coffers now equipped to tackle the issue, a new challenge arises: how to spend the money effectively.
A block southwest of the lake, amid Korean dental offices and deteriorating Postmodern duplexes, stands a stark white stucco box that represents the city's best chance to combat the epidemic. The Brooks + Scarpa–designed, five-story, 52-unit development known as The Six is arguably the most admirable piece of public architecture in L.A.
---
More from Metropolis
---
Commissioned by the Skid Row Housing Trust, a L.A.–based support group that has provided over 1,800 homes, The Six offers subsidized permanent housing and health services for previously homeless persons. Studio and one-bedroom apartments are each rented at 30 percent of the residents' gross monthly income, and outfitted with a bed, a closet, a private bathroom, some furniture, and a kitchenette with some appliances.
At minimum, 35 percent of the building's units are reserved for L.A.'s most neglected homeless: veterans. "We worked with the L.A. County Department of Health Services to find veterans who were high utilizers of the county health systems due to their discharge status," says Mike Alvidrez, CEO of the Skid Row Housing Trust. "That's why the building is called The Six. In military formation, straight ahead is 12 o'clock, and behind you is six o'clock. If you're in a dangerous situation, you want the people behind you watching out. In a sense we were saying to those veterans, 'We've got your back. You don't have VA benefits, but you're still going to get your housing and health care.'"
The $16 million building is successful because of its graceful layout. Four floors of apartments sit atop a sunken 19-car parking garage. The building takes the form of a hollowed-out cube, with units placed along its southern, western, and northern faces. A large hole is punched in both the top of the building and its eastern, street-adjoining facade. This subtraction results in a central courtyard that feels like a roofless atrium. The attractive communal space is designed to promote social interaction and allow cool ocean breezes to pass through the structure. The building's roof contains another patio, green space, and an array of photovoltaic cells that power The Six's water heater. Brooks + Scarpa claims that the LEED Platinum–certified project is 50 percent more energy-efficient than a typical building of its size.
The Six's design is somewhat reminiscent of Morphosis's Emerson College building a few miles away in Hollywood. Whereas the $110 million Morphosis cube, completed in 2014, uses its central space for undulating classrooms and sky bridges, The Six's courtyard holds a shaded garden, seating area, and lounge. Both striking projects resemble bored-out boxes and contain most of their programmatic functions on their edges.
Since completion this May, The Six has won two national AIA design awards, vindicating the Skid Row Housing Trust's commitment to building beautiful homeless housing. The Six is as sleek as it is unglamorous, as handsome as it is pragmatic, and as commendable as it is overdue. "It's a remarkable achievement," reflects Alvidrez. "I think it speaks to the issue of how good design can create living environments that help people recover from homelessness."
Mayor Garcetti, are you listening?
If you liked this, you may also enjoy, "Housing for Formerly Homeless in New Orleans' Historic Neighborhoods."