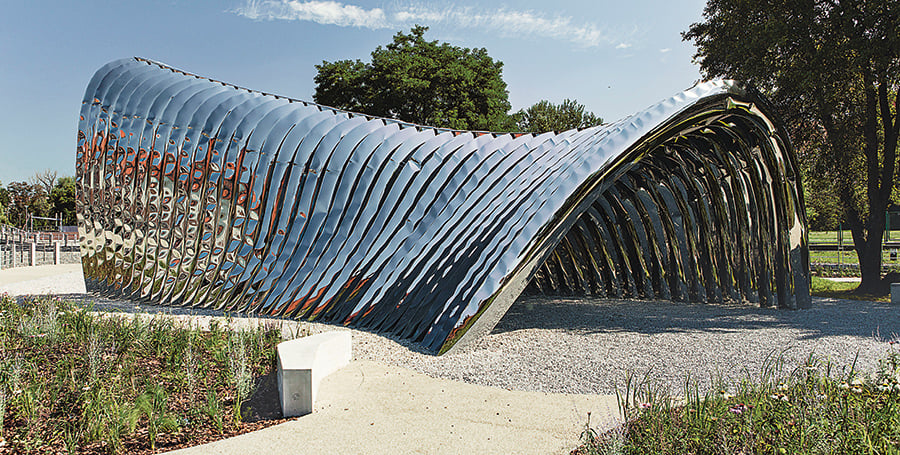 March 18, 2019
Explore 16 Designs From Phaidon's New Book Bubbletecture: Inflatable Architecture and Design
This excerpt from Bubbletecture teases the 200+ works of architecture, furniture, fashion, art, and industrial design that are included in the book.
---
The following text is excerpted from the introduction of Bubbletecture: Inflatable Architecture and Design (Phaidon, 2019), written by Sharon Francis. This excerpt, which only includes the introduction's sections on furniture and architecture, has been edited to fit this context and format.
Innovative, revolutionary and often avant-garde, inflatable objects and structures are imbued with political, cultural or social significance. By their very nature, they are an expression of advancement; a reimagining of traditional forms. Influential in aviation for more than two centuries, this deceptively simple technology has in recent decades been at the forefront of architectural movements, enabled cutting-edge artistic practice and has been symbolic of technological utopianism. Bubbletecture is a select compendium of inflatables now. Showcasing more than two hundred works, this book features projects that span the realms of architecture, art, design and fashion from the 1960s through to the present day. While bouncy castles and pool floats might be the populist face of blow-up objects, this book vividly demonstrates that the world of inflatables is far richer.
Furniture
---
More from Metropolis
---
Since the mass availability of plastic in the 1960s, the inflatable chair has been an object of periodic exploration and invention. The Zanotta Blow Chair and Quasar Khanh's seating range were among the first lightweight, inexpensive, commercially available products to be mass produced, becoming design icons of their time. Marcel Wanders' Balloon Chair, Tehila Guy's Anda blow-up chair, and the Womanly seat by Kiri-Una Brito Meumann demonstrate designers responding to new paradigms in fashion and materiality, all with a degree of whimsy. Zieta Prozessdesign's range of Plopp stools follows in the tradition, but utilizes a unique process in which air is forced into an opening between two fine sheets of steel to create a quirky, stable, inflated product.
Architecture
While single-membrane inflated structures remain in the domain of the temporary, various technologies have been developed to create double-walled membranes that have become part of more permanent building systems for composite pneumatic structures.
Among these are ETFE (ethylene tetrafluoroethylene) panels. A fluorine-based plastic, it is durable, recyclable, highly transparent, corrosion-resistant and very lightweight in comparison to glass structures. Its true potential was evident after its application in the Eden Project by Grimshaw Architects in 1998. The Allianz Arena by Herzog & De Meuron constructed for the 2006 FIFA World Cup, and the Water Cube, built for the 2008 Beijing Summer Olympics, raised the profile of the technology, and proved it to be an innovative, sustainable building material.
At the time of going to press, Diller Scofidio + Renfro's adventurous new-build, The Shed, was under construction in New York City. The building, designed as an arts centre, features a telescoping outer shell, made from ETFE systems, which can be deployed from its position over the base building, gliding along rails onto an adjoining plaza t to double the footprint of the building.
You may also enjoy "Snarkitecture Creates Its Own "Amusement Park" in Hudson Yards."
Would you like to comment on this article? Send your thoughts to: [email protected]
Metropolismag.com is a participant in the 
Amazon

 Services LLC Associates Program and earns from qualifying purchases on 

amazon

.com.