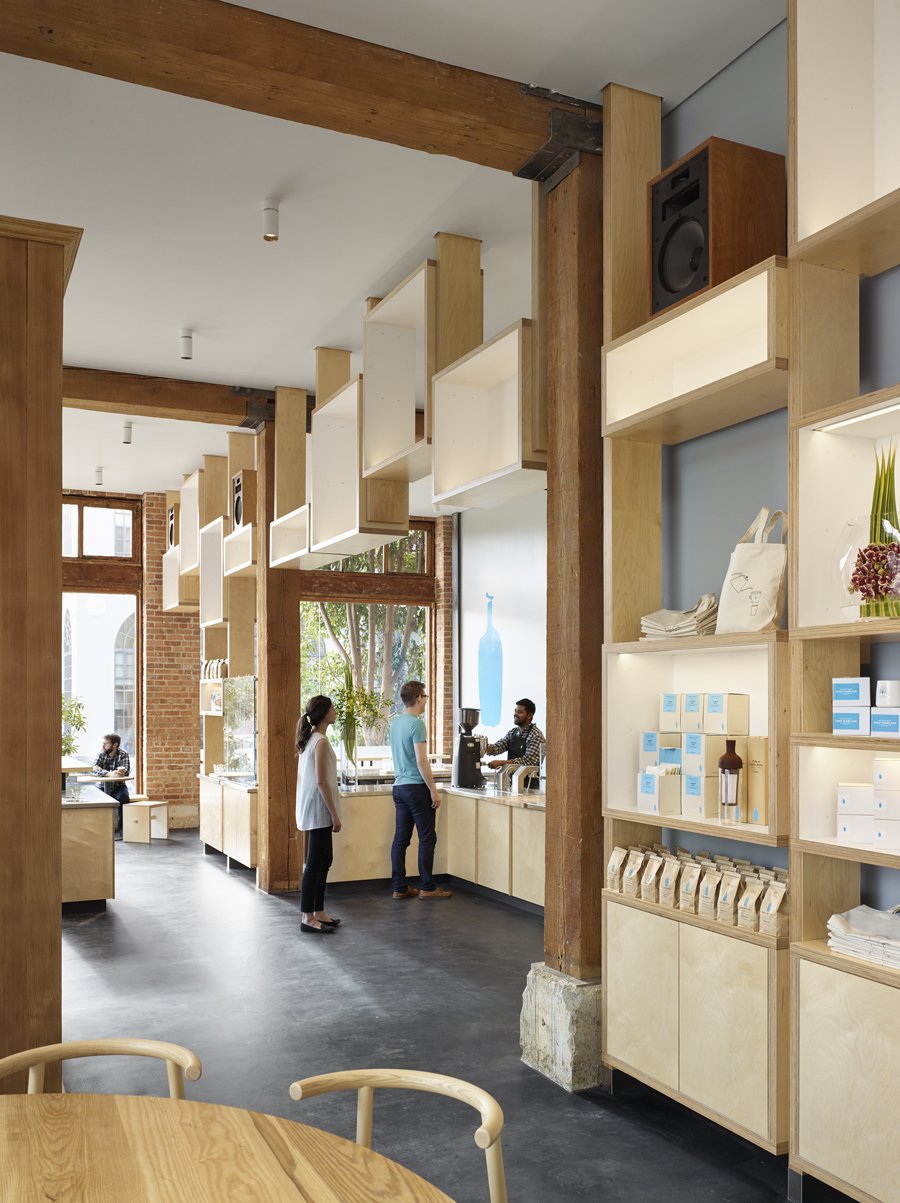 May 25, 2017
A Café to Kiss In: BCJ Designs Latest Blue Bottle Café in San Francisco
Design plays an important role in all of Blue Bottle Coffe's 34 locations. Its latest San Francisco cafe features a pared-down aesthetic and plenty of intimate nooks.
Unusually for the owner of a rapidly expanding company, Blue Bottle Coffee founder James Freeman isn't quite certain how many outposts his brand has across the globe (for the record, it's 34). And yet he puts an inordinate amount of thought into their design.
All of the Blue Bottle locations share a certain minimalist vibe, but each retains the personality of its host neighborhood, be it the Brooklyn hipster enclave of Bushwick or the dynamic Roppongi district in Tokyo. "We don't set out saying, 'Oh, it has to be different from all the other ones,'" says Freeman. "But if we're paying attention and doing our best, it becomes different from the others because we're listening to the surroundings."
For one of Blue Bottle's newest cafés, a 1,200-square-foot space perched in the South Park neighborhood in San Francisco, the design is informed by the building itself. The former Kohler warehouse had most recently been a clothing store, during which time its airy, expansive storefront windows had been covered up. Liberating those windows was one of the first items on the agenda for architecture firm Bohlin Cywinski Jackson (BCJ), which took on the café's design. "We really wanted to bring the inside out and the outside in," says BCJ senior associate Chris Orsega. "There are fantastic trees at the corner of South Park, which are an important part of the space inside." Staying true to Blue Bottle's pared-down aesthetic, the architects also stripped back the interiors to reveal the building's original brick walls and wood support columns.
---
More from Metropolis
---
"Blue Bottle is looking to keep its spaces really crisp and modern and focused on the experience of getting these really well-made, beautiful cups of coffee," says BCJ principal Greg Mottola, adding that his team let the existing warm brick and warm wood tones influence the project's palette, which also includes the soothing grays and blond woods found in other Blue Bottle cafés.
Freeman, a former concert clarinetist, says the one design element that ties each Blue Bottle space together is a concept he learned about while listening to a talk by Craig Dykers of Snøhetta: "One of the things he thinks about and talks to his team about including in their projects are places to kiss—which is a shorthand for an intimate little nook. I really took that to heart, and so now we think about where the place to kiss is in a café."