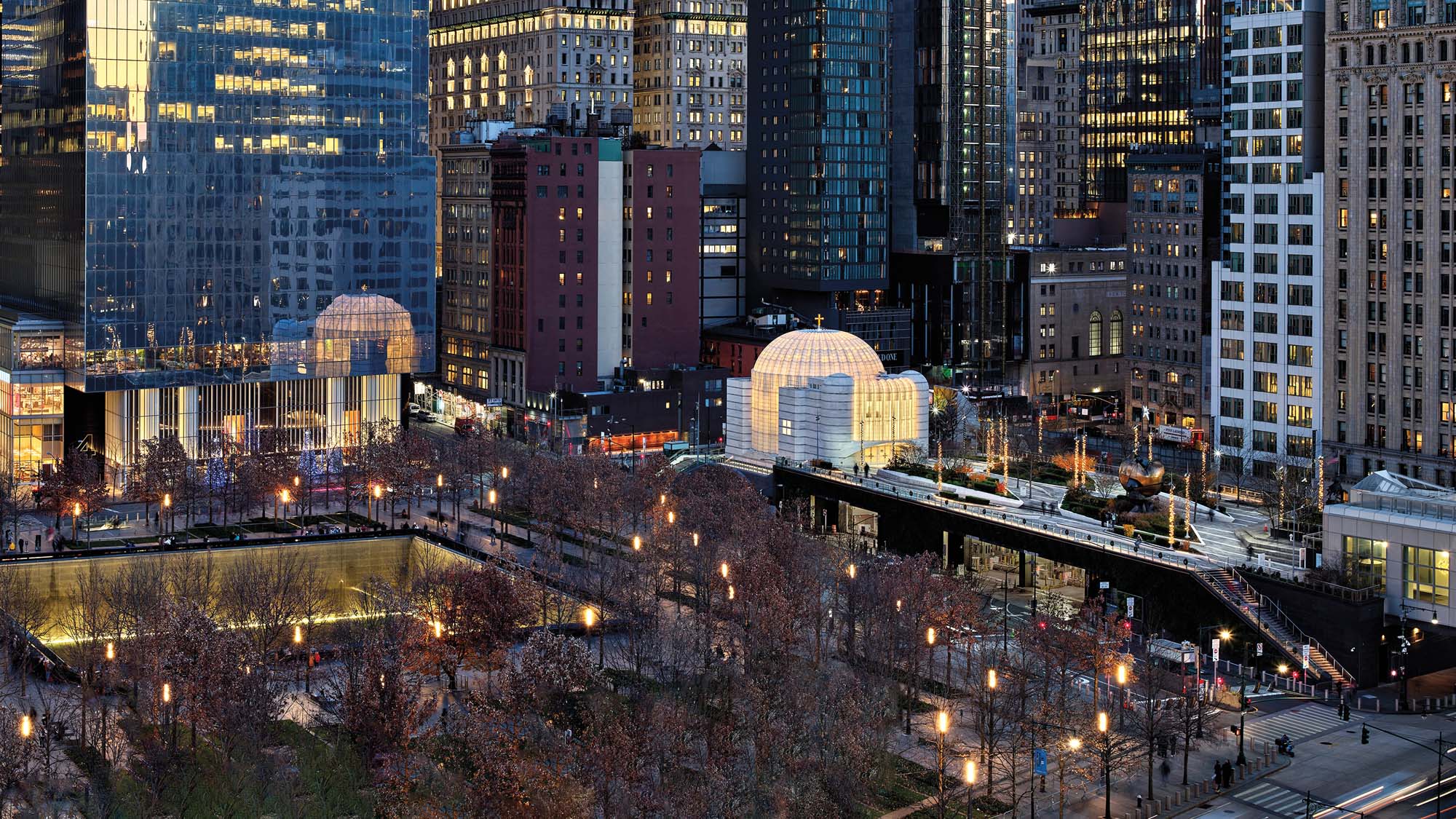 October 3, 2023
How This Church at Ground Zero Got Its Glow
Last December, one of the final and smallest pieces of New York City's re-envisioned World Trade Center site opened to the public. Designed by Santiago Calatrava, Saint Nicholas Greek Orthodox Church and National Shrine, composed of a hemispheric dome flanked by four square towers, replaces the congregation's former home, which was destroyed in the September 11 attacks more than 20 years ago. While the building appears as a monolithic stone structure by day, as night approaches, it glows from within, becoming a beacon on its prominent site.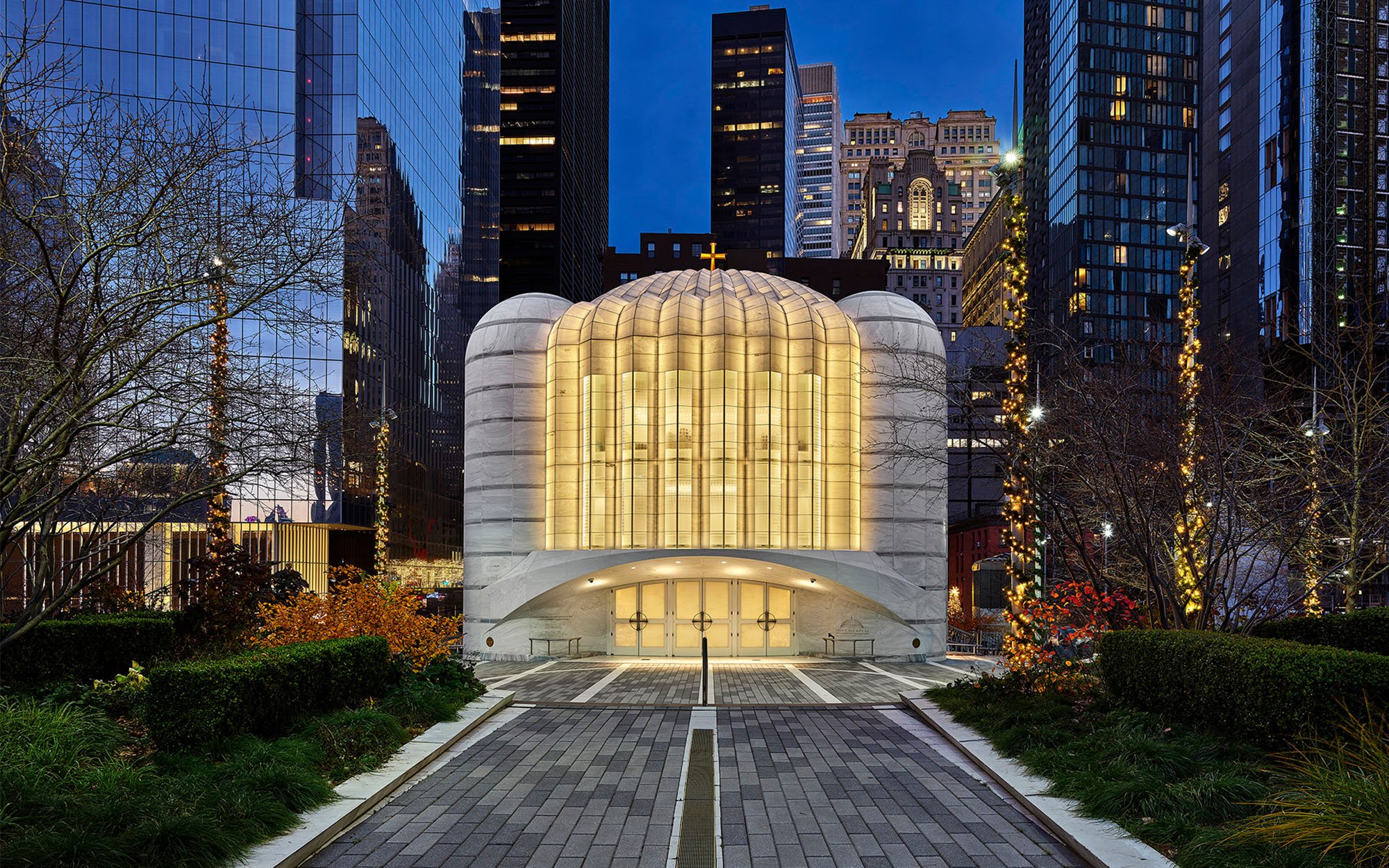 "This was a very exciting project for us because light was everything," says Tom Gallagher, NYC studio director and lead lighting designer at DLR Group, which designed the glowing effect. Specifically, the team installed LED modules within a cavity between the dome's thermal envelope and its rainscreen, which is made of thin sheets of Pentelic marble sandwiched between glass. Mounted on the structure at 18 inches on center, the LEDs—at a warm 2,700 Kelvin—beam inward to reduce shadowing of the structure on the rainscreen and to bounce illumination off the thermal envelope's white surface to cast an even glow.
Working with Calatrava, DLR had two principal goals for the church nave: first, to create a contemplative space for worship and reflection; second, to achieve the perfect balance of illumination between the room lighting and beams aimed at the rich iconography that covers the surfaces. Daylight seeps in through apertures in the envelope; at night, the rainscreen LEDs provide ambient indoor light through the same openings.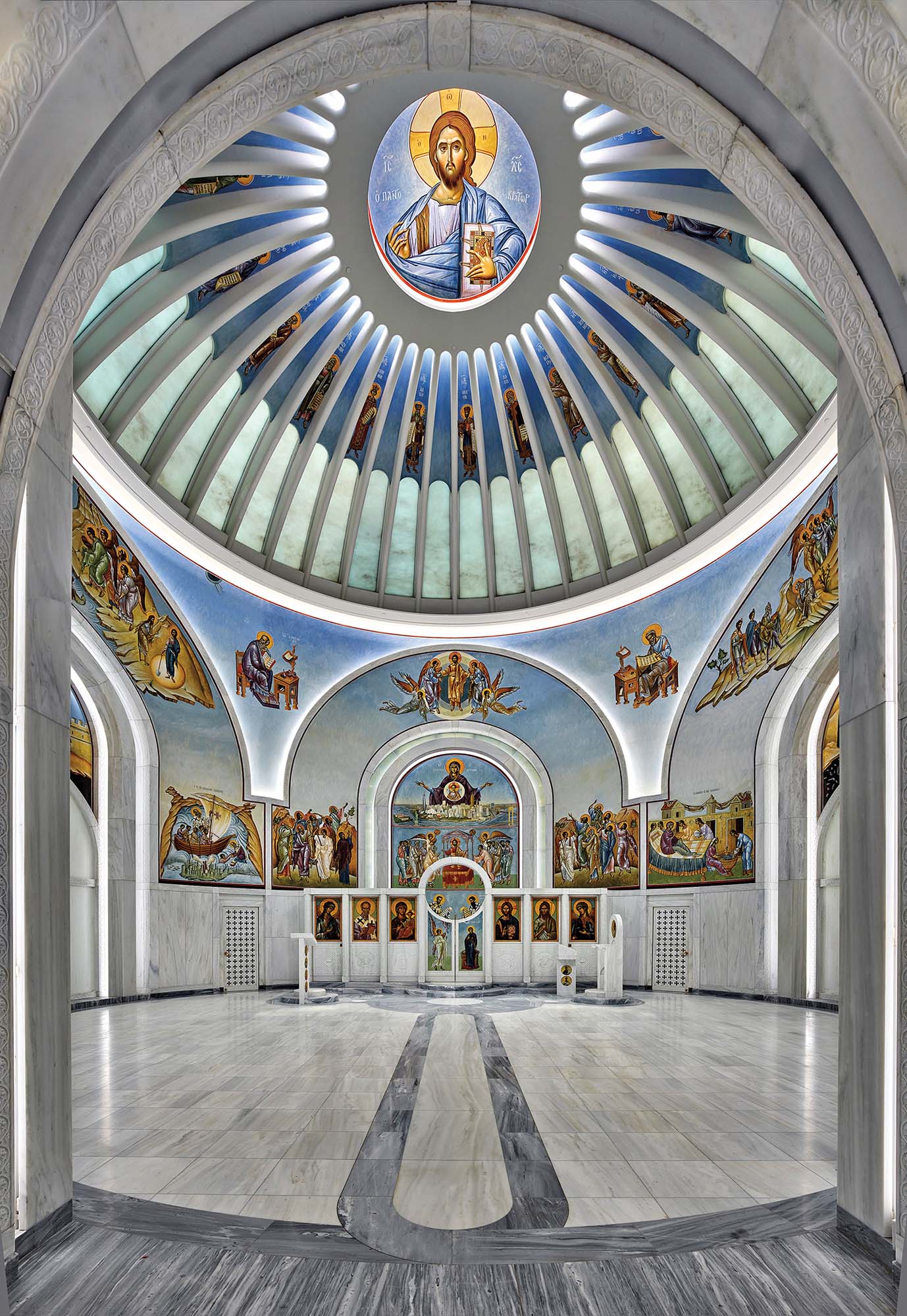 To ensure they were achieving the desired lighting effect and that color temperatures between different lighting products matched, the lighting team mocked up every single fixture at full scale. To elicit different moods, designers specified four scenes. An ambient setting where only the diffuse and indirect lighting is illuminated makes it feel as if you have walked into a medieval church, says Gallagher. Other scenes they designed add lighting for the altar, seating, and the iconostasis, which screens the sanctuary from the nave.

Above all, the DLR team was careful not to overpower nature's own special effects—the changing quality of daylight as the sun moves across the sky and clouds shift. In concert with lighting designers' carefully conceived strategies, sky conditions elevate the dynamism of this sacred space—inside and out.
Would you like to comment on this article? Send your thoughts to: [email protected]