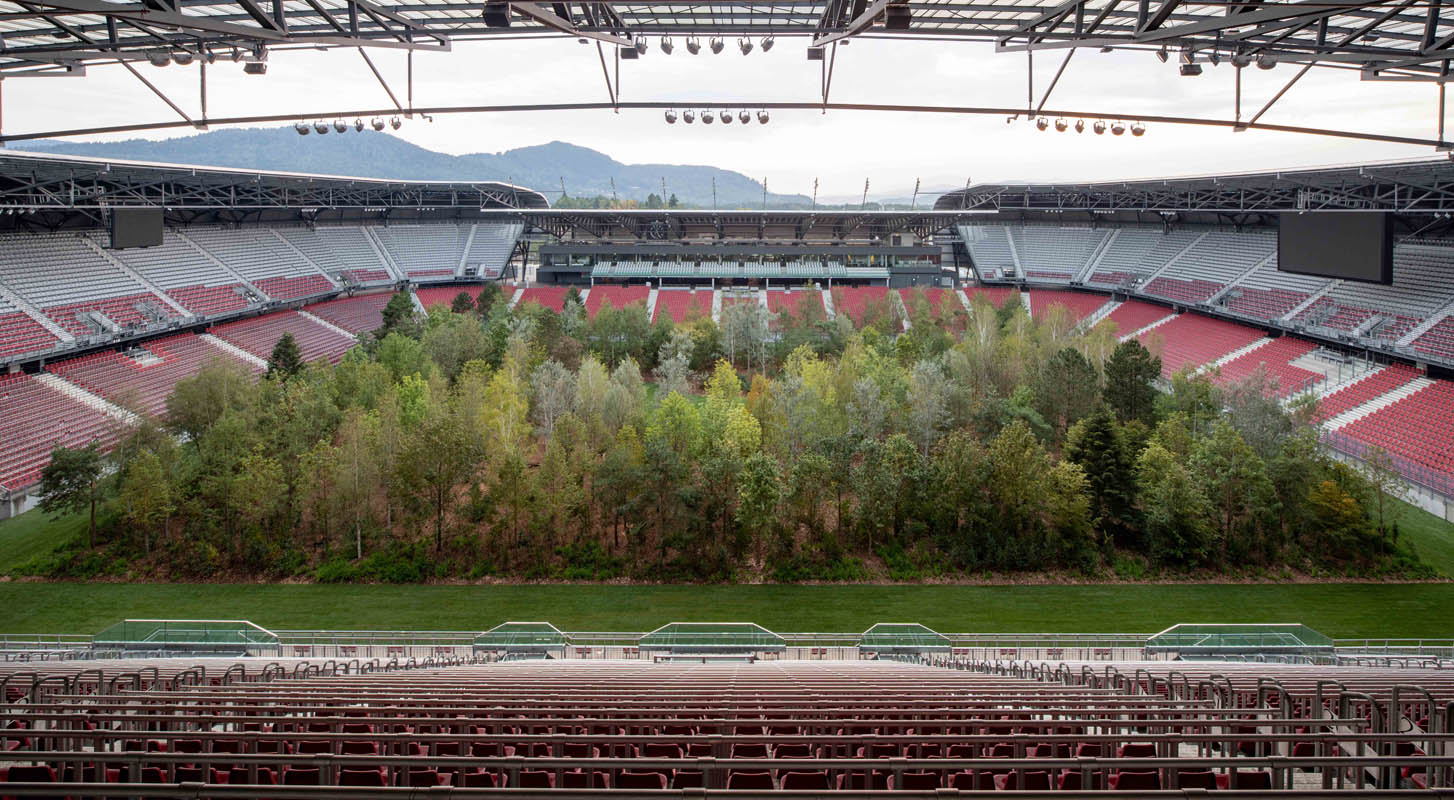 September 20, 2019
Can a Soccer Stadium Full of Trees Change How We See Nature?
"For Forest: The Unending Attraction of Nature" is a temporary art intervention by Klaus Littmann that turns a stadium into a living forest.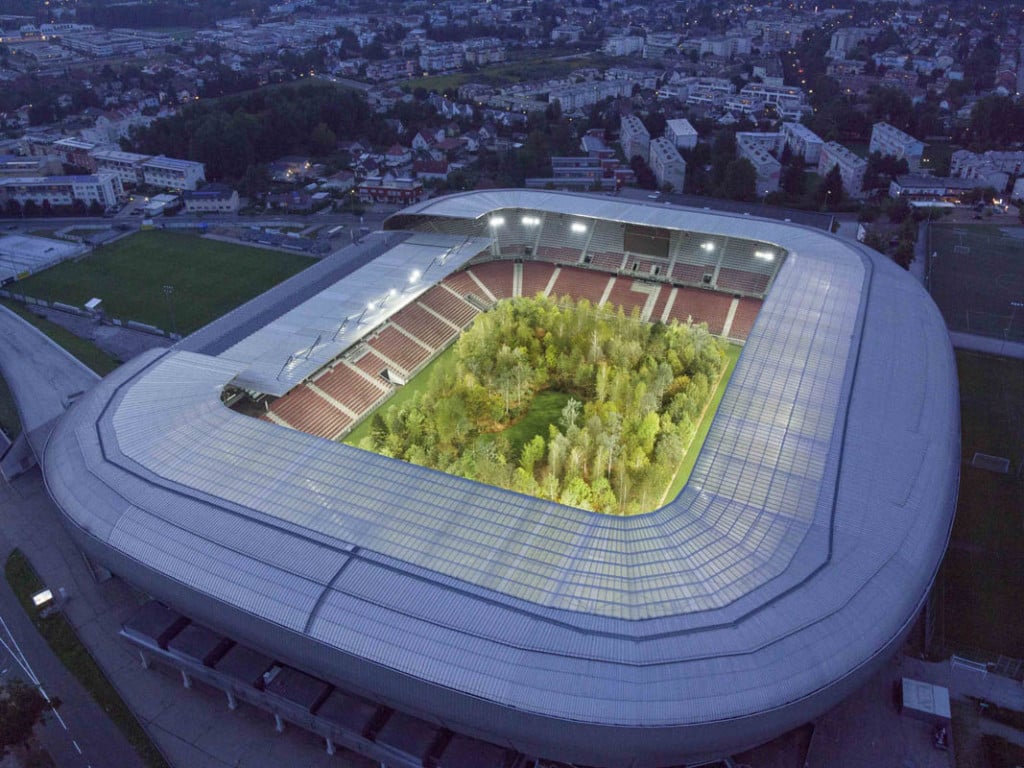 Stadiums have long been associated with large crowds, loud concerts, and the commotion of boisterous sport fans. But an art installation in Austria is flipping the script, instead turning a stadium's floodlights towards something quiet and monumental—trees,  which creators hope will draw attention to the pressing issues of climate crisis and deforestation.
For Forest: The Unending Attraction of Nature is a temporary art intervention by Swiss artist and curator Klaus Littmann that has turned the Wörthersee football stadium in Klagenfurt, Austria, into a living forest. The exhibition runs from September 8 until October 27. 
The project is inspired by The Unending Attraction of Nature, a dystopian drawing by Austrian artist and architect Max Peintner, which depicts a crowded stadium where the spectators are actually fanatically "watching" a forest that occupies the football field.
---
More from Metropolis
---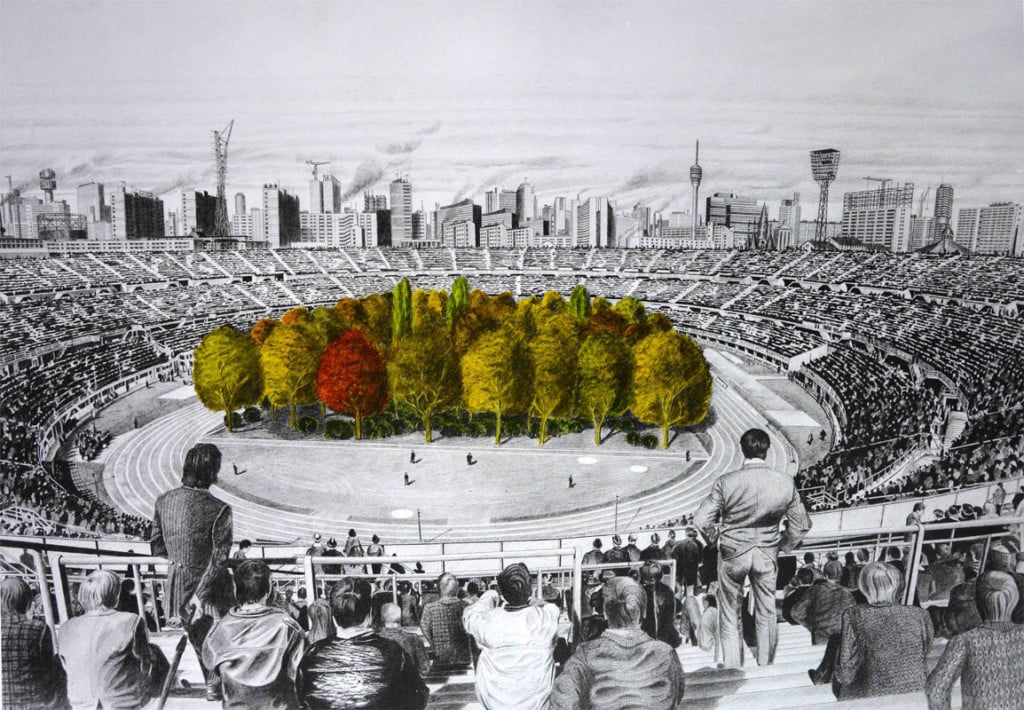 Littmann tells Metropolis that he is not a football fan per se, but an observer of the impact of such a popular cultural phenomenon. He has curated other exhibitions related to the theme previously, including Fussball in der Vitrine with Jehle (Basel, 1982), Kultort Stadion (Basel, 2003), and Faces of Football (Vigo & Vitoria, 2008). He first saw Peintner's work in a book, as he was restaging the Fussball in der Vitrine exhibition in Vienna in the late 1980s.
"I was really fascinated by the image's idea, and I just could not get it out of my head," he says. "The idea that, one day, we might reach that point, that we might have to come to a stadium or any other architectural structure to 'tank up' on nature, continued to follow me." Littmann explains that he tried for years to bring the project to fruition. "After nearly 30 years, I chanced upon a stadium which was not used to 100% of its capacity, and I saw an opportunity to realise the art intervention within a given time."
Built for the European Football Championship in 2008, the stadium rarely fills its 30,000-seat capacity today; it is mainly used by the second league football club Austria Klagenfurt, which attracts a few hundred fans. (For the duration of the installation, the club is playing in a neighboring stadium in Graz.) Getting signoff to use the venue for For Forest didn't come easily: It required strenuous negotiations with local authorities, politicians, and the football club. "If a football club plays reasonably well, there's so much money involved that it's actually impossible to get involved in an art project for a few months," Littmann said. It's hard to leave that money on the table.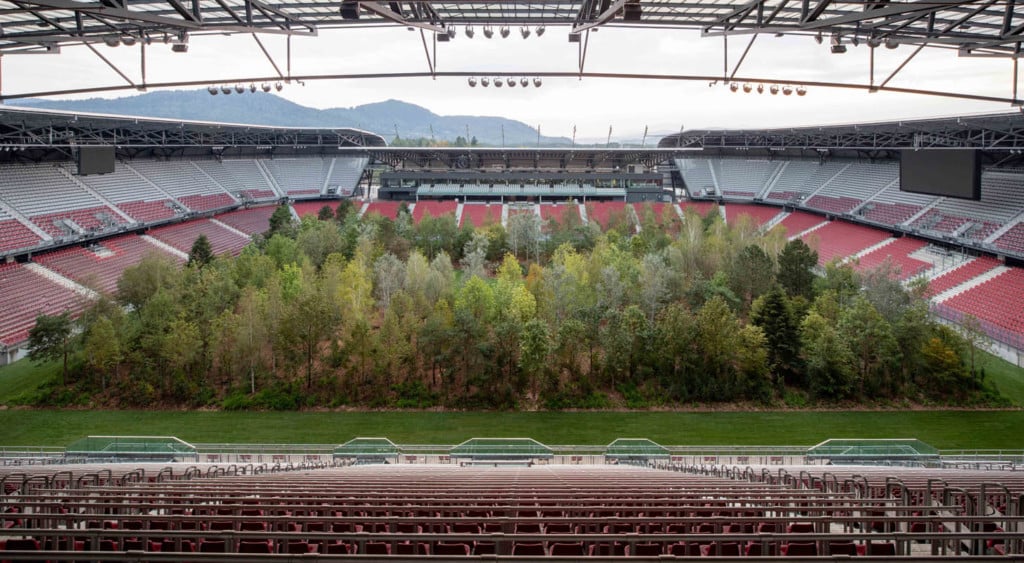 But the challenge of the venue paled in comparison to the difficulty of installing the trees themselves. To bring his  dream into reality, Littmann enlisted the experienced landscape architect and trees specialist Enzo Enea, and the members of his office, to carry out the project. Enea worked with local forestry experts to design a suitable central European forest, as would have developed naturally in the area.
Using almost 300 trees, some of which weigh up to six tons, the installation covers 7,000 square meters and incorporates various other plant species, such as shrubs and woody plants, to create a native-looking mixed forest. The project used 16 tree species, including silver birch, alder, aspen, white willow, hornbeam, field maple, and common oak; and 14 other plant species, such as ferns and grasses.
 Enea says that his firm found the installation's trees, which measure about 14 meters high and are about 40 to 50 years old, at established plant nurseries in Germany, Italy, and Belgium. "It seems strange to transport trees, to uproot them and plant them somewhere else later, but this is common practice in landscape architecture," he says. "These are called 'schooled trees,' [meaning they] are carefully dug up and replanted several times throughout their lifetimes in a special nursery." (Enea explains that this same methodology is used to build parks and gardens.) After the project, the forest will be removed from the stadium and  replanted on a public site nearby and remain as a living forest "sculpture." 
As audiences experience For Forest, they'll be living and breathing the dystopian image conceived by Peinter. Littmann's intervention prompts us to ask: In pressing times of Fridays for Future and raging fires in the Amazon rainforest, what if nature could receive the same level of gut reaction and undivided attention as in a football match during a World Cup?
You may also enjoy "With Installation at Madison Square Park, Artist Leonardo Drew Ponders Temporality and Horizontality."
Would you like to comment on this article? Send your thoughts to: [email protected]