August 13, 2018
Case Design Combines Local Craft, Art, and Architecture for a School in Mumbai
The firm uses the kind of architectural process that it believes is possible only in Mumbai—thoughtful, iterative, and craft-led.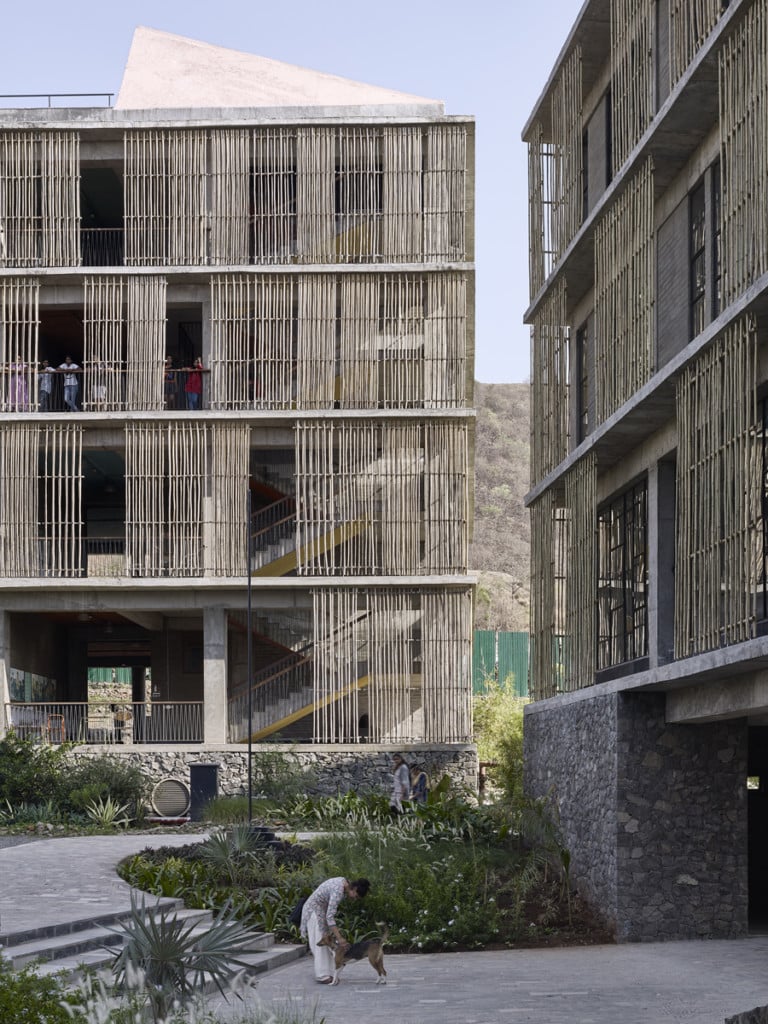 ---
For our annual cities listings, Metropolis took a novel approach to avoid the typical ranking: We surveyed 80 leading architecture and design professionals, asking them to nominate places in three categories—design powerhouses, buzzing cultural hubs, and cities that inspire or personally resonate with them. The results turned up the usual suspects as well as some unexpected newcomers, and our coverage is similarly heterogeneous, from profiles of local firms to spotlights on grassroots initiatives and sum-ups of cities' design goings-on.
This undertaking in a Mumbai exurb reflects the city's position as an "inspirational" global Design City. Stay tuned to our homepage as we publish more 2018 Design Cities!
---
Anne Geenen was an architecture student at Delft University of Technology in the Netherlands when she first went to India. Having worked for a semester in the Ahmedabad office of Pritzker Prize winner B. V. Doshi, she found herself drawn to practicing in the country: "I was excited about the possibilities, the ways of working, the craftsmanship," she says.
---
More from Metropolis
---
In 2014, after a stint at Studio Mumbai, Geenen joined architect Samuel Barclay at his fledgling Mumbai-based firm Case Design. Their first groundup, multibuilding project, whose second structure was completed last year and is being exhibited at the Venice Architecture Biennale, is Avasara Academy, a boarding school for girls on the outskirts of Pune, about 75 miles southeast of Mumbai.
Composed of several buildings situated in a quiet agricultural valley, the school upends the typology of educational structures in India, where dormitories and academic buildings are usually separated. At Avasara, the two are integrated, with the residential floors sitting above the classrooms, so the students—who come to the school between the ages of 11 and 12 and are often experiencing their first time away from family—always feel engaged. "We added a lot of verandas that are covered and that don't have a fixed program," Geenen says. "They play sports there and dance there. That's where the life of the school happens."
Beautiful and functional details—like the bamboo screens that provide just enough cover to make the verandas habitable in the scorching afternoons, or the cool cement floors with marble mosaics—abound throughout the school. Geenen is quick to credit Case Design's collaborators for those: "We work very closely with the people who are building our projects; they become part of the design team," she says. "We start building once we have the plans and can lay the foundations, but we don't know a lot of details yet. We develop them on-site using mock-ups and so on with the builders."
This kind of interactive, collaborative construction process—where the elements of buildings are designed through iterative craft—is also why the firm is so deeply embedded in its hometown. Case Design's office is near Mumbai's airport, and not only does the firm have its own workshop where product design director Saleem Bhatri oversees furniture making, but it is in close proximity to metal fabricators, CNC cutters, and carpenters, Geenen says. "People are quite used to making things here, and this opens up a lot of possibilities. There is a certain ease of making in Mumbai."
You may also enjoy "Metropolis Magazine's 10 'Buzzing' Design Cities of 2018."