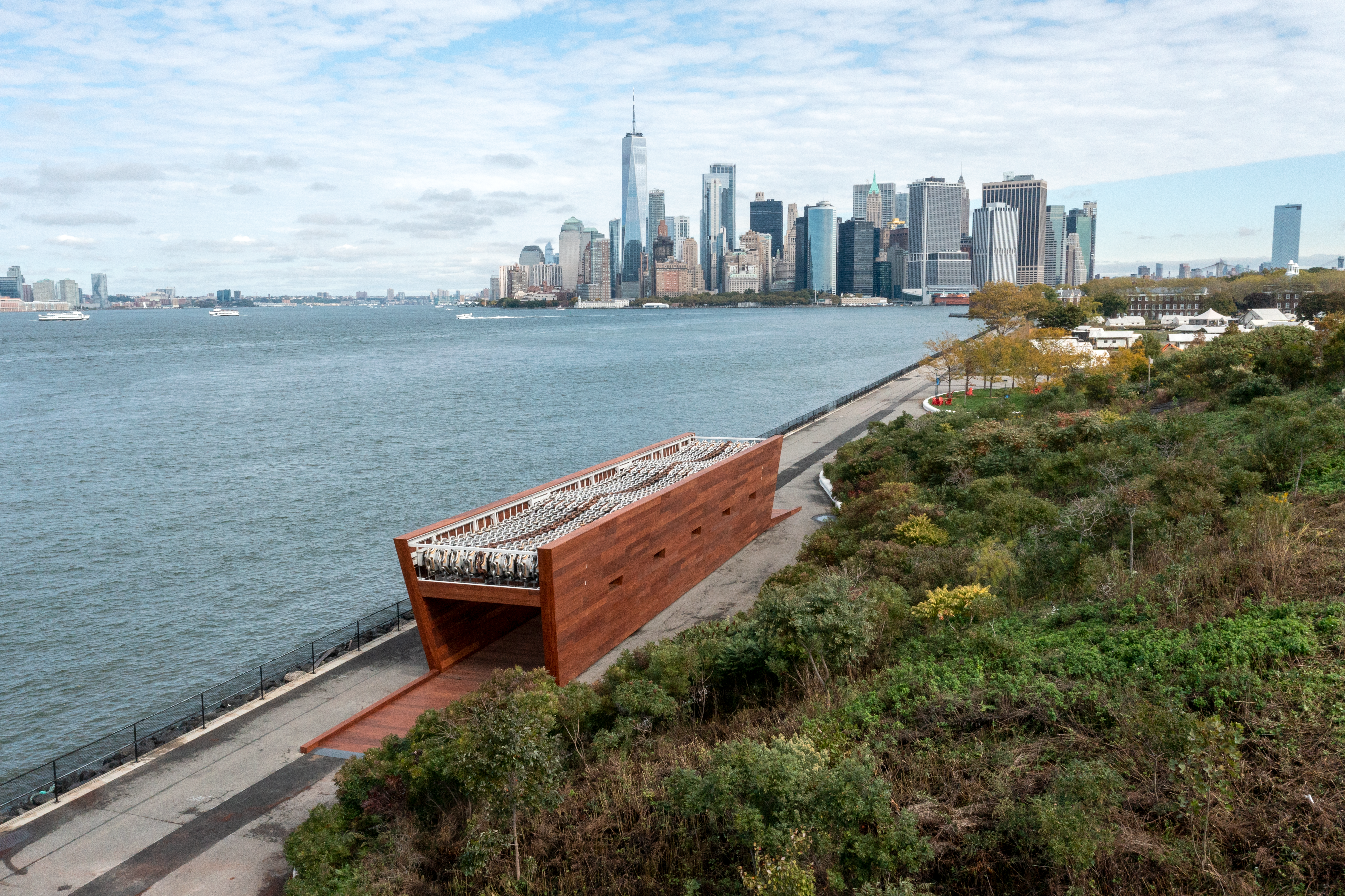 November 21, 2022
Charles Gaines Defies the Static Nature of Public Monuments
Given the work is positioned on a historically critical point for migration and the transatlantic slave trade, Moving Chains engages with narratives that consider the waterway's complex relationship with America's origin story, forced labor, and displacement. While the shape of the structure itself evokes the hull of a ship, "The sound and the movement reverberate in our bodies and we feel implicated in the narratives that this project is uncovering about the legacy of enslavement and the existing issues of systematic racism," notes Justine Ludwig, Creative Time's executive director. Eight of the chains move at the pace of the currents in New York Harbor, while a ninth central chain mimicks the pace of a ship in transit.
After designing Gaines's Huntington Park studio, TOLO Architecture collaborated with the artist to construct the structure over an eight-year span with help from metal manufacturers and amusement park engineers. "After years of looking at renderings and dreaming about the project, I was still not fully prepared to the reality of how it feels like being immersed in the work," says Ludwig.
---
More from Metropolis
---
Gaines is widely recognized for his gridded acrylic sheet paintings that often overlay figurative forms, such as trees and portraiture. The systemized logic of the grid here is transformed into a similarly harmonic loop of the machinery with high pitch, at times startling, sounds of the metal chains in motion.
Sound is in fact a prevalent element in The American Manifest, a larger project Gaines embarked on earlier this summer that incorporates seven sculptures of upside-down American Sweetgum trees in the middle of Times Square where they are indigenous to the land. Gaines unveiled the installation back in July with a with a two-day performance of the original text of the Supreme Court's 1857 Dred and Harriet Scott decision with a woodwind quintet, piano and tenor at the Duffy Square. The project's second phase Moving Chains will travel next summer to Cincinnati where the chains will rotate on the banks of the Ohio River where enslaved people were forced to migration down towards the Port of New Orleans.
Moving Chains is on view on Governors Island through June 2023.
Would you like to comment on this article? Send your thoughts to: [email protected]