May 23, 2018
Chicago Exhibit Spotlights Charlotte Perriand's Alpine Ski Resort
The legendary designer and Le Corbusier collaborator broke the mold with her Modernist, male contemporaries, according to a show at Matthew Rachman Gallery.
---
The most impressive item depicted at Matthew Rachman's exhibit of Charlotte Perriand–designed furniture is conspicuously absent from his Chicago gallery—it was too big to fit.
The object in question, a gleaming red and white prefab bathroom produced for the designer's Les Arcs ski resort in the French Alps, was an inch too big to slide inside the Ukrainian Village space, even with the windows removed. It was photographed and then huddled away in a storage facility. (Visitors can still encounter an identical specimen downtown at the Art Institute of Chicago, amid iconic objects such as Mies van der Rohe's MR Chair and visionary urban schemes like Ludwig Hilberseimer's Vertical City.)
Back at Rachman's gallery, whose Perriand in the Mountains exhibition is on view until May 27, a few photos of the plug-in bathroom tempt would-be buyers. (It's a selling show, with support from antique and decorative art dealers Decaso.) Produced in 1975, the bathroom's polyester and fiberglass shell is entirely of its era: Storm Trooper–white, Archigram by way of A Clockwork Orange.
---
More from Metropolis
---
The bathroom is somewhat at odds with the material sensibility Perriand demonstrated elsewhere at Les Arcs, a landmark project where she exerted unheralded creative control, and the subject of Perriand in the Mountains. Large and imposing, the building complex still displays an almost Wrightian respect for landscape, even following changes to its interiors. It was a public project offering affordable leisure to the broad French populace, and Perriand worked on it for nearly 20 years, beginning in 1968.
She led a team of designers that tackled everything from the wood-grained terraced superstructures that stepped down the mountains, to her own furniture contributions. Most of the latter, like the other assorted pieces in Rachman's show (collected by a local architect-couple who traveled across France researching and purchasing Perriand) are earthy and simple: thick slabs of pine with pleasingly rounded corners and chairs with woven rattan seats. Perriand had a biographical affinity for natural materials, even while her singular position as a founding mother of Modernism propelled her to investigate new modes of industrial production. It's an arc of progress she had plenty of time to travel along, between her employment in Le Corbusier's atelier in 1927 and her death in 1999, at age 96.
---
Perriand never slavishly followed the changing tides of design formed in the wake of the aesthetic revolution she shepherded. Her earliest work dabbled in Art Deco, but by 1927 she understood that adoptive-Frenchman Le Corbusier had a road to the future with a chrome-clad luxury Voisins automobile careening down it. She applied to work with him and was rejected with the famously curt retort, "We don't embroider cushions here."
Undeterred, she persuaded him to drop by her contribution to the Salon d'Automne, an aluminum-and-steel bar set imbued with a chrome-plated sense of the machine-age future. Corbusier promptly offered Perriand, then just 24, a job.
She worked with Le Corbusier on several of his most famed furniture designs, including the Chaise Longue and Grand Confort. She left the office after a decade, but returned several times to work on major projects. Throughout her career, her hallmark was collaboration and teamwork in an era most known for strident geniuses—nearly all men—whose contributions eclipsed her own. Perriand's role was little acknowledged until a wave of retrospectives in the '80s, beginning with a 1985 exhibition at Musee des Arts Decoratifs, even while Les Arcs was still an active project.
Les Arcs was the sort of place Perriand felt drawn to since she was a child. She told the New York Times Magazine that her youthful passion for outdoor sports (skiing, canoeing, whitewater rafting, spelunking) instilled in her a sense of competence and power. As reported by a RISD summary of her career, her most cherished possessions were tools for getting around outdoors: skis, poles, an ice pick, crampons, and rope. (Her accordion also made the list.)
Her furniture from Les Arcs is just as terrestrial and wedded to the earth; a combination of her fascination with homespun craftsmanship filtered through Modern aesthetics. At Rachman's gallery, there are solid pine tables, pentagonal and square; seemingly indestructible but certainly unpretentious. An elementally simple honey-hued dining table set would be at home in a woodcut illustration depicting fairy tales from the French countryside.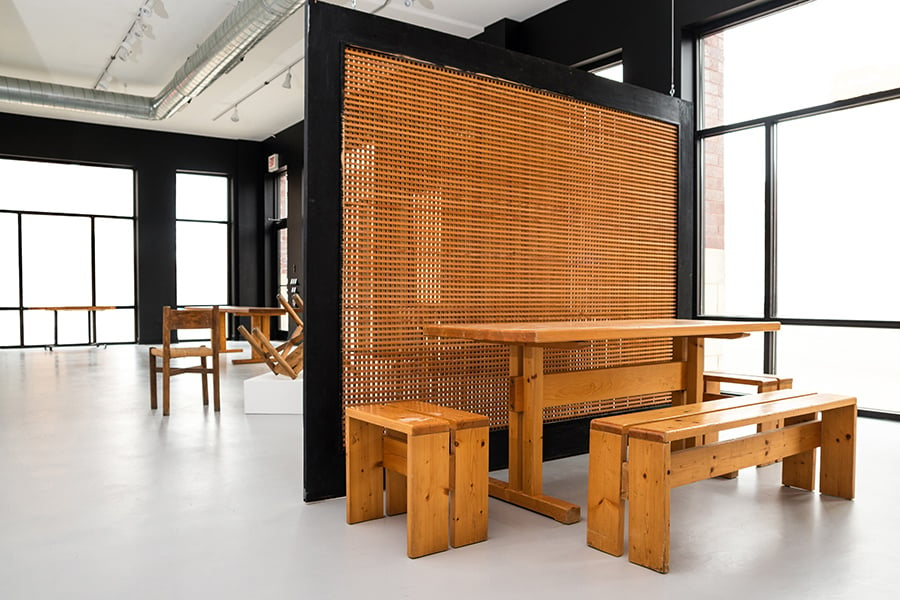 ---
There's subtle chromatic and formal ingenuity to these pieces. Wall sconces offer illumination from behind a void—a matte-black panel, dour as a fuse box. And three enameled steel wall-mounted medicine cabinets (red, black, and blue) are a study in seamlessness: The entire unit swings open to reveal inlaid shelves, the "lid" being the unit itself. Rachman calls it a moment of "Why didn't I think of that?" design. They're the only extant set of their type he's been able to verify, as much of Les Arcs' interiors have been renovated in recent years. The orthogonal layering of a room divider screen shows the Japanese influences Perriand picked up during her significant stays in Asia, which is echoed in the latticework of balconies seen in the Les Arcs building facades.
The exhibition is a good vantage point to understand Perriand's easy embrace of both machine-age fabrication possibilities and the tactile and intimate delights of wood, which gives her work a humanist quality that was often absent from her International Style contemporaries. This—and the long-overdue critique of architecture's corrosive cult of masculinity—may do the most to keep her historical reputation elevated. She played by their rules, subverted them, and lived long enough to outlast them.
You might also like, "Video: Why Gender Neutral Bathrooms Matter."