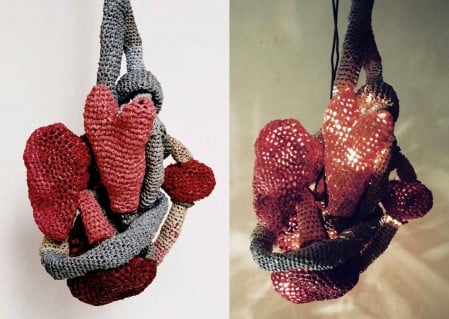 January 29, 2009
Cheeky Craft from the North
Bowels, beavers, and more featured in a Nordic art exhibit at the Yerba Buena Center for the Arts.
If you go to Yerba Buena Center for the Arts' new exhibit on contemporary Nordic craft expecting to see the pronounced stamp of Arne Jacobsen or Alvar Aalto, you may be disappointed. If, however, you're looking for a show where a curator invites you to "step into the intestines" or you overhear an artist proclaiming, "I think circuit boards are beautiful," or you can admire a curvy, deep-orange glasswork titled Talking Tits, this exhibit is for you.
Talking Tits (detail), Tuva Gonsholt
(Photo: The artist)
---
More from Metropolis
---
The title, "Irreverent," is the first clue that stark white, glistening glass and teak will not be the order of the day. In their painstaking attention to handicraft, the 10 artists in this exhibit, from Sweden, Norway, Finland, and Denmark, are distinct heirs to their revered forebears. The departure comes in their sense of play, penchant for narrative, and overt reference to social concerns.
Stockholm-based textile and multimedia artist Ulla West creates mesmerizing organic forms—a heart, intestines, bowels— from tightly crocheted plastic bags. In a Friday evening gallery tour, she proclaimed a particular fondness for the pink sacks she procures in San Francisco's Chinatown. Mutely colored and softly lit from within, West's sculptures, referencing, according to the artist, her own physical and emotional health, create an ethereal glow.
Divided Heart (top), Red Gallstones (bottom left), and Bowel (bottom right), Ulla West
Images courtesy of the artist
Perhaps not surprisingly, dim light is a hallmark of many of the artists' work. Norwegian textile artist Trine Mauritz Eriksen's black and white wall hangings play heavily on themes of shadow and light, their subtle shades of black, white and gray created through the Japanese shibori dying technique using white felt wool. Frida Fjellman, a Swedish glass, ceramic and wood artist, casts a distinctly erie lustre over her "Nocturnal Dreams" installation. Set apart from the other works in a low-lit, black box room, Fjellman's glass beavers, ceramic owls and (dead?) wolf, ornate glass chandelier, odd-shaped setee and other works create a captivating, yet disturbing, woodland ambience. The gothic atmosphere makes the installation feel like a children's fairyland set in Miss Havisham's house.
Wild Animal Chandelier, Frida Fjellman
(Photo: The artist)
Beavers on flake of ice, Frida Fjellman
(Photo:Cathrine Edvall)
While Fjellman takes fauna as her subject, Anni Rapinoja, a Finnish artist and environmental activist trained in botany, takes flora. Had her gorgeous purse and pair of boots, created from the heads of pussywillows, not been encased in glass, it would have been impossible not to touch them. It was almost as difficult to exercise restraint with her heavy, muted-purple coat and hat, created entirely from reeds, hanging from the ceiling and on the wall.
Warmshoes (left), Coat of Mother Earth (middle), and Springparty (right), Anni Rapinoja
(Images courtesy of the artist)
Norwegians Tuva Gonsholt (creator of "Talking Tits") and Per Lysgaard injected a palpable sense of whimsy into the exhibit. Lyssgard balances creation of his colorful, amorphous sculptures, some reminiscent of Keith Haring, with a business producing more functional items. During the Friday night tour, Lysgaard pointed out that he did not distinguish between the two facets of his work, offering an observation that countered the utilitarian ethos of his modernist ancestors: "I want to express joy, happiness, joy of living, joy of work," he said. "It should not be made complicated, the thoughts about my things. It comes from my heart and my hands."
Kjolebukse, Per Lysgaard
(Photo: Esten Borgos)
And the irrenverence goes into full swing at YBCA's What's the Big Idea Night? this Saturday night. This is your opportunity to not only see the exhibitions for free (transPOP: Korea Vietnam Remix is also on view) but also your chance to partake in some no-cost merry-making— free food, (non-alcoholic) drink, music, dance, and palm readings will all be on hand.