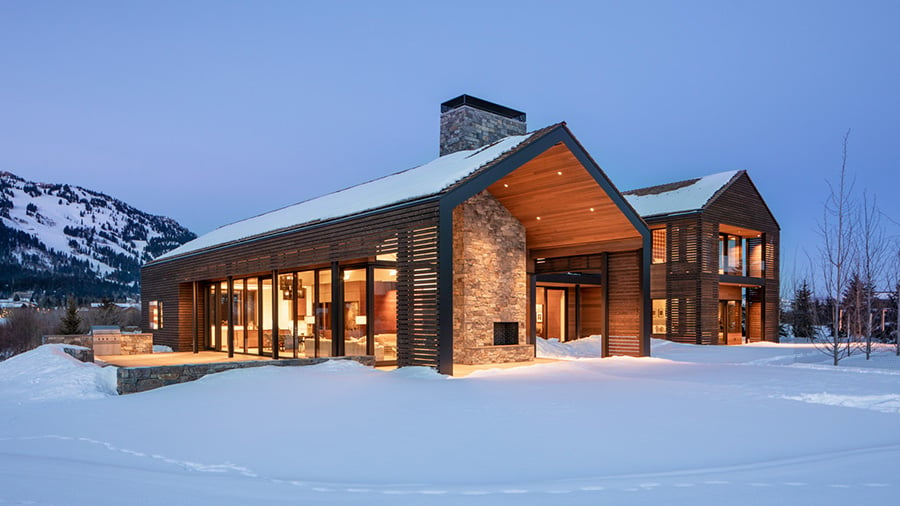 June 19, 2020
A Slice of High Modernism Under Wyoming Skies
With LonePine, CLB Architects bring cutting-edge design to a Jackson Hole hideaway.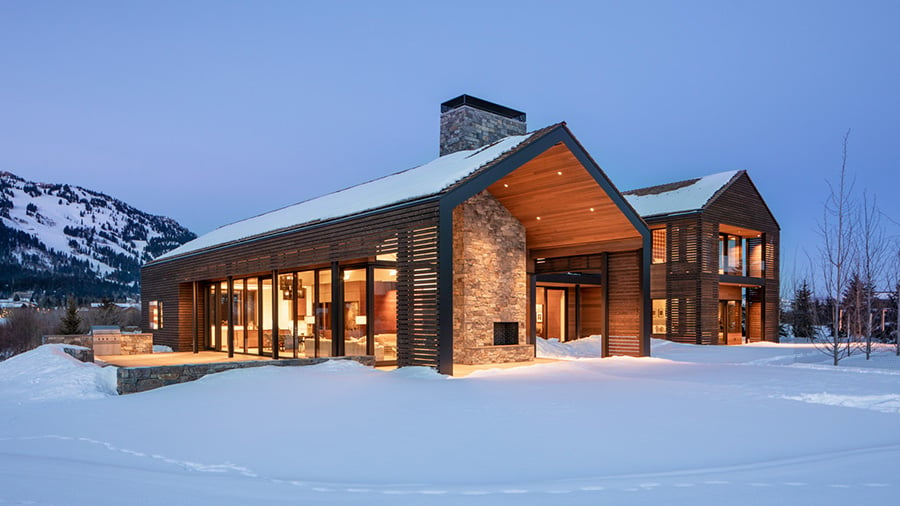 ---
It's called Big Sky Country for a good reason. Montana, and nearby Wyoming, with its soaring mountain peaks and wide-open spaces, is a nature lover's paradise. City dwellers from New York to Los Angeles have recently caught on, flocking to the region in search of serenity, world-class skiing and now social isolation, building hideaways and bringing with them modern design sensibilities—and impressive Rolodexes. Many, however, are opting to stay local. CLB Architects, with branches in both Jackson Hole, WY, and Bozeman, MT, is known for seamlessly integrating abstract structures into majestic surroundings, and have become the go-to choice for transplants constructing second (or even third) homes. Recently, the firm conceptualized Lone Pine in Jackson Hole as a stately weekend getaway for a family of Manhattan-dwelling New Yorkers. The property's architecture, which integrates the indoors and out, utilizes innovative materials and honors the area's natural beauty, grounding the project in a "'Mountain West' meets "Upper East Side" aesthetic.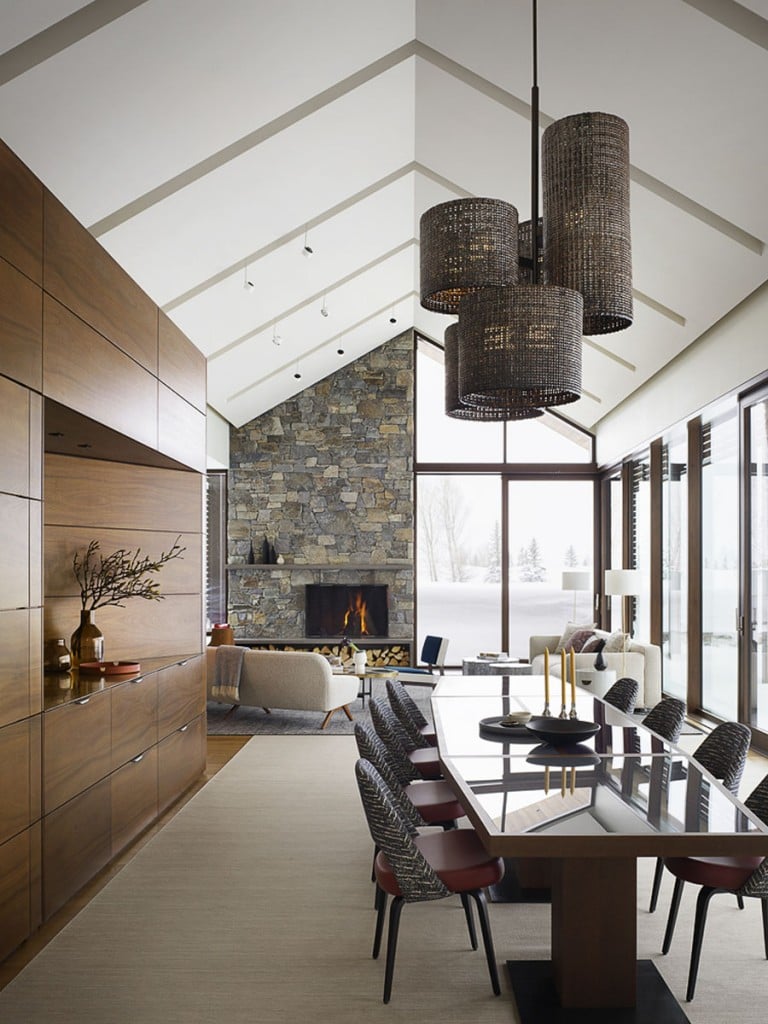 ---
"The challenge is always how to open up our buildings and let them flow into the outside," says Eric Logan, the principal-in-charge, pointing to the firm's elegant solution: Stripping down the structure into "two simple agrarian forms" that run parallel, the firm connected the two with a lower level boasting floor-to-ceiling windows and housing an entry gallery space, office, and spacious lounge.
The larger form contains five bedroom suites, a utility space, and a garage. In the central area, a two-sided stone fireplace, shifted off-center, creates a striking vertical element, adding depth and drama to the vaulted living room. The unique floor plan allows for a glass corner and a sun-drenched dining space—together, they holistically connect the outdoor and indoor living areas. To provide a sense of warmth throughout, CLB introduced a rich interior palette of mahogany millwork, white oak flooring, exposed cliff stone, and sleek plaster walls. Windows are oriented to overlook the iconic slopes of the nearby Jackson Hole Ski Resort, the northern end of the form boasting a screened-and-covered deck off the second-story master bedroom. A slatted-wood rain screen wraps the exterior of both forms, providing a year-round, sustainable shell.
---
More from Metropolis
---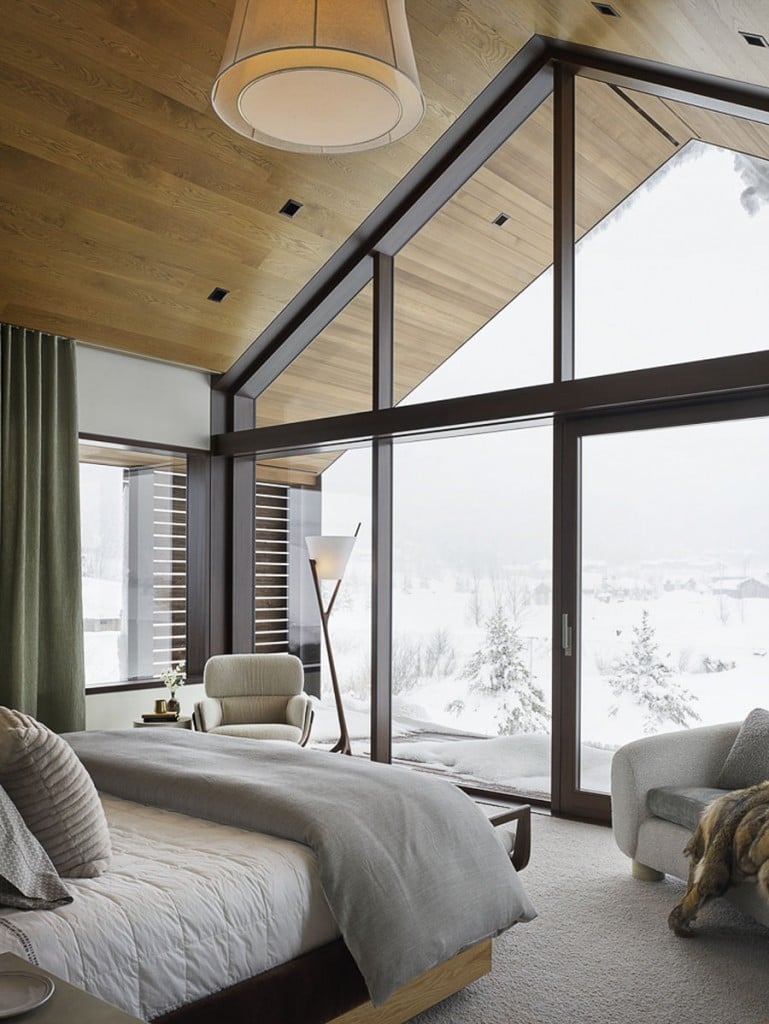 ---
The adjacent, smaller structure is one and a half stories, and consists of an open living, dining, and kitchen space. Above, the vaulted roof extends to the south to form a covered patio that extends out the living space, partially screened by "rough-sawn" boards. Oriented to the south and west to best capture light regardless of season, Lone Pine is a year-round getaway, its contemporary design providing, as per the family's specifications, a luxurious retreat that manages to both blend in and stand out.
You may also enjoy "At Villas La Escondida, the Ocean is Meant to Steal the Show"
Would you like to comment on this article? Send your thoughts to: [email protected]
---
Register here for Metropolis Webinars
Connect with experts and design leaders on the most important conversations of the day.