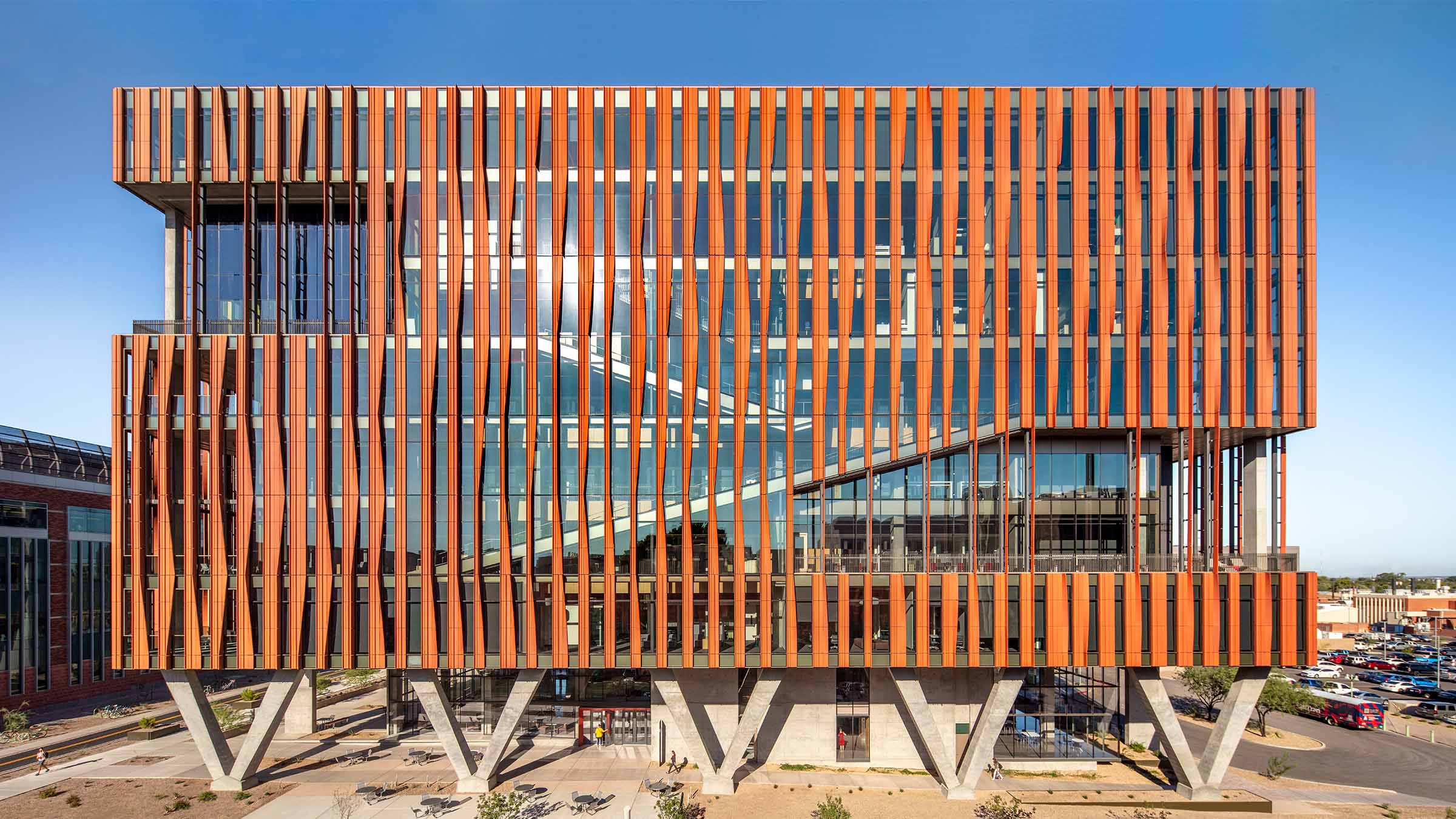 April 2, 2021
Terra-Cotta Meets High Tech at the University of Arizona
With complex and multidisciplinary academic needs at the heart of the University of Arizona's new Health Sciences Innovation Building (HSIB), Los Angeles–based CO Architects delivered a facility that's as forward-thinking in its design impact as it is in program.
"The building is quite experimental," says Arnold Swanborn, principal and project design director at CO Architects. Housed within two main volumes dubbed The Porch and The Loft, the HSIB in Tucson supports study in the fields of medicine, nursing, pharmacy, and public health. The Porch stands at the terminus of the University of Arizona's campus pedestrian mall, with its distinct east-facing terra-cotta-clad exterior serving as a decorative and functional feature that also responds to Tucson's historical and cultural context. Floors within The Loft section of the HSIB contain 90-foot-wide and 220-foot-long expanses of spaces uninterrupted by any structural supports.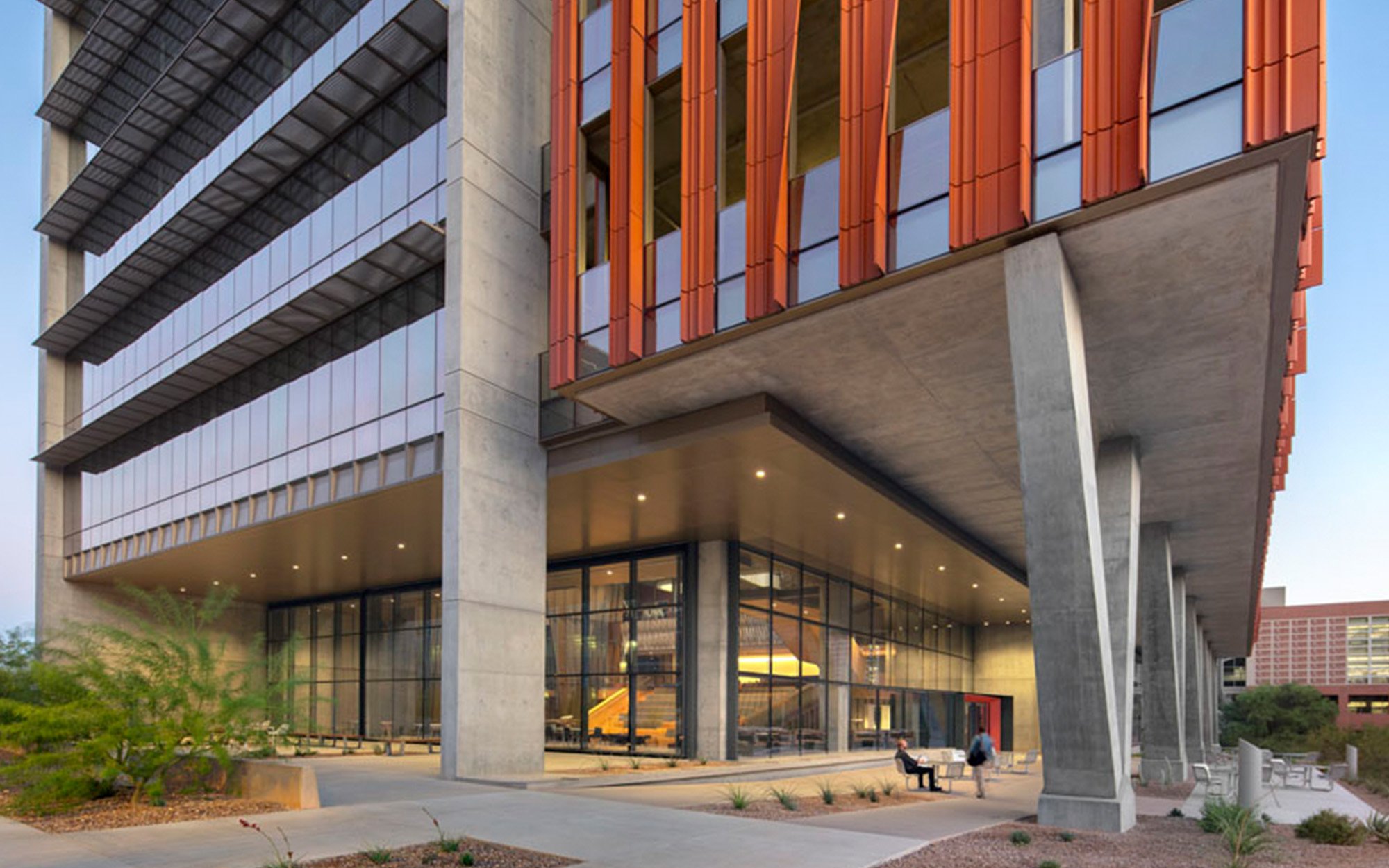 Learning from Cacti
The team took inspiration from the self-shading saguaro cactus associated with the Sonoran Desert as well as Native American earthenware, Swanborn explains. The twisted terra-cotta panels were manufactured by Boston Valley Terra Cotta in Buffalo, New York, and have a handmade feel that contrasts with the building's other high-tech components such as clinical skills training resources and laboratories.
---
More from Metropolis
---
"We mapped out the functions behind that facade and then looked at thermal, visual, and acoustic values that somebody might want as they're using the space," says Alex Korter, project manager, CO Architects principal, and Building Facades Group helm. Given the unrelenting desert climate, parametric analysis enabled the designers to determine how to best shape and place the saguaro-inspired panels in order to allow for optimal amounts of light and shade.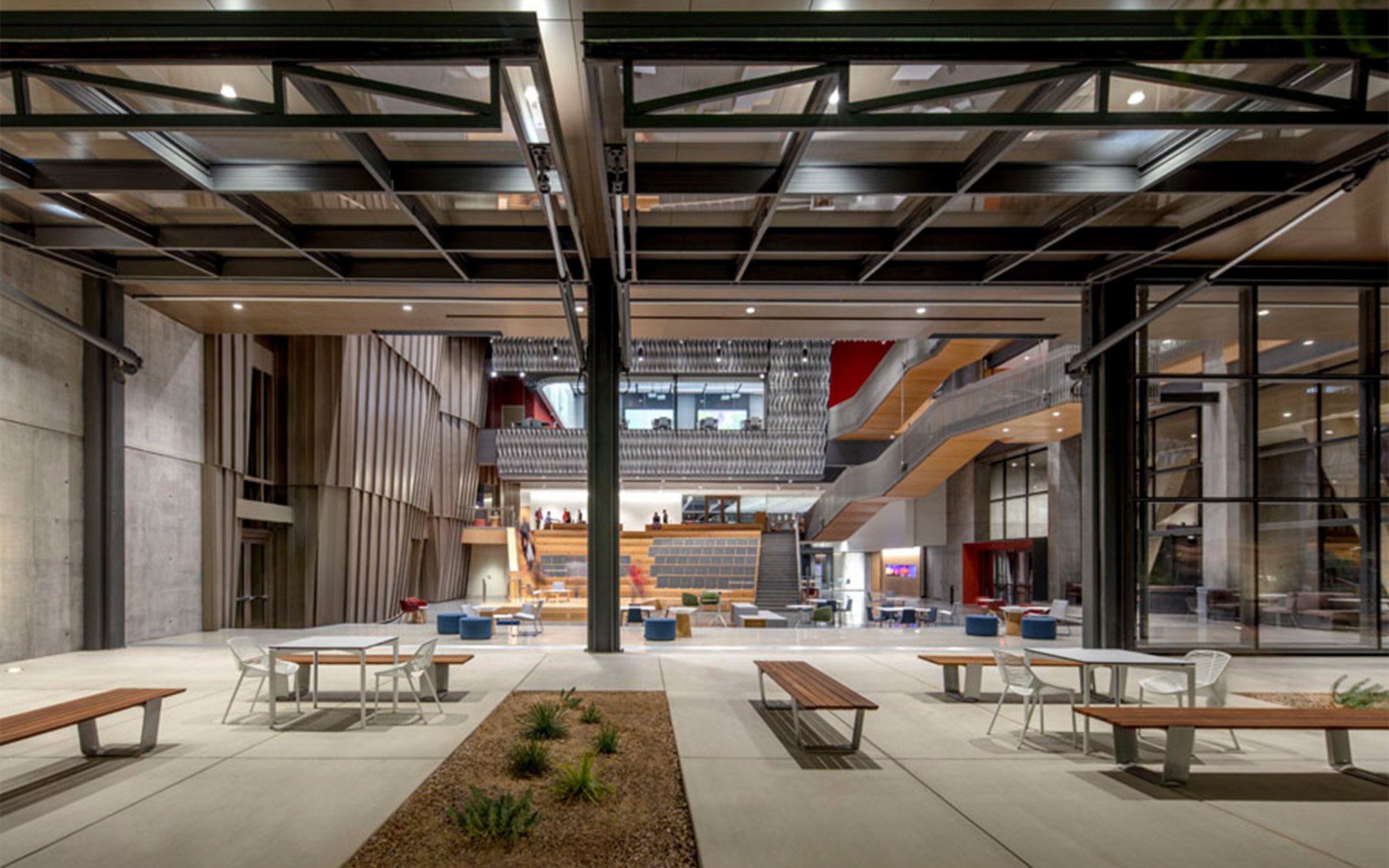 Totaling 230,000-square-feet, the nine-story HSIB also includes The Forum, a four-story glass-enclosed volume at the ground floor, set back behind a portico and a series of V-shaped concrete columns. This expansive space opens up to the outdoors and offers a flexible program that accommodates student gatherings and community events as well as a bookstore and a café. "The university went out on a limb and accepted that this could be a really great space. It's the heart of the building," Korter adds.
The Simulation Deck on the seventh floor now spans 25,000-square-feet—an upgrade from the 2,500-square-feet of space it occupied in its previous building. Helmed by Dr. Allen Hamilton, it's no coincidence that this faculty member served as a medical consultant on Grey's Anatomy, given that this particular feature allows various practice scenarios for medical training, and in many ways, functions like a soundstage. It is also available to other agencies for rent and therefore offers an additional revenue stream for the university.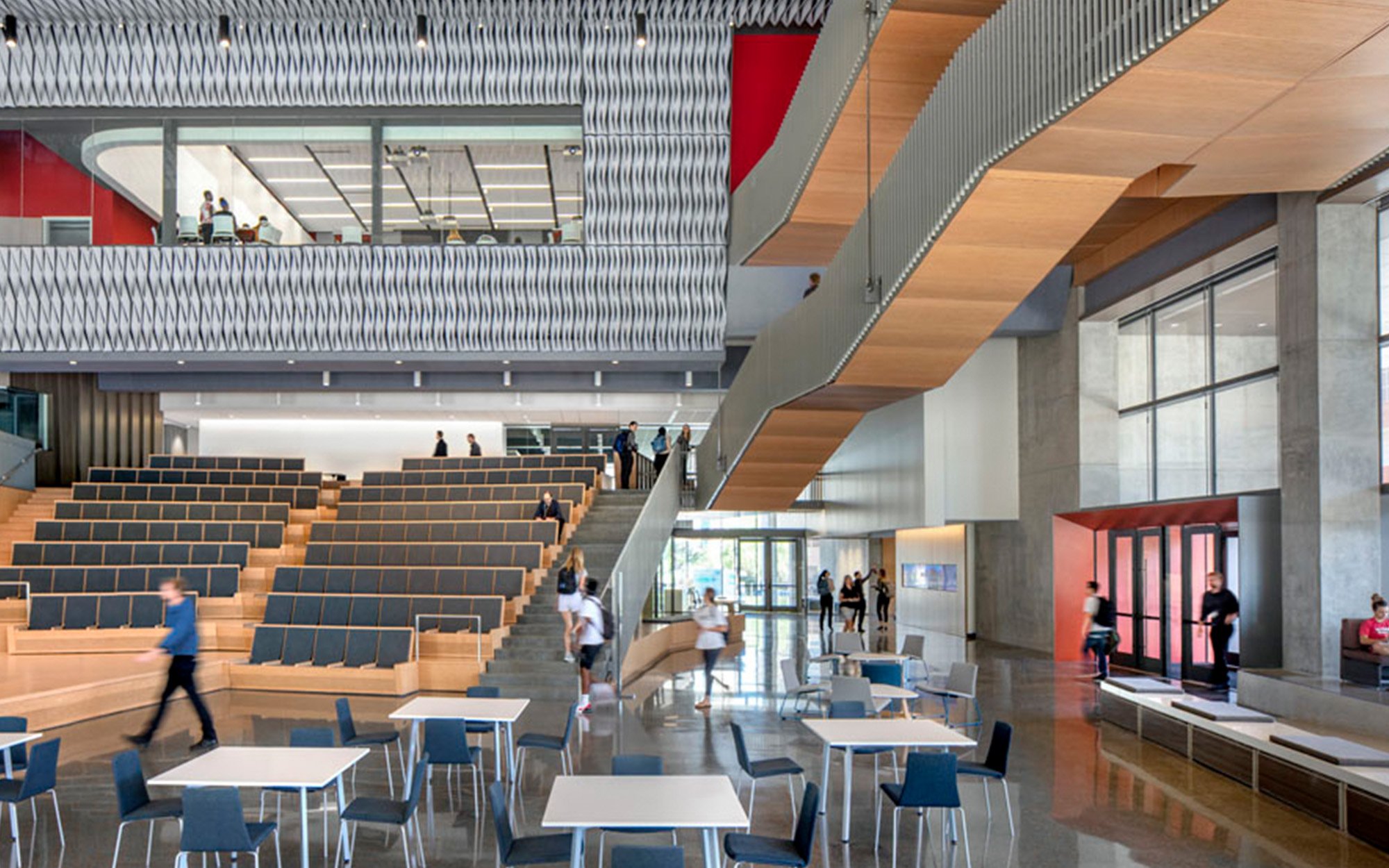 Conveying a Sense of Playfulness
"The interior environments are very carefully crafted with the same level of detail that the exterior is," Swanborn says about the HSIB. The long hours students and employees spend here was a key consideration, along with how some environments "are doing double duty between being teaching spaces and study spaces." The team looked at seating and furnishing configurations outside of typical desks and chairs. Spaces of various scales bring in a vibrant color palette and a sense of playfulness. Students and faculty can interact in different sized groups or retreat for quiet and focused study. 
Despite the building's large footprint, maximizing natural light throughout the interiors and the uninterrupted 90-foot spans in The Loft spaces was a priority. Mechanical systems and functions are placed strategically inside so that more heavily trafficked areas can take advantage of daylight. The circulation plans encourage activity and exchange as well and the rooftop is also left open. The wide, inviting stairways provide a symbolic journey during the course of a day since many larger classes at the lower levels are held in the mornings, while students might progress to labs and more specialized work located at the upper levels in the afternoons and evenings.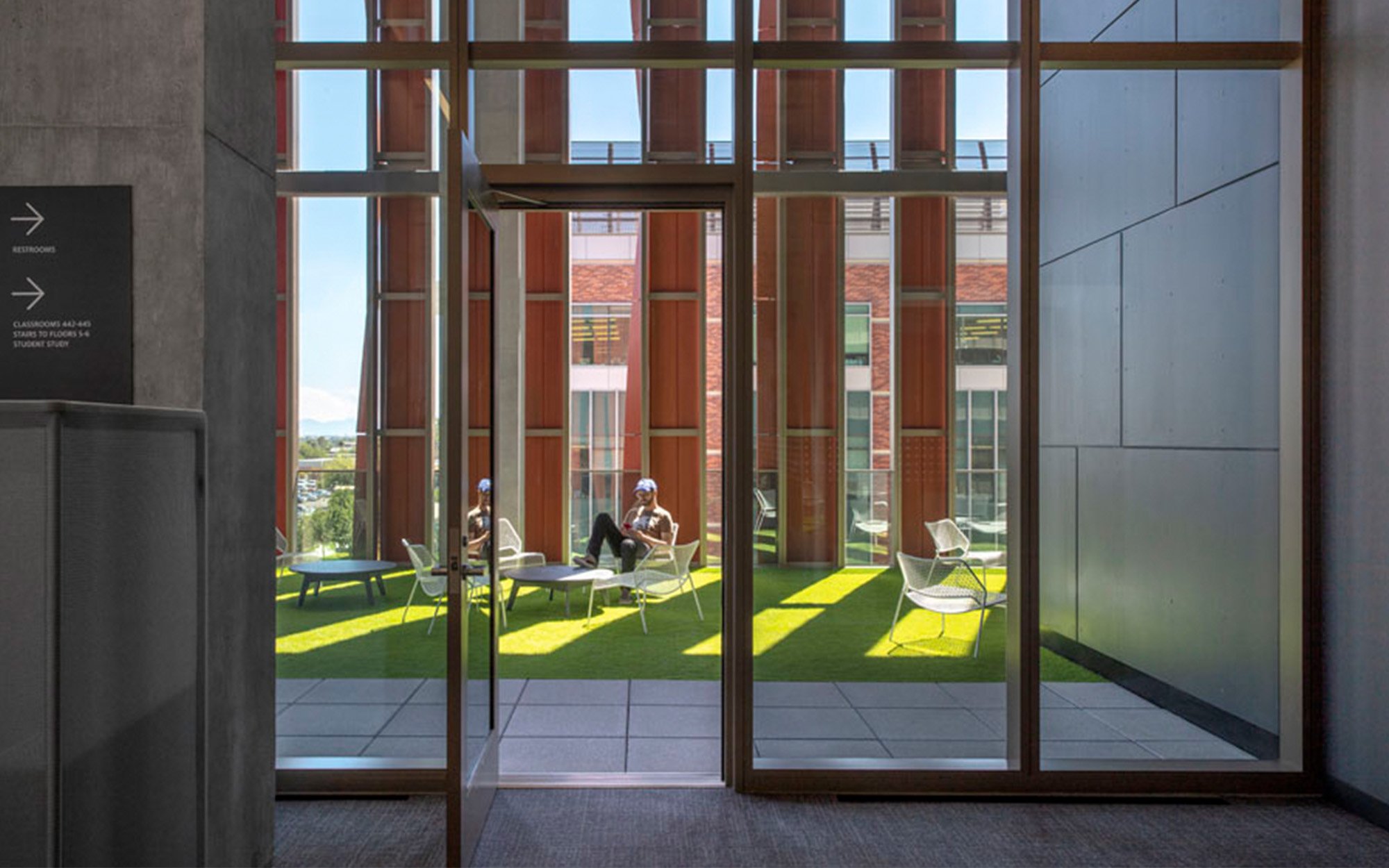 Completed in 2019, the building's use during COVID-19 and in the post-lockdown aftermath presented opportunities to exercise its more innovative elements. "It has a really heavy infrastructure backbone" with state-of-the-art air circulation, IT, and AV systems, Korter notes. This approach proved to be a prescient boon. Meanwhile, plans for a food service venue at the ground floor are still in progress for when the campus is fully open again.
"It was programmed with distanced learning in mind," Korter says. "Even a hybridized post-COVID model can easily be absorbed by the infrastructure because the starting premise was always long-term flexibility. This building might be one thing when it opens, but it should evolve over time."